DVD: Far From the Madding Crowd |

reviews, news & interviews
DVD: Far From the Madding Crowd
DVD: Far From the Madding Crowd
More extremes to Schlesinger's Hardy adaptation than Vinterberg's recent version
Julie Christie as Bathsheba Everdene
Despite its 19th-century setting, John Schlesinger's film adaptation of Thomas Hardy's Far From the Madding Crowd – released to cinemas in 1968 – is a very Sixties film. Amongst the themes of the novel which resonated then are class differences, female self-determination, the guises adopted to steer perceptions of the self and repression: all very relevant in 1960's Britain as society sought to re-invent itself.
Casting the then-hot Julie Christie and Terence Stamp further stressed the film was of the moment. As Frank Troy, Stamp could have been a poster boy for the voguish nostalgia embodied by the sleeve of The Beatles'
Sgt Pepper
album and the clobber available from shops like
I was Lord Kitchener's Valet
.
Schlesinger assembled an extraordinary team for his first film with a non-contemporary setting. Christie (who had already been in two of the director's films) and Stamp were joined by Alan Bates and Peter Finch. Cinematography was by Nicolas Roeg, the score by Richard Rodney Bennett. Great care was taken with the music: violinist and future Fairport Convention man Dave Swarbrick appears.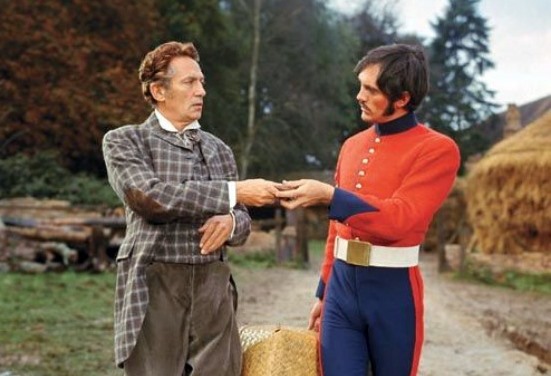 The book itself was treated carefully too. The episodic film moves with the deliberateness of a chapter-by-chapter progression. It is long: two hours and 40 minutes. The DVD preserves the film's original mid-point break. There are no extras. (Pictured right: Finch's William Boldwood and Stamp's Frank Troy)
This restored release comes on the back of Thomas Vinterberg's recent version. Schlesinger's more literal take includes Troy's episode as a travelling circus performer, which Vinterberg chose not to tackle. The characterisations are edgier than those of the recent film. Finch's William Boldwood is more intense than Michael Sheen's. Stamp's Troy is more rampantly priapic and unfettered than Tom Sturridge's. Although often detached, Christie balances steeliness and warmth with an aplomb lacking in Carey Mulligan's Bathsheba Everdene. As Gabriel Oak, Alan Bates is a more tangible presence than Matthias Schoenaerts in the same role. While more faithful to its source than Vinterberg's looser take, Schlesinger's film is also about extremes. The conclusion is inescapable: there is more to Schlesinger's Far From the Madding Crowd than Vinterberg's.
As Frank Troy, Terence Stamp could have been a poster boy for the voguish nostalgia embodied by the sleeve of the 'Sgt Pepper' album
rating
Share this article