DVD: The Discreet Charm of the Bourgeoisie |

reviews, news & interviews
DVD: The Discreet Charm of the Bourgeoisie
DVD: The Discreet Charm of the Bourgeoisie
Blissfully strange surrealist corker from Buñuel's autumn years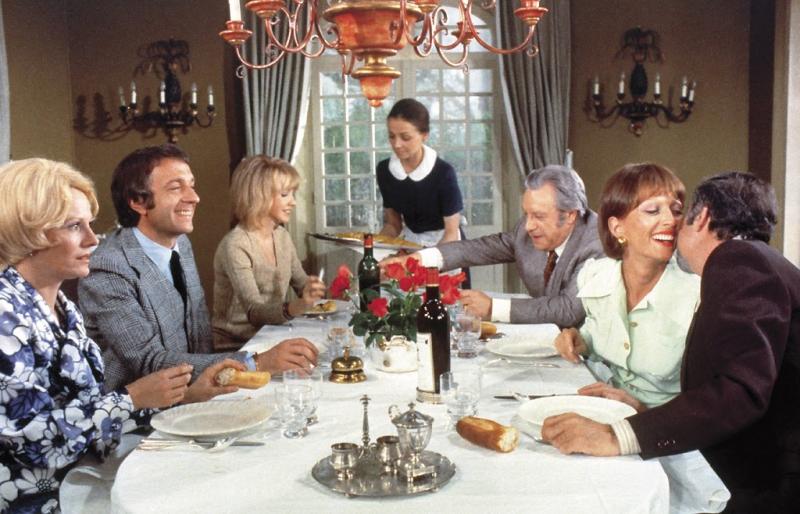 The central sextet about to fail, yet again, in their quest for supper
The great Spanish surrealist film-maker Luis Buñuel was 72 when he made The Discreet Charm of the Bourgeoisie but it is as madcap a piece of weirdness as ever he came up with. It also won him the 1972 Oscar for Best Foreign Film. One of the great things about Buñuel is that, while his films are unhinged, dipped deep in artsy satire and opaque avant-garde concepts, they remain supremely watchable entertainment, often very funny.
Discreet Charm stars Fernando Rey as ambassador of the fictional Republic of Miranda and involves the foiled attempts by he and five friends to dine together. As the film progresses, the increasingly bizarre hindrances to dining blend into a series of the characters' dreams. Buñuel uses the idea of dinner parties to represent and ridicule a complacent, corrupt ruling class. It's a theme he returned to throughout his career, from the dinner party where the guests are psychologically unable to leave in 1962's The Exterminating Angel to the wonderful lavatorial gathering in 1974's The Phantom of Liberty. Perhaps his best ever dinner party gag, however, is here. The party sit down to eat with an army colonel. Shocked at being served rubber chickens, a curtain behind them opens to reveal they are on a theatre stage in front of an increasingly restive audience. Their discomfort is at once hilarious and exquisitely observed.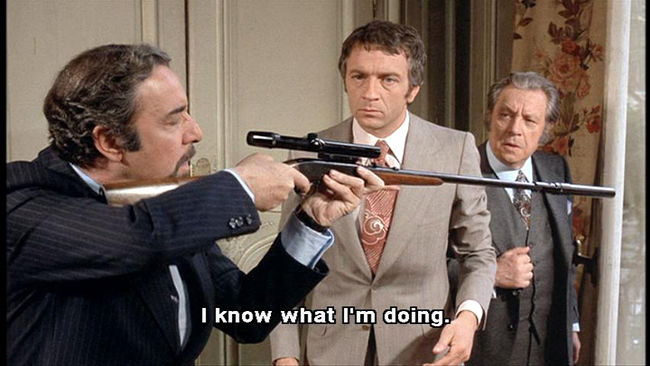 Such set-pieces are only part of the fun. The core sextet, who include Delphine Seyrig and the striking Stéphane Audran, muster much comedy value from their deadpan responses to utterly absurd events. At one point the army turns up and are made guests at a dinner party where the senior officers pass around a joint. "Unbelievable what they smoke in the army," gripes one of the party. Or there is the bishop who insists on being taken on as the gardener for one of the central couples, or the moment when the ambassador sits in his office blandly discussing his international cocaine dealing before casually picking up a rifle and shooting a wind-up toy on the pavement outside. The latter event is part of a deliberately undeveloped sub-plot about terrorists from Miranda who are out to kill the ambassador.
To follow the plot - what little there is of it - isn't really the point, though. The Discreet Charm of the Bourgeoisie wanders around, light and dreamlike, fascinating and illogical, funny and political. There are no significant DVD extras, just a rather flat talking head critical analysis by Buñuel expert Peter William Evans, but the original film remains a treat, jammed with satisfying intellectual slapstick and thought-provoking oddness.
Watch the trailer for The Discreet Charm of the Bourgeoisie
Buñuel uses the idea of dinner parties to represent and ridicule a complacent, corrupt ruling class
rating
Share this article