2011: Belgian Surrealism, Austrian Angst and a Dane in a Madhouse |

reviews, news & interviews
2011: Belgian Surrealism, Austrian Angst and a Dane in a Madhouse
2011: Belgian Surrealism, Austrian Angst and a Dane in a Madhouse
In the world of art the old and the new jostled for attention - and the old 'uns won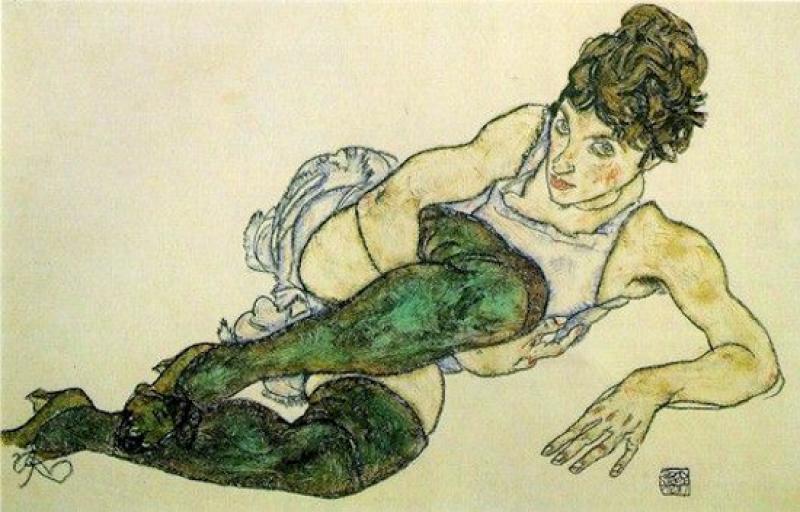 Revisiting the genius of Egon Schiele: 'Reclining Woman with Green Stockings', 1917
Last year, like every year, is a bit of a blur. I saw a lot, but all the good stuff seems to have clustered near the end. Maybe an end-of-year cultural bloat has finally settled. Anyway, to help jog the memory, I think I should start bottom-up.
Leonardo da Vinci: Painter at the Court of Milan (National Gallery, until 5 February) is a good place to kick off. It was always going to be the show that would get the most protracted drumroll, but with only nine paintings by the Renaissance Master himself and two questionable attributions, was it really all that in the flesh? Well, I can genuinely say I'm still swooning over The Lady with an Ermine.
Sheen played the ghost as well as the melancholy Dane, and he attacked both roles with terrifying gusto
Also current is Graham Sutherland: An Unfinished World (Museum of Modern Art Oxford, until 18 March), curated by Turner Prize nominee George Shaw. Sutherland's works on paper are fluid and vivid and even whilst they speak of the devastation of war, are tremendously seductive. Go see.
In that other university city of Cambridge, I was utterly beguiled by Vermeer's Women: Secrets and Silence (Fitzwilliam Museum until 15 January). There are only four paintings by the title artist and each is exquisite, but the Dutch Golden Age is bristling with masterpieces of the domestic realm and this is one of the most engaging exhibitions of the year.
Then there were the exhibitions that made me completely reassess the artist, in a thoroughly good way. At least two shows managed to do this. Magritte: The Pleasure Principle (Tate Liverpool, June-October, pictured right, The Treachery of Images) and Twombly and Poussin: Arcadian Painters (Dulwich Picture Gallery, June-September). I thought I knew the old Belgian Surrealist, but Tate Liverpool's beautifully designed and curated retrospective gave me renewed respect - those clever visual conundrums in that neat, winning pictogram style.
As for partnering a modern American master of the scribble with the highly structured brilliance of a 17th-century French master, it was inevitable that the meticulous Frenchman would win - and a priceless joy it was to have my eyes fully opened to Poussin's utterly strange and rather unsettling genius.
Two Tate Modern exhibitions proved something of a mild disappointment. The curators of Gerhard Richter: Panarama (until 8 January) overlooked vital works to focus on far too many squeegee paintings and a few out-and-out duffs. Why? I suspect they were rather intent on pursuing a heroric narrative of artistic struggle, aiding and abetting some kind of Wagnerian myth about this venerated German artist. A shame. Then there was Joan Miró: The Ladder of Escape (April to September), which finally ended my teenage crush on the painter of cute biomorphic forms.
Meanwhile Degas and the Ballet: Picturing Movement (Royal Academy, September-December) thrilled me at the blockbuster end of the spectrum (those exquisite and precise earlier paintings, not the later ones, painted when the artist had lost much of his sight and which have a bloated, garish quality), whilst Toulouse-Lautrec and Jane Avril: Beyond the Moulin-Rouge (Courtauld Gallery, June-September) thrilled at the smaller, focused end.
One definite non-art highlight was Ian Rickson's Hamlet, starring Michael Sheen (Young Vic, until 12 January). Set in a psychiatric unit, it was hard to distinguish between staff and patient. Sheen played the ghost as well as the melancholy Dane, and he attacked both roles with terrifying gusto. His vocal command was utterly impressive, as was Rickson's ingenious production.
2011 Highlight: Egon Schiele (Richard Nagy, May-June; see main picture). I thought I'd become a little tired of this angsty Austrian of rigor-mortised limbs and onanism, but what a delight it was to be proved wrong. This body of rarely seen work showed what an astonishing talent Schiele is: raw, febrile, intense, meticulously precise and incisive.
2011 Letdown: The Pitman Painters (Duchess Theatre, June-October). Why are British theatre critics so easily impressed? This is a mildly amusing play that had the critics apparently all rolling in the aisles and leaving the building in tears. As far as I can see it's clunky and heavy-handed and none too shy about trotting out patronising stereotypes. It reminded me of that old Seventies sitcom Mind Your Language, except here Lee Hall's linguistic confusions arise between silly, braying posho types (the caricature of artist Ben Nicholson is a bit nauseating) and salt-of-the-earth Yorkshiremen.
2012 Recommendation: Tricky, but I'm going to opt for Lucian Freud's portraits (National Portrait Gallery, from 9 February). I'm not an uncritical fan, but Freud's wonderful early portraits, which easily overshadow the often rather wobbly later ones, must, I think, be seen.
Why are theatre critics so easily impressed? This is a mildly amusing play that had them apparently all rolling in the aisles and leaving the building in tears
Explore topics
Share this article