Alien: Covenant review - we've seen most of this before |

reviews, news & interviews
Alien: Covenant review - we've seen most of this before
Alien: Covenant review - we've seen most of this before
Surely Sir Ridley Scott isn't winding us up?
When Ridley Scott returned to his hideous intergalactic monster with Prometheus five years ago, he brought with him a new panoramic vision encompassing infinite space, several millennia of time and the entire history of human existence. With Alien: Covenant, he makes a more modest proposal.
Picture, if you will, a spacecraft loaded with 2,000 hibernating colonists. They are en route to a distant planet called Origae-6, but the voyage is interrupted when the ship (it's called Covenant) is battered by a blast of cosmic radiation. The emergency wakes the crew, and you might find yourself thinking "why am I watching Passengers again?" Anyway, while they're repairing the damage, they intercept a strange radio broadcast – very strange indeed, since it's John Denver singing "Take Me Home, Country Roads". They find it comes from a nearby but unknown planet, where conditions are remarkably Earth-like.
For no very good reason, other than that it would be really boring to go back into cryogenic frozenness for the seven years it would take to get to Origae-6, mission commander Oram (Billy Crudup, pictured right) decides they'll go to the new planet instead. But if you were cryogenically frozen, you wouldn't be aware of how boring it was, surely? No matter. His second-in-command, Daniels (Katherine Waterston, pictured below), thinks this is a bad idea. She is proved right.
Scott has promised, or threatened, that he's lining up another six Alien movies after this one, which is perhaps why it feels like a rather minor instalment before the interesting stuff happens further down the line. Quite a lot of Covenant is just boilerplate – the hibernating travellers, the flight down to the unknown planet's surface (which looks uncannily like the equivalent sequence in Prometheus), the discovery of the ominous dead city spattered with ossified corpses, and of course the certainty that you-know-what is going to appear before very long.
The saving grace is not one but two mischievous turns by Michael Fassbender, who reprises the silky-smooth and infinitely treacherous synthetic David from last time, and also plays Walter, Covenant's in-house droid. Fassbender delineates the two with skill, camping up David with further Peter O'Toole impersonations (there's even a scene mimicking his rendition of "The Man Who Broke the Bank at Monte Carlo" from Lawrence of Arabia), while Walter is more sincere and earnest. Learning from the slippery David, the designers deliberately made Walter less scheming and devious, and he probably wasn't programmed to expect the outrageous robo-erotic sequence where David teaches him to play the flute.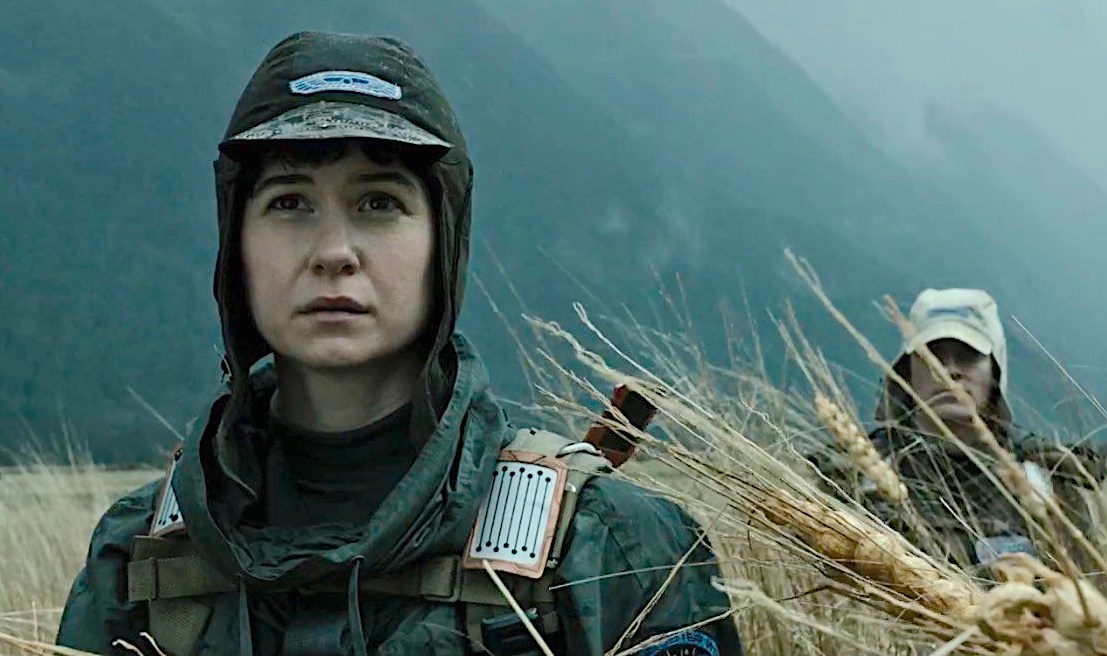 Walter does his best to save his human charges from the horrors that lie in store, but it's a big ask. One of the other familiar riffs looping away here is the hopeless unpreparedness of the humans for the inevitable onslaught, now so wearisomely routine that it's impossible to feel much sympathy for the victims. The part where David invites Oram to take a look inside an Alien pod ("it's perfectly safe, I assure you") prompts hilarity rather than terror. Besides, since the threat on the new planet can take the form of microscopic spores entering the ears or the nose, the humans are little more than sacrificial ducks in a row.
Before we reach that familiar moment when survivors try to take off while pursued by Aliens, we get to see a few species variations, some of them created by creepy David in his private Frankenstein's laboratory. The moment where a soft-porn shower sequence between consenting crew-members turns into a bloodbath suggests that Sir Ridley wasn't taking this one entirely seriously. Six more? Must we?