The Snowman review - Michael Fassbender can't save Harry Hole |

reviews, news & interviews
The Snowman review - Michael Fassbender can't save Harry Hole
The Snowman review - Michael Fassbender can't save Harry Hole
Unbalanced Jo Nesbø adaptation is an absurd misfit on the big screen
Thursday, 12 October 2017
Wading through snowdrifts: Michael Fassbender as Harry Hole in 'The Snowman'
The crime novels of Jo Nesbø are rampaging Nordic psycho-operas. The author's Oslo detective Harry Hole is a lofty alcoholic who takes an outrageous pummelling in his pursuit of deranged serial killers. His many adventures fill the crime shelves in bookshops with their fat spines in flashing yellow upper case, but until now he's been kept from the screen.
Michael Fassbender
feels like correct casting, a loping, freaky lunk who can embody obsession and self-loathing.
In The Snowman, we first encounter Hole waking up on a public bench with a hangover from hell. He has an ex-girlfriend Rakel (Charlotte Gainsbourg) whose teenage son he keeps letting down, while she's taken up with a clean-living doctor called Mathias (Jonas Karlsson) who is everything Hole isn't. All he requires to fend off the demon drink is the all-consuming focus that comes with a case. "I apologise for Oslo's low murder rate," says his boss sardonically.
Then a woman mysteriously vanishes, abandoning her young daughter, while outside the house a snowman with sticky arms and a coffee-bean smile stands sentry. Hole happens to have just received a scrawled message featuring just such an image, predicting carnage. So this is going to be personal. It always is with Hole. The murderer, whose rosebud moment happens in the dramatic opening sequence when his mother sinks through the cracks in a frozen lake, turns out to be a dab hand at decapitation and amputation. Chloë Sevigny, having lopped the head off a chicken in her remote farmstead, loses her own in no time at all.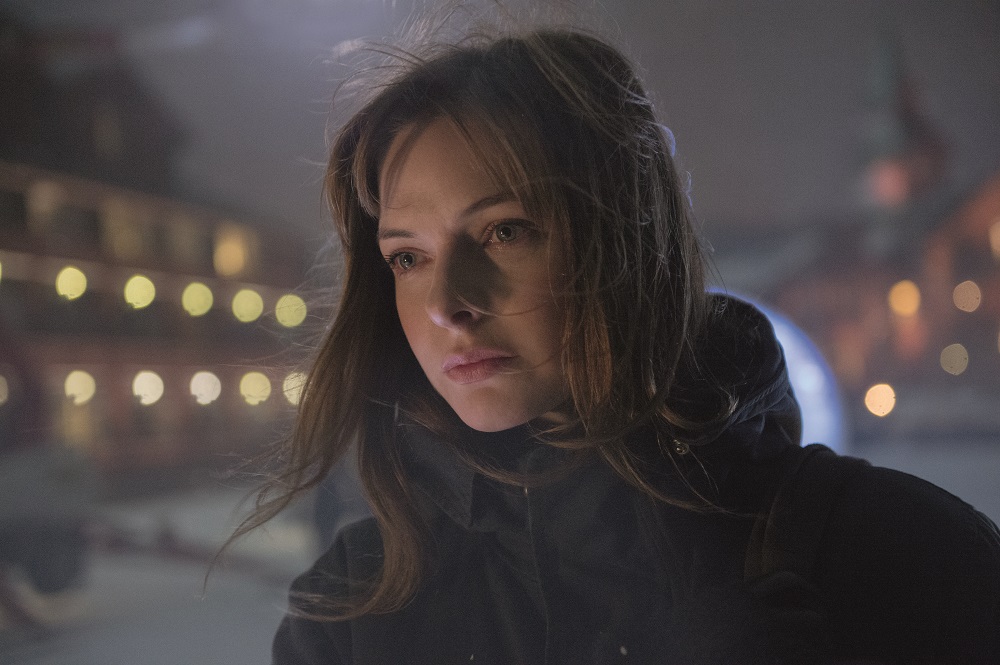 Hole is soon joined on the case by Katrine Bratt (Rebecca Ferguson, pictured above), a detective from Bergen who has ghosts in her own locker. Bergen supplies the locale for a flashback subplot in which another policeman with a booze problem who was investigating sleazy industrialist Arve Støp (JK Simmons, pictured below) winds up with his head blown off. Støp is now fronting Oslo's bid to host the world winter games, and Bratt is particularly keen to expose him while she works on the snowman case.
This is director Tomas Alfredson's first film since the masterly Tinker Tailor Soldier Spy, and it looks spectacular enough – the Norwegian tourist board will be pleased with the prettiness of Oslo in winter, the panoramas of Bergen and many epic rural splendours. Flocks of birds pecking at a corpse fly off to reveal dismembered remains. Iced breath condenses in the mouth of a child waking in a cold house.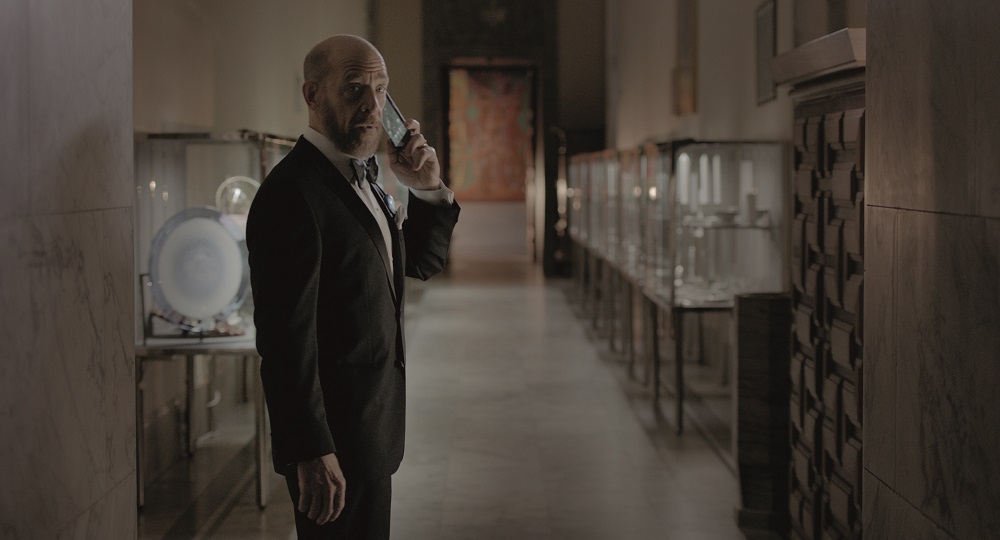 But under all that pristine snowfall, it's a bloody mess. Credited as scriptwriters are Peter Straughan, who adapted Tinker Tailor Soldier Spy, plus Hossein Amini, who did last year's Le Carré film Our Kind of Traitor, and Søren Sveistrup, the showrunner of The Killing. Nesbø has none of Le Carré's cool restraint. It looks as if writers kept being drafted in to fix stuff, but found themselves tasked with cramming a square peg through a round hole. A lot of it doesn't make sense. Bratt's revenge story, typically overblown in the book, is rudely terminated. The Støp subplot has no ending. In the original Hole's apartment is being stripped to remove toxic damp, which goes for nothing here. Also there's no reason why Hole has to hand over his gun in the hasty denouement.
The cast is top-heavy with underused stars pretending to be Norwegian. Sofia Helin (from The Bridge) sinks swiftly through the ice of a frozen lake. Toby Jones and David Dencik, alumni of Tinker Tailor Soldier Spy, have half-baked cameos. Sevigny has no sooner deployed the English accent she wasn't allowed to use in Love & Friendship than she's gone. Val Kilmer is a brief highlight as an old sot. Even Anne Reid pops up as a caring neighbour. Fassbender takes all the plot can throw at him with his usual intensity – wading through snowdrifts, slumping in gutters, a gratuitous pan up his ripped body in his pants. Gainsbourg is just right as his mournful ex (though surely she'd wear tights under that knee-length dress in midwinter?)
Nordic noir doesn't always hit the spot – see BBC Four's supernatural Swedish import Black Lake – but when it does its rhythms seem temperamentally suited to the slow roll-out of 10-parters on television. Sveistrup must have been brought aboard to give a taste of that. It just hasn't happened. Alfredson has stuffed Nesbø's blind alleys and wild tangents into a multiplex-sized container and it feels like a misfit.
The cast is top-heavy with underused stars pretending to be Norwegian
rating
Explore topics
Share this article