Swan Lake, Bolshoi Ballet, Royal Opera House |

reviews, news & interviews
Swan Lake, Bolshoi Ballet, Royal Opera House
Swan Lake, Bolshoi Ballet, Royal Opera House
The great Moscow company shows heroism in the circumstances
Grace under pressure: the Bolshoi corps de ballet in 'Swan Lake'
Everyone must be wishing the Bolshoi Ballet a swift return to company health after the tragic events of this year, as well as a return to physical health by their horribly injured artistic director - in the circumstances it's heroic that they have got to London at all, let alone in such good performing order as they showed last night.
Many of us will be wishing they had got themselves a worthy production of
Swan Lake
too, but they haven't, and so the first night of their three-week visit to Covent Garden was not the glowing triumph it should be in the film script.
Those Russian women have a uniquely innocent pliancy in their necks and tenderness in their bodies that seems even more touching considering Yuri Grigorovich's 2001 revision is emotionally, spiritually and musically a hollow shell of what Swan Lake can be.
While it has familiar pictures in place - prince in white tights, swangirls in white tutus, castle, imaginary lakeside - it has lost much through the former Bolshoi director's determination to rechannel it his way. He's brought in his rotovator and left only a few pieces of the beautiful old choreography intact, uprooting mime and metaphor, substituting workaday steps for the good ones we know from more authentic texts (such as the Royal Ballet's), and taking loppers to the drama.
Some of the lopping has dramatic logic: the action is divided into just two acts and Prince Siegfried enters immediately at the start and starts dancing - no hanging about for him through Act 1's court dances. He takes part in it all, dancing the pas de trois with two hopeful young ladies, generating some emotional backstory.
Another revision that moves the plot on is Grigorovich's recasting of the usually submissive applicant princesses of Act 3 as proud princesses with their own retinues, dancing powerfully one after another as if to audition to be the next Queen.
Last night's ballerinas were a confident team, and I thought Siegfried could have wrapped his future up nicely with either Kristina Kretova (one of his pas de trois ladies) or Maria Vinogradova (the demure Russian princess - Russian dance pictured above right)
The thread of emotional suspense is mislaid, and the story becomes just a conveyor belt for the ritual images
Other changes deflate the poetic mystery of Swan Lake. The Queen Dowager drifts about without any part in Siegfried's emotional life. Instead of the half-seen owl Rothbart holding the swans in his spell Grigorovich creates a vigorous "Evil Genius", who leaps and jumps with Siegfried and is conceived, says the choreographer, to signify Destiny luring the prince to other worlds. It's hard to see the point of this, diminishing as it does Siegfried's free will in the story, and hence diminishing the impact of Odette's death. As Siegfried walks towards us at the final curtain, his survival has a disappointing insubstantiality. None of it matters, it says.
Quite a bit of the problem is Grigorovich's contrary ignoring of the dramatic climaxes that Tchaikovsky puts in the music, and therefore the reducing of key moments. Both Odette's and Odile's entries are mangled by cackhanded musical changes that Grigorovich has used to pre-empt and spoil the great familiar moments he intends to keep from the Ivanov-Petipa original work. The net effect of a fair number of such mistimings is that the plot points are obscured, the thread of emotional suspense is mislaid, and the story becomes just a conveyor belt for the ritual images rather than a narrative arising out of and with the music.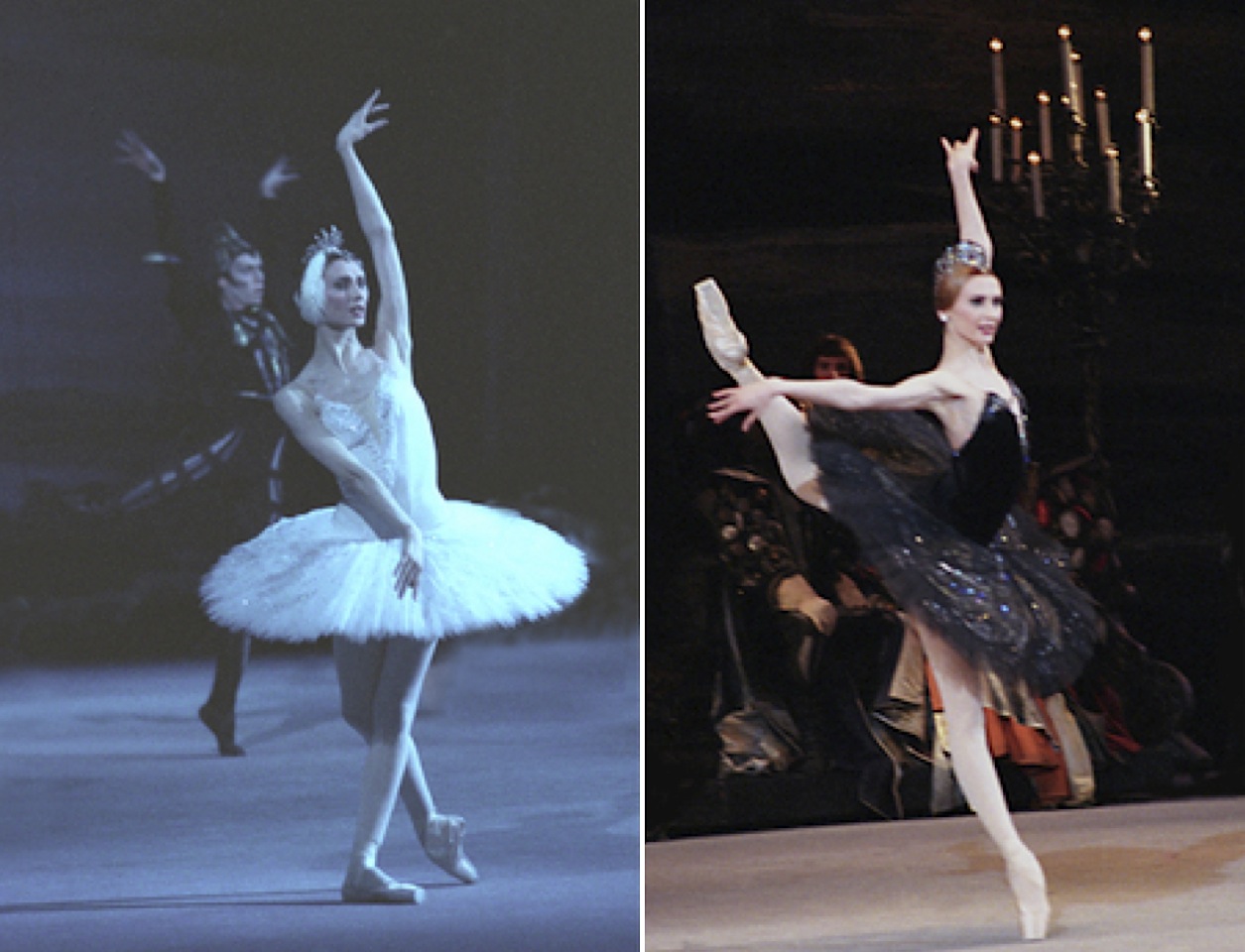 And this loss of meaning affects the performing - how could it not? Svetlana Zakharova, now 34, is even more astonishingly plastic and liquidly graceful than last time we saw her here, with a mournful gravity to her Odette and a brittle glamour to her Odile (Zakharova pictured right in both roles). She is almost unreally beautiful, but looks hermetically sealed in her own image-making, hearing the music without feeding from it to inflect her choreography.
There's also an emotional vacuum in her partnership with Alexander Volchkov, there seems nothing at stake between them. In fact I don't understand what Volchkov is doing opening the Bolshoi tour, viewing his unengaged impersonation of Siegfried last night and some seriously unshapely, even flabby dancing in his solos. He was outdanced in style and energy by Vladislav Lantratov as the Evil Genius - a most attractive young male riser, giving his character a proper theatricality.
Denis Medvedev threw some traditional Bolshoi bounce at the diversionary role of the Jester, a splash of red in the black and gold court, with its sooty streaks and curtain yo-yoing up and down. Pavel Klinichev conducted the Bolshoi orchestra with satisfying romanticism, achingly slowly for Odette's solo, and with a quick light tread for the swan corps, though the music's fighting a losing battle with the stage oddities to the very last scene.
Despite the production's shortcomings, the ensemble oozed dignity. Grace under pressure is being shown in all corners, from the dancers and management to the venerable impresarios, Lilian and Victor Hochhauser, who should by rights have anticipated an easier celebration of the 50th anniversary of their first Bolshoi tour to the Royal Opera House.
It's heroic that they have got to London at all, let alone in such good performing order
rating
Share this article