The Nutcracker, English National Ballet, London Coliseum |

reviews, news & interviews
The Nutcracker, English National Ballet, London Coliseum
The Nutcracker, English National Ballet, London Coliseum
Wayne Eagling's production returns for another bout of rodent control
The party scene in Wayne Eagling's production of 'The Nutcracker'
Unusually, English National Ballet's Nutcracker finds itself in an empty field this year. Three Decembers ago, the second time out for Wayne Eagling's production, it had to contend with Matthew Bourne's version and the Royal Ballet's, not to mention the fallout from a BBC fly-on-the-wall series that had brutally exposed its difficult conception.
Every year since, improvements have been made – some subtle, some significant, all necessary, because having a Nutcracker that broadly satisfies audience expectation is crucial for this company, and not just in terms of box-office receipts. It was ENB's precursor, London Festival Ballet, that began the Nutcracker habit in the UK in 1951, and although ENB can no longer claim an unbroken annual tradition, it's still seen as the go-to company for a family Nutcracker (is there any other kind? Alas yes, in the US, where the burlesque Nutcracker now has its own niche).
Eagling's opening skating scene is Christmas-card perfectThe least one can say about Eagling's production, then, is that it tells the traditional story with most of the expected elements in place, allowing Tchaikovsky's evergreen music (in the capable hands of Gavin Sutherland and the newly renamed English National Ballet Philharmonic) to do its job.
The fact that very little of the 1892 choreography survives leaves scope for innovation. Eagling's opening skating scene, for instance, is Christmas-card perfect - thanks also to Peter Farmer's satisfying design. More problematically, he tackles the ballet's structural problem (Act I is all story; Act II has none) by bleeding elements of the first half into the second, sending the Mouse King into the Land of Sweets in attempt to scupper the budding romance between Clara and the Prince. At its best, this achieves a more balanced evening, including the memorable sight, as the interval curtain falls, of the couple taking off in a hot-air balloon with James Streeter's Mouse King dangling grimly by his claws from the basket. At other times, though, there's too much pointless activity in elaborately hairy costumes. The Dance of the Snowflakes (and Eagling's is a good one) should surely be allowed to stand alone without the distraction of scuffling rodents.
Other innovations, the invented dream sequences especially, are confusing, the Nutcracker (a masked Max Westwell) morphing into Drosselmeyer's nephew (handsome Alejandro Virelles) and back again an absurd number of times. And if I, a veteran of two dozen Nutcrackers, found this hard to follow, what chance does a first-timer stand? By contrast, it was easy to suspend disbelief at the transformation of the child Clara (an accomplished debut by young Sereina Mowlem) to the adult Clara (the barely more than child-sized Alina Cojocaru). Not only does Cojocaru do a touching line in bashfulness, but the switch occurred just the once.
On the whole, though, the Act I party is a warm and happy affair, the swarms of children dancing with infectious gusto and acting with unusual delicacy and restraint as they compare presents and set about playing with their toys. The older generation don't come off badly either, allowed the dignity of a proper "Grandfather Dance", mercifully devoid of gags about being unsteady on their pins.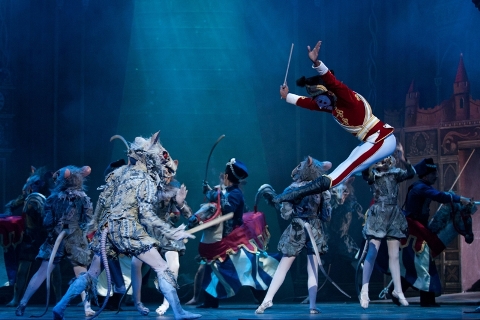 The Act Two divertissements find Eagling – himself once an outstanding principal – on home ground, with a rattling good Spanish dance and Chinese and Russian dances of pronounced technical elan. Good to report, too, that the appallingly misjudged Arabian dance of past seasons, with its bound-and-gagged captive, has at last been politically redacted. The bare-chested slave owner (an impressively muscled Shevelle Dynott) still wields a whip but now he merely threatens the harem of girls with it (progress, of sorts). Another improvement: the romantic subplot involving Clara's older sister and three potential suitors has been dropped. Ksenia Ovsyanick, as the sister, now dances the Mirlitons' music as a chaste pas de deux with Drosselmeyer (a neat and attentive Fabian Reimair), rather than with a succession of competitive wannabes. As is so often the case, less is more.
In the end, though, all Nutcrackers stand or fall on the pure dance-wattage of the final pas de deux, the one sequence that has survived of Lev Ivanov's original choreography. Alejandro Virelles, making his debut in the role, looked the perfect prince with his long legs and noble bearing; his dancing is clean and stylish and no doubt the charisma will come. But it was left to Alina Cojocaru to turn up the volume, which she gloriously did. Every gesture, every look, the merest dip of her small neat head, adds to the grandeur of her beautifully controlled performance. Almost as a bonus, she has developed a way of marking the climax of the Adagio with a momentary heightening of emotion that suggests a split second of petite-mort oblivion, a losing of self. Perhaps someone taught her to do this, perhaps she invented it; whichever, it's devastating. How lucky ENB is to have her.
The misjudged Arabian dance of past seasons, with its bound-and-gagged captive, has at last been politically redacted
rating
Share this article