Murmur/Inked, Aakash Odedra, Patrick Centre, Birmingham |

reviews, news & interviews
Murmur/Inked, Aakash Odedra, Patrick Centre, Birmingham
Murmur/Inked, Aakash Odedra, Patrick Centre, Birmingham
Two new works establish the Birmingham native as a dance creator to watch out for
Aakash Odedra is joined in his new piece 'Murmur' by Ars Electronica Futurelab's virtual flock of white birds
It might be quite unnerving for a young performer to have the première of a new solo show take place in the same building, at the same time, as Sylvie Guillem is dancing William Forsythe, Mats Ek and Jiří Kylián. But Aakash Odedra, who presented two new pieces, Murmur and Inked, in the Patrick Centre inside the Birmingham Hippodrome on Tuesday and Wednesday this week, has had more dealings than most with superstar dancers and choreographers: his mentor Akram Khan is both (and incidentally a collaborator of Guillem's). Russell Maliphant and Sidi Larbi Cherkaoui have also created pieces for this talented dancer, who is so often described as a rising star that I wonder whether the title of his 2012 show, Rising, was a little tongue in cheek.
Trained in the classical Indian dance forms Kathak and Bharat Nagyam, Odedra has learned contemporary dance by doing, performing the pieces made for him by Maliphant, Cherkaoui and Khan on tour for the last two years. The new works he presented in Birmingham – his home city – this week are the impressive fruits of that learning process, showing a mature integration of the languages of classical Indian and Western contemporary dance within a visual and thematic frame shaped by Odedra's own strong creative vision. Both Murmur and Inked deal with aspects of Odedra's personal history: the former with his dyslexia, and the latter – a little more abstractly – with ways of marking on and through the body, a subject in which he became interested through his Rajput grandmother's traditional tattoos.
Murmur is the opposite of opaque: a revelation of a world of wonder inside the mind
Inked (choreographed by Damien Jalet) begins in darkness with just the sound of feet softly slapping the floor: the pace and volume crescendo as the lights come up to reveal Odedra's lanky, bony body framed in a human-shaped hole in a piece of paper. Lighting, design and choreography all conspire to make this body strange: in brief black shorts and T-shirt, his feet look huge; turned side-on to us, his hyperextended back looks unnatural; his whirling on the floor on his knees looks highly uncomfortable, and – with those long, skinny legs – almost insectoid. A later, astonishing, sequence has him remove his shirt, ink two eyes on his shoulder blades and, standing on his head, turn himself into an alien creature with a huge, shiny domed forehead (his back) and little tentacles (his hands). Later again he inks panda eyes on his face and becomes a human spirograph, spinning on his knees and flinging out his arms, which (with charcoal sticks concealed in his hands) trace layer upon layer of curves on the paper floor. Not sparing himself at all, Odedra gives us dance as a series of transformations, and the near-naked body on an unadorned stage as an oddity, a thing to think with, almost a lab experiment. It's impressive, but it's also opaque, and so becomes tedious to watch.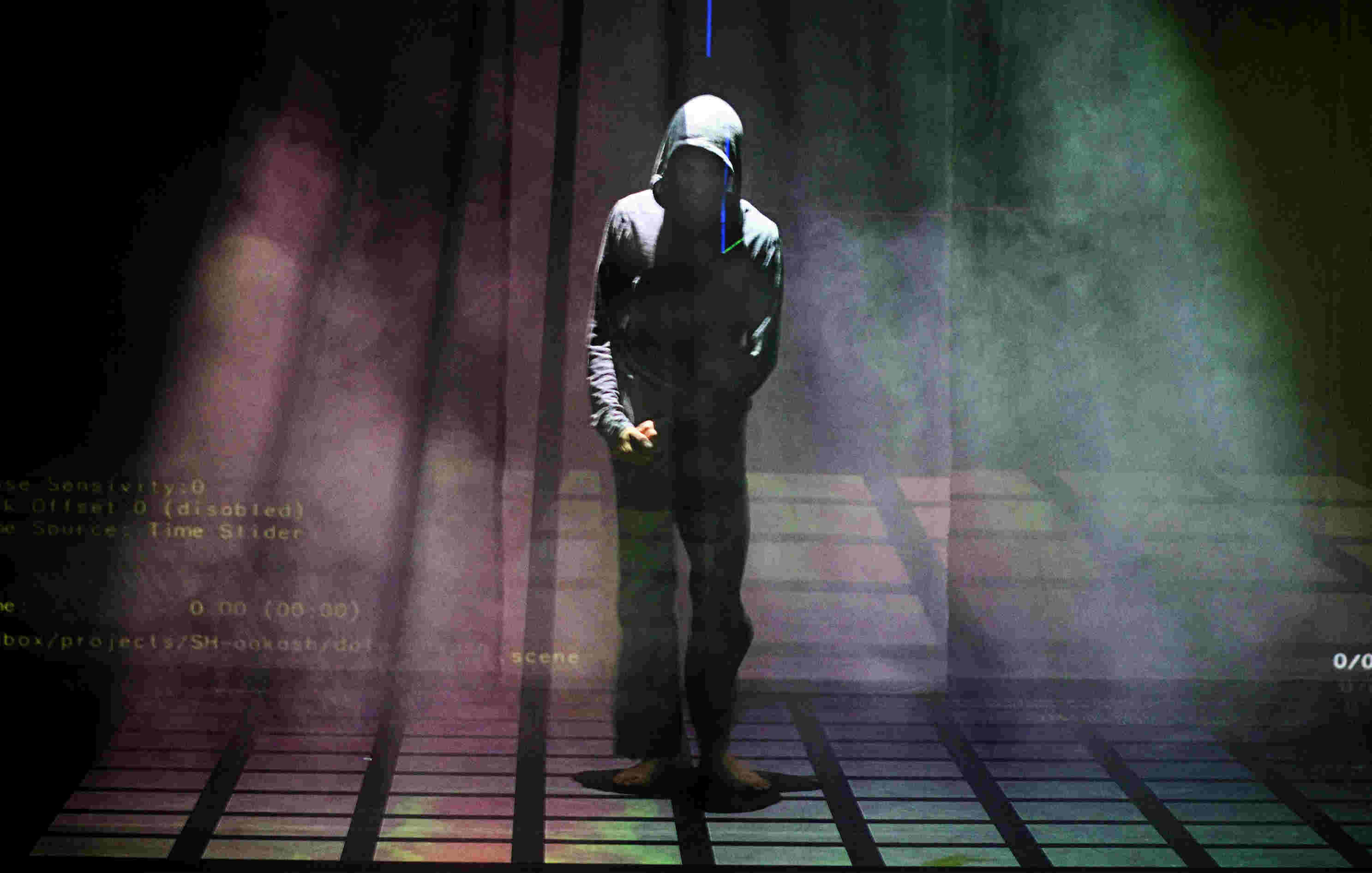 Murmur (co-choreographed by Odedra and Lewis Major) is the opposite of opaque: a revelation of a world of wonder inside the mind. Where Inked contains no hint of the blank-faced dancer's thoughts, Murmur has Odedra actually speaking to us (in English and Gujarati), telling us what he feels, and bringing us along on a journey that starts with the frustrating difficulty of reading, touches on the unsettling connection between identity and the written word, and ends by celebrating the liberating joy of dance and imagination.
Collaborators Ars Electronic Futurelab ornament the stage with wonders of light and animation: a flock of white birds which swirls like a fish shoal, pictures of fantastical castles, gates and trees, and a shimmering electrical outline of Odedra with which he (wonderful coup de théâtre!) shadow boxes. But the best effects are the simple, non-computerised ones: there is an incredibly clever sequence where sheets of A4 are dispensed from the lighting rig and then whipped into a storm by a circle of glinting silver electric fans while Odedra frantically tries to capture and corral them with a box and two huge brushes. The theatricality of this production establishes Odedra as a powerful stage presence, but it does leaves less room for dancing: a shame only because his dancing is a pleasure to watch, particularly when he returns to the Kathak classical idiom and shows us the talent and training that first brought him to Khan's notice.
As displayed in this double bill, Odedra's grit as a performer and strength of vision as a creator are both extremely impressive. Murmur, into which he had more creative input, is the richer and more memorable of the two pieces, and as an exploration of the relationship between dance and mind it has a poignant power that someone like Wayne McGregor in all his recent hi-tech thinky work has not managed to capture. Yes, there are a few overblown moments, and a little editing would have made Inked a better piece, but this show establishes Odedra not just as Akram Khan's protégé or a "rising star" of Indian fusion dance in Britain, but a highly interesting young creative voice. We should all be watching out for more from him.
The International Dance Festival Birmingham continues until 25 May. Aakash Odedra will perform Murmur and Inked in the Linbury Studio, Royal Opera House, in January 2015
He inks panda eyes on his face and becomes a human spirograph
rating
Share this article