Ruddigore, Charles Court Opera, King's Head Theatre |

reviews, news & interviews
Ruddigore, Charles Court Opera, King's Head Theatre
Ruddigore, Charles Court Opera, King's Head Theatre
They can sing, dance and make you laugh until you cry: portmanteau G&S at its very best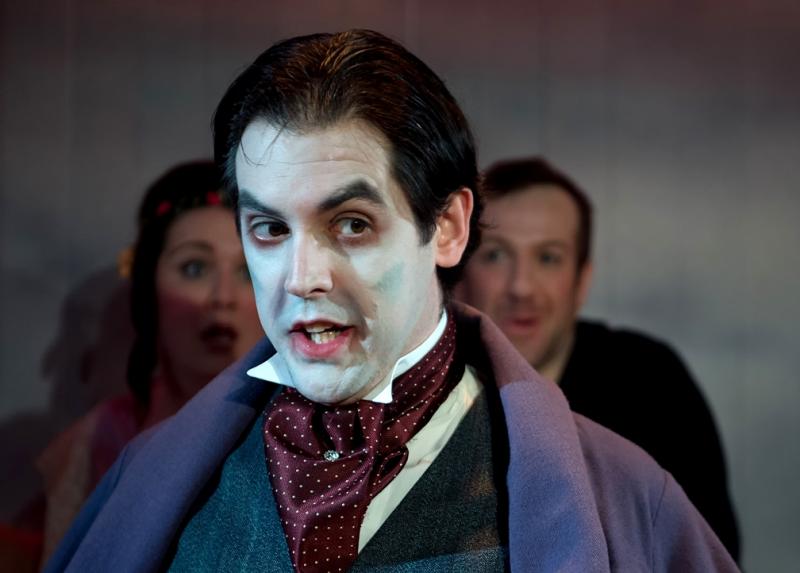 John Savournin as Sir Despard Murgatroyd: consummate in song and speech
How can a feisty village dame duetting "lackaday"s with the mounted head of a long-lost, nay, long-dead love be so deuced affecting? Ascribe it partly to the carefully-applied sentiment of Gilbert and Sullivan, slipping in a very singular 11-o'clock number after so much Gothick spoofery, partly to two consummate and subtle singing actors, Amy J Payne and John Savournin, in a production of spare ingenuity by the latter, true Renaissance/Victorian man equally at home in opera and operetta.
Savournin also makes a virtue out of the necessity of a nine-strong cast guided by a brilliant pianist – David Eaton, something of a Lisztian virtuoso when occasion demands – by giving us two Bad Baronets of Ruddigore for the price of one. Except, of course, that Sir Despard Murgatroyd, freed from having to commit one bad deed a day due to a witch's curse, turns extremely sober.
That furnishes the other sublime sequence of the evening, a duet punctuated by "blameless dances" with the once-mad, also now reformed Margaret, calmed by the magic word "Basingstoke". Cassandra McCowan (pictured with Rebecca Moon's Rose Maybud on the left) is a revelation, alert to every word and vocal colour in the Lucia-ish Mad Scene of the first act and in the second consummate at suggesting excitability barely under restraint by the twitching of an eyelid. It's part of the bliss of intimate theatre like this that everyone in the audience can see such signals.
To single out these moments of high artistry, though, shouldn't be to suggest that anyone else in a fine ensemble falls short of the mark. The performance as a whole treads a stylized but very fine line between the unfunny excess of overdone G&S – Scottish Opera's Pirates of Penzance being an example, though there was also one singer in the Charles Court Mikado who overstepped the mark – and the wilt of a highly polished, more expensive production. That happened in Opera North's much-praised Ruddigore: the first act sagged in the middle, as this one never did for a moment. Even the tricky portrayal of selfish sailor Dick Dauntless, sometimes a character too far in the setting-up of pastoral, seadog and Gothick satires, is energetically and just a little bit charmingly, if occasionally a bit too loudly, etched by tenor Philip Lee.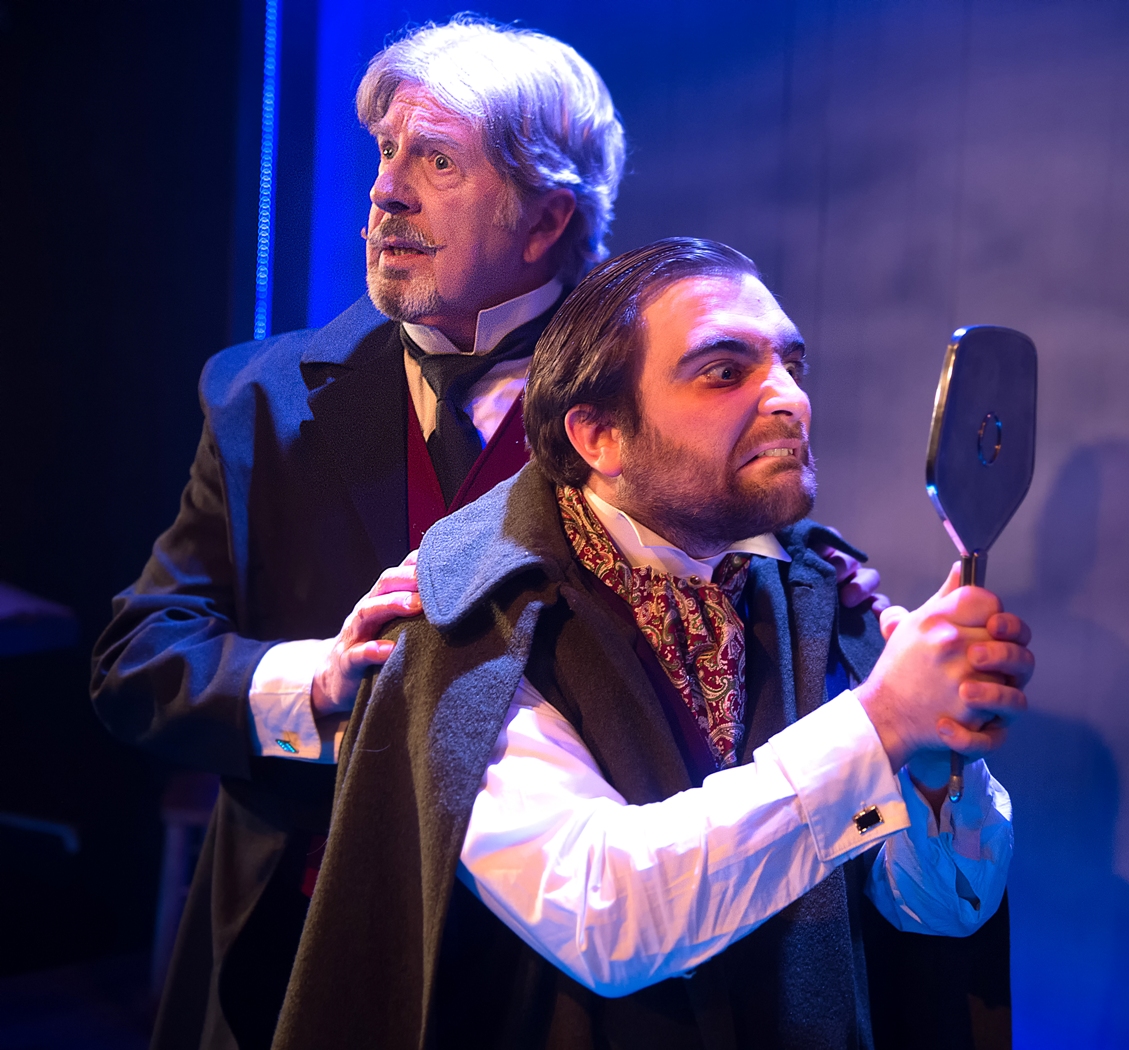 Only one number had to go: you can't do an ingenious double chorus with three out of this show's four ladies. But Andrea Tweedale and Susanna Buckle, harmonizing with Payne's Dame Hannah, play a far more integral role in the action than your average chorene. Completing the "distaff side", as her quaint, etiquette-obsessed, Bible-spouting character might have put it, is Rebecca Moon as Rose Maybud, a charming evocation of keep-your-distance, come-hither confusion in a delicious double act with Matthew Kellett's baronet-as-farmer, the apogee of false modesty (prize for topsy-turvydom in the always sparkling dialogue: "Ah, you've no idea what a poor opinion I have of myself, and how little I deserve it"). Kellett (pictured above with Simon Masterton-Smith as his "valley-de-sham" Old Adam) and Savournin both excel in the art of reluctant role-playing, neither of these Murgatroyds a natural moustache-twirler and Savournin's Despard stuck in a rictus of disbelief at his assumed badness before turning into a humourless academic with a wry touch of the Stephen Frys.
To reveal how a tiny company in a small space, albeit smartly designed by James Perkins and variously lit by Nicholas Holdridge, manages the scene in which the Murgatroyd ancestors – at least in the original libretto – come to life and step out of their picture frames would be to spoil half the fun. Suffice it to say that, like everything else in this clever, intelligent approach, the effect is simple, rigorously executed and laugh-until-you-cry funny. Maybe we miss Sullivan's crafty homage to Berlioz's more outlandish orchestration in "The Ghosts' High Noon", but Eaton more than compensates with what sounds like an improvised Liszt-style melodrama while abducted maiden Hannah assails her captor. Full marks, too, for nifty, likewise amusing choreography by Phillip Alden.
So many people who've been to see the show, and persuaded me I had to go, have said, "I don't normally like Gilbert and Sullivan, but this was just hilarious"; when done this well, the two old masters' comic and lyric genius can only be vindicated again and again. Promising times ahead, too, with a long-overdue Princess Ida at the Finborough Theatre and Mike Leigh's new production of The Pirates of Penzance at ENO. Don't miss this firework, though.
Savournin makes a virtue out of the necessity of a nine-strong cast by giving us two Bad Baronets of Ruddigore for the price of one
rating
Share this article