The Missing, Series Finale, BBC One |

reviews, news & interviews
The Missing, Series Finale, BBC One
The Missing, Series Finale, BBC One
Audience foxed by twists in the outro of the first series
Wednesday, 17 December 2014
Vigilante-cum-gumshoe: James Nesbitt in The Missing
So now we know. Sort of. The missing clue was tweezered into view in time for the final episode of The Missing and the fate of little Olly Hughes has been revealed. Up to a point. To those reading this without having seen the dénouement, it gives only a little away to report that the plot involving the search for a ring of paedophiles has been a gigantic red herring. Probably.
The Missing hasn't been quite the water cooler event to match Broadchurch. But with skilful feints and shimmies it has kept any number of options open – and continues to do so – while simultaneously confirming one's suspicion that the mairie was involved in the mother and father of all cover-ups. Harry and Jack Williams have worked the intriguing back-and-forth time scheme with careful attention to detail and have got away with the fact that half of the drama – the section set in 2006 and latterly 2009 – has been about watching an investigation fail to get anywhere. Now we know why.
When the music stopped at Emily's wedding, the dead silence on the soundtrack was replaced by chill, haunting winds
When the plates stopped spinning it looked as if two brothers had written a crime drama in which the culprits were two brothers. Very weirdly indeed, they had an accidental accomplice in the shape of a fox cub. Yes, Olly was enticed to his fate not but an evil kiddy-fiddler but a creature as innocent as himself. How annoying and bathetic was that? Nor was it ever explained how Alain, the witness whose stagey deathbed confession revealed (almost) all, knew about the role of the fox. Nor why he'd fallen off the wagon after collecting all those sobriety medals.
Along the way, how good was The Missing? It has asked a lot of the relatively limited palette of James Nesbitt, a Marmite actor best known down the years for being charming, who has spent the past eight episodes being a tormented vigilante-cum-gumshoe. Never has he had to paste quite so much emotion on that great snaggle-toothed, heavy-lidded shovel of a face before. If only they'd had the idea to give him that full and splendid Hoxton for the contemporary scenes, to go with Emily's long dark locks. That was the biggest reveal in the icy finale in Russia.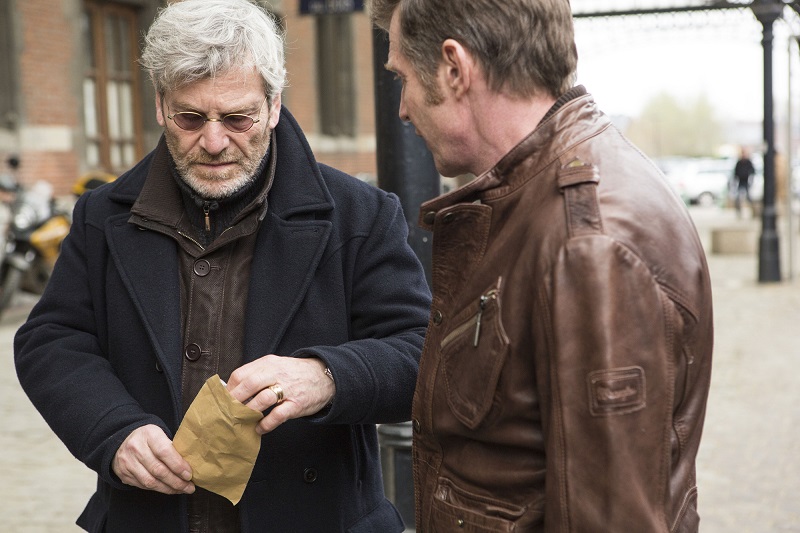 Alongside him as grieving mother Emily Hughes, Frances O'Connor has given a performance of purest camomile – aside from one near bridge-jump – which can't have been easy. Jason Flemyng as her new safe haven Mark didn't finally add up to much plotwise. Nor did the story of incurable paedophile Victor Bourg (Titus de Voogdt), whose life spent on the rack of his own desires was still compassionately followed to the very end. In the father confessor role of the limping detective Julien Baptiste, Tchéky Karyo has elegantly led a team of French coppers who, for one's viewing convenience, spoke rather better English than our lot do French. (See also The Tunnel.)
Other characters have come and gone, a couple of them by their own hand in this final episode (which might have been titled "Two Suicides and a Wedding"). The fleshiest walk-on role went to the bloated paedophile Ian Garrett (Ken Stott), the recipient of summary justice several episodes ago. It's been an astute ruse of The Missing that marginal but still well-written characters have been parachuted in to move the story on – a Romanian girlfriend of the copper infiltrating the drug gang Caid de Cité, a young teacher given a fresh identity, the sinister cleaner turned Brussels barman. As her husband lay dying of a punitive cancer, squeaky clean hotelier Sylvie was the only character left to bask in ignorance.
In the mean time the script has not neglected the private lives of its supporting players, several of them to a greater or lesser extent visited by the agonies of parenthood. There was Baptiste's addict daughter, the sick young son of phone-hacking journalist Malik, the bent copper Ziane and his son who refused to visit him in prison. All were mulched together in a final montage about the consoling necessity of moving on: "Home," advised Baptiste, "is whatever there is in your life that stops you feeling alone."
Alas Tony Hughes wasn't listening hard enough, and was thus denied the redemption parcelled out to all around him. When the music stopped at Emily's wedding, the dead silence on the soundtrack was replaced by chill, haunting winds. Without any final answers, he had been imprisoned in a Siberia of the mind, and had come to embody his own worst fear: stranger danger. Directed with great composure by Tom Shankland, The Missing hasn't been perfect – although the script encouraged us to feel relieved that Olly had escaped sexual abuse there was no closure for the defrauded viewer any more than for the protagonist. But it has been compelling. Prepare for more, when next time someone's child is not lost, but found.
Subscribe to theartsdesk.com
Thank you for continuing to read our work on theartsdesk.com. For unlimited access to every article in its entirety, including our archive of more than 10,000 pieces, we're asking for £3.95 per month or £30 per year. We feel it's a very good deal, and hope you do too.
To take an annual subscription now simply click here.
And if you're looking for that extra gift for a friend or family member, why not treat them to a theartsdesk.com gift subscription?