Broadchurch, Series Finale, ITV |

reviews, news & interviews
Broadchurch, Series Finale, ITV
Broadchurch, Series Finale, ITV
ITV's hit crime series drags itself wearily across the finishing line
The truth will out, but not very quickly: Olivia Colman and David Tennant on the case
And the killer is... No, that would be telling, and you might not have watched it on catch-up yet. But was the revelation worth the wait?
We often complain about the way British TV dramas are often squeezed into three or four (or two) parts, when an American series would stretch to 16 or 22 episodes. Hats off, then, to ITV and Broadchurch writer Chris Chibnall for picking up the baton to create an eight-parter designed to depict the impact of a boy's murder on a small, tightly-knit seaside town (Oskar McNamara as murder victim Danny Latimer, pictured below).
Hats partly back on again, though, for the fact that there never seemed to be quite enough material to fill the allotted time. Some critics have been trying to float the notion that Broadchurch was a kind of West Country Killing, a tour de force of intricate, extended storytelling and tightly knitted characterisation, but in reality it mostly relied upon the questionable technique of feeding out tiny amounts of information at an agonisingly slow tempo. At one stage it almost ground to a halt entirely, and they could have removed episode four altogether without significantly impairing the story.
Even this final episode, the much-anticipated climax to seven weeks of foreplay, relied to a near-farcical degree on slow-motion reaction shots of grieving friends and relatives set to lugubrious music being gradually cranked up to deafening volume. It was as if the required emotions were being painted on in post-production rather than arising naturally from character and situation. As for the grand dénouement, it was merely sprung on us as one possibility out of several. You might have guessed who did the vile deed from a fairly small pool of candidates, but you couldn't have worked it out methodically from the preceding episodes because the facts you needed had been carefully withheld.
However, some plaudits are in order. Olivia Colman shone as DS Ellie Miller, skilfully expressing the frustrations of trying to develop her police career in a picturesque backwater while fulfilling the roles of wife and mother. At the same time, the conflicts prompted by the requirement to maintain a professional detachment while investigating a hideous crime among her personal circle of close friends registered vividly on her face. Vicky McLure lent some acerbic light relief as Karen White, the hard-boiled tabloid hackette from the Big City.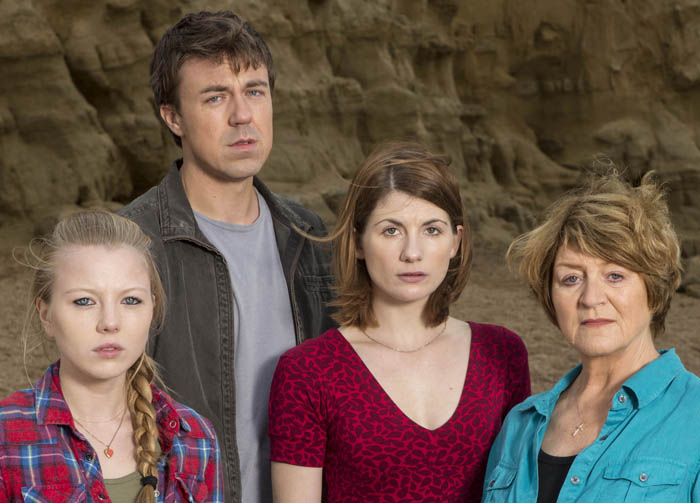 Elsewhere, Pauline Quirke imbued the sinister clifftop voyeur Susan Wright with an extraordinary degree of simmering menace, so it was disappointing that her character proved to be only an elaborate decoy. Worse was in store for Andrew Buchan, as grieving father Mark Latimer, and his wife Beth (Jodie Whittaker), who were both confined to a narrow band of bitterness and disgruntlement (the Latimers, pictured above). Pick of the thesps by far was David Tennant in the central role of DI Alec Hardy. Haunted, hollow-cheeked and bestubbled, Tennant walked a razor's edge between existential gloom and a last-gasp shot at redemption. Impressively, he even managed to squeeze some fragments of guillotine humour from the perpetual dark night of his soul.
Remarkably, the closing caption said "Broadchurch will return". Surely they're not teeing it up as Midsomer Murders-on-Sea?
It relied upon the questionable technique of feeding out tiny amounts of information at an agonisingly slow tempo
rating
Explore topics
Share this article