Men in Motion III, London Coliseum |

reviews, news & interviews
Men in Motion III, London Coliseum
Men in Motion III, London Coliseum
Treasury of male dance comes into its own with a sprawling third outing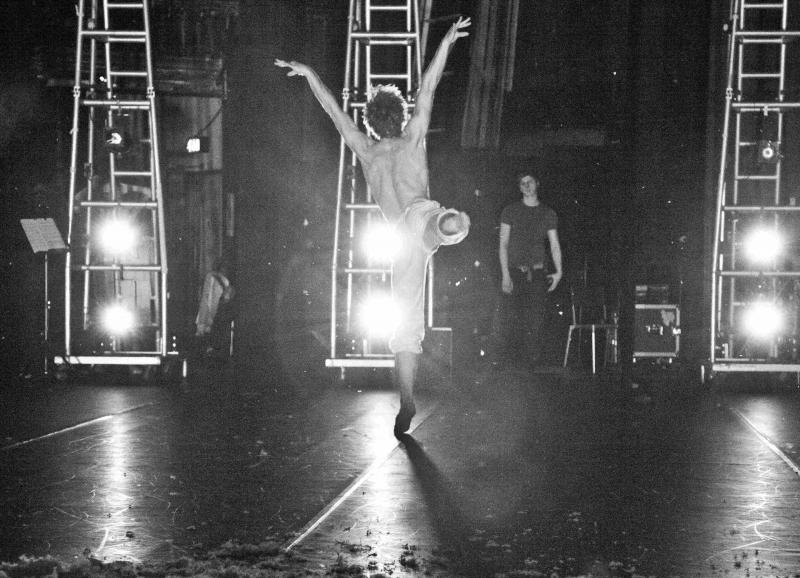 Men in Motion means bare chests and intense solos aplenty.
Two years, nearly to the day, since its first London outing, Ivan Putrov's all-male ballet showcase, Men in Motion, is back in town. Does the damning of that 2012 première as too slight still sting Putrov? Men in Motion III seems designed to forestall any such criticism, with an ambitious programme spanning two hours, 11 dancers, and 14 pieces from the last 100 years of choreography.
How to sum up this sort of sprawling mixed bill? I'd love to make one of those imaginary Tube maps that are all the rage nowadays. There would be a line for Hot Germans, and another for Nijinsky Classics (intersecting at Rainer Krenstetter in a slightly tame Aprés Midi d'un Faune), while the line Blues Rock would connect Sinnerman, 3 with D and Äffi (music by Nina Simone, Dan Gillespie Sells and Johnny Cash respectively). The District and Circle lines of this hypothetical metro (i.e. meandering around joining up a whole bunch of stuff) would be Men Without Shirts and Intense Solos.
Watson and Rademaker echo each other in mesmerising elastic arabesques
Let's discuss winners and losers. Losers first: Valentino Zucchetti and Yonah Acosta, both very fine young dancers, tried to shine on insubstantial fare, the former in the utterly forgettable Liza from Who Cares? (Balanchine/Gershwin/1970) and the campy parody Vestris (Jacobson/Banschikov/1969), and Acosta in the yawnsomely teenage Swan (Poklitaru/Saint-Saëns/2008). New commission Sinnerman (choreographed by Alan Lucien Øyen and danced by Daniel Proietto) was unedifying for everyone, unless of course you had previously been desperate to know what a lithe young man in a full-body-sequinned unitard gyrating wildly in bent-kneed, heavy contemporary style to Nina Simone would look like (sort of like a salmon crossed with a disco ball, since you ask). And Putrov himself as dancer didn't make the best showing: though obviously talented, he has an air of disengagement that doesn't help him in roles associated with the notoriously intense Nijinsky and Nureyev - the Faune-like Narcisse (Goleizovsky/Tcherepnin/1960) and an extract from Petrushka.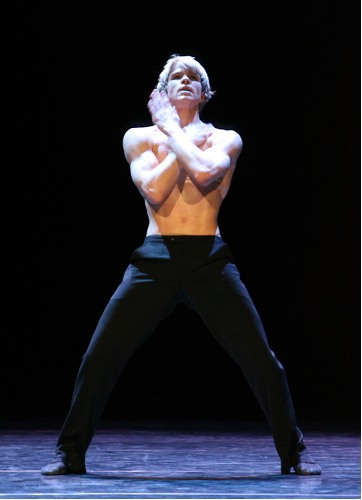 One big winner was Vadim Muntagirov, who, making his debut as the Rose in Spectre de la Rose (Fokine/Weber/1911), captured the compelling oddness (tendrilly arms and wide clean jumps) that keeps this little petit four of a piece being performed. In Miroshnichenko's 2004 Adagio too (the obligatory bare-chested solo), Muntagirov showed the seriousness and stature we saw last year in Béjart's Song of a Wayfarer. Another London stage favourite who came out well was Royal Ballet principal Edward Watson, in new work 3 with D, an erotic duet choreographed by Javier de Frutos for Watson and Stuttgart Ballet's Marijn Rademaker (pictured right in his electric solo, Äffi). To the sound of Dan Gillespie Sells (from The Feeling) melancholically rasping out Gershwin's "The Man I Love", Watson and Rademaker give us a relationship breaking down, and de Frutos gives us a pas de deux of equals, the two dancers tracing patterns with their shins while sitting bolt upright on chairs, snatching hands back from half-dared reconciliation, and echoing each other in the elastic arabesques that Watson's phenomenal hip and spine extension render so mesmerising.
Ballet has always been at its best when exploring relationships, and so for my money all the memorable pieces from last night were those with two dancers. As well as Spectre and 3 with D, there was a pas de deux from Proust ou les Intermittences du Coeur (1974), in which the quality of Roland Petit's choreography – balancing asymmetry to create striking emotional truth – really shines through a strong performance from Berlin Staatsballett's Marian Walter and Rainer Krenstetter. And to finish, Putrov and Proietto in Russell Maliphant's Two x Two, in which, at the last Men in Motion, Maliphant's wife Dana Fouras so outshone her male co-star. This time, we have two matched presences; more balanced yes, but reducing the drama for which Maliphant has such flair; it's seen just flickering, like the dancers' hands, in and out of the framing shadows.
The presence of a live orchestra, and choir (needed for Walter's bare-chested solo to the Lacrimosa from Mozart's Requiem), was much appreciated: however scratch the ensemble, Stravinsky, Débussy, Mozart and Weber sound better out of the pit than over a sound system. And so, at the final count, I think we have more winners than losers. Much like the London Underground, Men in Motion is getting bigger and more reliable: it's still not perfect, but it's unquestionably a Good Thing, and it takes you places, quite a lot of them interesting and worthwhile.
Sinnerman was unedifying, unless you had previously been desperate to know what a lithe young man in a sequinned unitard gyrating to Nina Simone would look like
rating
Explore topics
Share this article