Q&A Special: Choreographer Javier de Frutos |

Dance reviews, news & interviews
Q&A Special: Choreographer Javier de Frutos
Dancemaker hopes his ballet with the Pet Shop Boys won't result in death threats, for once
Rehearsing The Most Incredible Thing: Javier de Frutos with Aaron Sillis, below right
Born in Venezuela 48 years ago, de Frutos has never been the fairytale type, at least not overtly. His 20-year career of choreography has been a career of unstoppable fecundity, violent flamboyance, extreme, even grotesque exhibition, outrageous passion. To many he's a shock jock of contemporary dance. To me he's one of the two choreographers in Britain to whom I most look forward, pinned uneasily to the edge of my seat, waiting to be discomforted, disconcerted, left in turmoil and not sure what I believe any more.
I thought Eternal Damnation to Sancho and Sanchez a grotesquely funny satire from the stable of Chris Morris, South Park and Richard Thomas - "as jawdroppingly yeurghy as the Circus of Horrors, and has been calculated to a tee to provoke walkouts and boos from the audience," I wrote in my review. De Frutos had warned in advance that he was contriving a scandalous final course to an evening of otherwise graceful and decorous ballets.
But I have seen more horrific and upsetting work from him, in Los Picadores, a bloodbath of choreographed violence that left me deadened with pessimism (Los Picadores, pictured left by Chris Nash), and in a masterwork I doubt I'll ever forget, the claustrophobic, bloody and mentally suffocating sexual trio Grass.
Naked is what de Frutos does, physically and emotionally. When I first saw him in his twenties dancing nude to Bartok's massive Sonata for Two Pianos and Percussion, his lithe little body and bobbling penis were elfin, defiant on the huge waters of the music. He had already created a nude solo for himself to part of Stravinsky's Rite of Spring, music he's choreographed four times, most recently a headspinningly romantic ensemble for the Royal New Zealand Ballet, Milagros.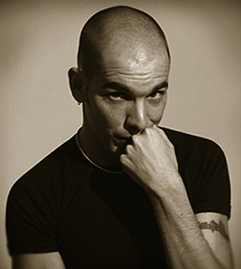 The wounded outsider is de Frutos territory - he's a very bright, lippy Latin, exorcising his Spanish Catholic upbringing on stage in a torrent of dance pieces that don't even attempt to conceal that he's gay, he's angry, this is what being him is like, and it's always about being found different, about feeling cut out, bereft. Woe betide anybody who thinks he'll sit silently and suffer what he believes to be an injustice.
When a collaborative film by him and Isaac Julien was nominated for the 2001 Turner Prize, the ownership dispute ended up in court. The South Bank Show gave him the prestigious film treatment in 2000, as he prepared what I thought was the one wholly narcissistic piece of his I'd seen, The Hypochondriac Bird, an hour-long detailed enactment of two men having sex. When my review appeared in the Daily Telegraph, Javier left a 20-minute monologue of misery and fury on my answerphone. It was lacerating to listen to it, but then I'd felt flayed. After a night out with Javier's picture-show, you tend to come home begging for comfort.
A fairytale certainly seems an unlikely area for his sometimes poxed imagination, and when we met last Thursday I wasn't disappointed to hear that he has taken an off-centre line with Hans Christian Andersen's tale. But I think everyone will be extremely surprised to hear how he's handling the "happy ever after" ending. It's really quite as much a shock as anything else he's done. Read theartsdesk's review of the show.
With the happy-ever-after in fairytales you never know what happened after breakfast the next day
ISMENE BROWN: What are you doing in these last few days up to the premiere?
JAVIER DE FRUTOS: It's all about last-minute multimedia and tech checks. I thought I'd bite the bullet on multimedia but it's very hard to get right - it takes a long time. Also I need this last bit of time to take a step back and direct the show, edit it.
Multimedia and digital is everywhere in dance now, but it's harder to use than hard scenery, isn't it?
Yes, it definitely takes much longer. I didn't want to use what appears to be the mega-latest technology because every time you think you're ahead in IT you're behind. But I knew it would be important in telling the story - there'd be characters who had to appear briefly, like the judges who appear on a live satellite link from somewhere. I wanted it with slightly rough edges, like as if the Eurovision Song Contest had been set up in Minsk in the Soviet Union in 1969 or something. It means you still have to use the latest technology for it to work! But if we played it again in 10 years' time it needs to work as a picture (below, a Hans Christian Andersen paper cutting).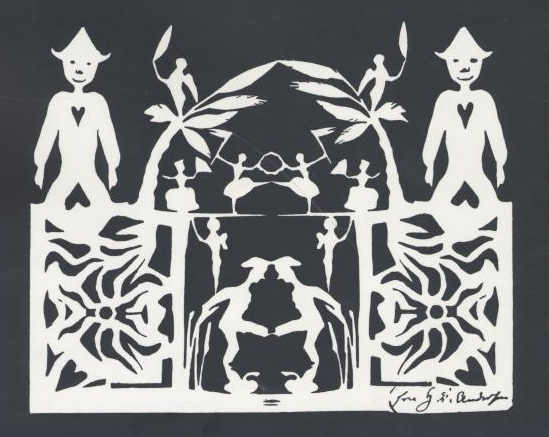 Tell me the story.
The King announces a competition: the person who invents the most incredible thing will win half his kingdom and the hand of his daughter. The story is that this geek, this mouse of a man, invents the most incredible thing, a clock on whose every chime a new figure appears. That suppressed country has never seen anything like it, so he clearly wins. But the jealous man - who is played by Ivan Putrov, the ex-Royal Ballet dancer - doesn't have that power of creation and turns the dare into destroying the clock. And so destroying the most incredible thing must itself be the most incredible thing, since nothing remains of the previous one. By the rules the King has no choice but to hand his daughter to this destroyer.
But during the "black" wedding, as we call it, the power of creation reassembles the parts of the clock in a new form and they destroy the bad guy. By that time, as Neil [Tennant] said very cleverly, the essence seems to be that you can destroy the object but you can't kill an idea. But then Anderson takes it a bit further, which is to say that the final happiness of art having the last say - of reversing the facts of destruction - causes no jealousy at all. After the princess and the inventor get together, despite the destruction of the incredible thing he created, in the end the most incredible thing is that not one person resented it. So I interpret it that the most incredible thing is what to you is most incredible, being human.
Then I took that on a bit further, because with the happy-ever-after in fairytales you never know what happened after breakfast the next day. So we finish with a little tailpiece 50 years later. They're still married - the most incredible thing! It's that contentment has won. I think the older we get, the more our understanding of what is incredible keeps changing.
The girl has no say in anything in the story?
Absolutely. This has been very interesting with intelligent dancers, that they ask the right questions. A: where is the mother? So there are parental issues here. B: Why is the King giving away half the kingdom? Is this a troubled country? Is the girl pretty much being given as a slave, as a price here? And she is very young, a teenager, oppressed, with hormones raging.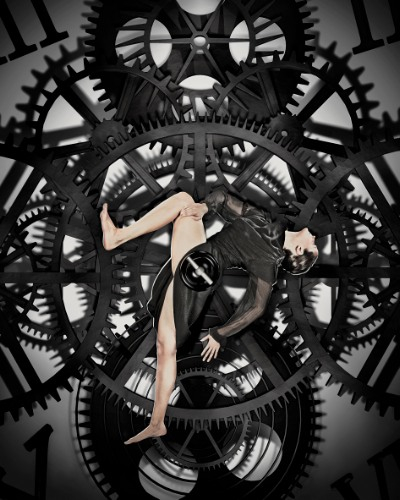 And thirdly you have a dictatorship.
Yes, so that clearly steered the look of its world. We knew it needed to be an artistically interesting world - we're not doing a Harold Pinter drama - and because of the Boys' influence too we would go to an era of Russian constructivism. The story itself was partly inspired by the Franco-Prussian war, and in World War 2 it was used by Danish resistance as a cautionary tale. So there are already political implications. But you have to be careful with those, as at the heart of the story there is a girl who wants to grow up and have a say in her life.
Even when we were designing the look of it, I kept saying, let's go back to basics. What was the thing you've seen that took your breath away? Both Katrina [Lindsay, the production designer] and I said Olafur Eliasson's sun in the Tate Modern. I knew it was only smoke and mirrors, but the effect was most incredible, an extraordinary act of creation that makes any artist jealous.
In his nude solo to Bartok's massive Sonata for Two Pianos and Percussion, his lithe little body and bobbling penis were elfin and defiant
Share this article
Subscribe to theartsdesk.com
Thank you for continuing to read our work on theartsdesk.com. For unlimited access to every article in its entirety, including our archive of more than 10,000 pieces, we're asking for £2.95 per month or £25 per year. We feel it's a very good deal, and hope you do too.
To take an annual subscription now simply click here.
And if you're looking for that extra gift for a friend or family member, why not treat them to a theartsdesk.com gift subscription?