The Pillars of the Earth, Channel 4 |

reviews, news & interviews
The Pillars of the Earth, Channel 4
The Pillars of the Earth, Channel 4
Ken Follett's Middle Ages: English history shot in Hungary and funded by Americans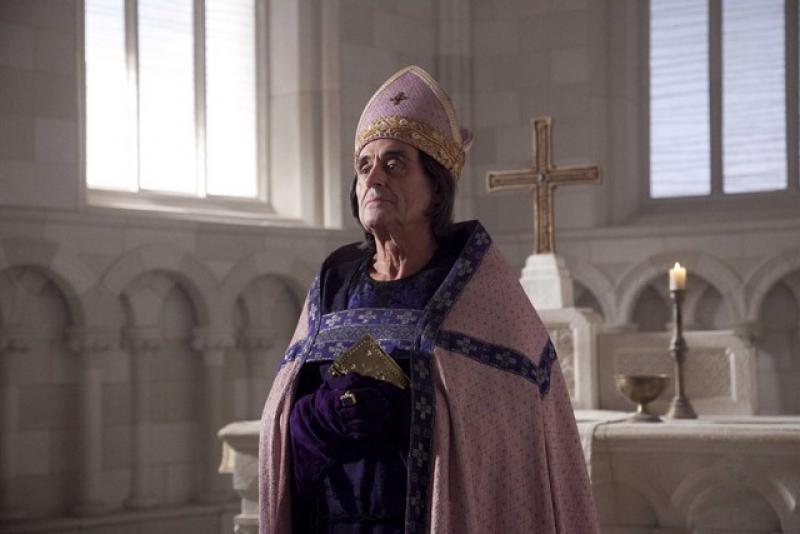 Ian McShane's eyebrow work in 'The Pillars of the Earth' is dastardly to a tee
It's taken 20 years for Ken Follett's doorstopping saga to storm the little screen in the corner of the room. According to Rufus Sewell, playing a stonemason who knows about these things, it takes only 15 to knock up a spanking new Gothic cathedral complete with the latest in flying buttresses. Not that it would be fair to compare The Pillars of the Earth with the pillars of any of the great churches erected in England in the period under observation here.
You don't get lifeless gargoyles of this quality in the Middle Ages.
In the restless pursuit of authenticity, a British cast has been hired by an American company to recreate English history on a Hungarian film set. It began a week ago with a giant-whopper double-helping bumper edition of... of what? It's not quite right to call The Pillars of the Earth historical drama. On either count. There's about as much history in it as in my Common Entrance examination paper. Willie, Willie, Harry, Ste/ Harry, Dick, John, Harry Three - I forget how the rhyme listing all the English monarchs from 1066 onwards goes after that, but this one's about Ste, as in Stephen, who usurped the throne from his younger cousin Maud and now uneasy lies the head that wears the crown and all that.
Meanwhile, elsewhere in the Royal County of Magyarshire, a Welsh monk played with a miraculously straight face by Matthew Macfadyen is planning to raise a cathedral to glorify God and replace the knackered old one, which a selectively mute sculptor (it's complicated) played by Eddie Redmayne has torched. An extended family led by Sewell will knock it up, and various interests headed by Ian McShane will do their damnedest to knock it down again. Or something.
McShane plays an archbish operating on the very outer reaches of uni-dimensional sniggering-behind-the-sleeves-of-his-chasuble wickedness. Contracted since time immemorial to play hoods and heavies, McShane always gives good spiv: he can phone through a study in charmlessness as easily as the next man. Word to the wise, when McShane gets cast as someone with the faintest glimmer of a beating heart, it'll be very early April, some time fairly adjacent to the end of the world as we know it. But here he's totally got the tone right. Handed a script with a high-heaven reek of bombast and humourlessness, McShane is the only one who seems to have fully grasped that The Pillars of the Earth has the moral complexity of The Wacky Races. His eyebrow work is dastardly to a tee, the detail on the lip curls wrought with filigree skill, and he laces every threat with award-winningly camp menace.
So it's not historical. Is it dramatical? No. It isn't. Follett's narrative style is addicted to plot in every sense. Aristocrat A is plotting to thwart Prelate B, who is scheming to foil Wench C, who is plotting to thwart Peasant D, who is scheming to foil Nag E, who is plotting to thwart Dog F, who is... You're supplied with twists as if it's crack. Everyone wears brown. Or off-brown. Often you can't see the characters for the trees. Imagine various members of Spandau Ballet acting out the more medieval Monty Python sketches on the tour bus. Sarah Parish, playing Lady Someone-or-Other with a very odd scar, is treating it as a panto gig as she rummages among the private parts of her slightly weedy son (Parish pictured above with David Oakes).
The highlight of ep three was the beheading of that very epitome of English earldomness, Donald Sutherland. Just prior to that someone else in the stocks had his hands lopped off. (A behanding?) This script feels as if it was typed out by someone who had recently undergone a similar procedure. "How much further?" sighed a mounted King Ste as a royal entourage made its way to inspect the cathedral foundations. "My piles are murdering me." You should try sitting through The Pillars of the Earth, Your Highness.