Mistresses, BBC One |

reviews, news & interviews
Mistresses, BBC One
Mistresses, BBC One
The sex and the glamour have been pared down, but those mistresses can still work it
Friendship has turned sour for the Mistresses
We know we're in cut-price Sex and the City territory when it's not iPhones that are getting top product placement billing but Clearblue pregnancy tests. A box was held aloft between the trembling fingers of Jess as the camera slowly caressed its glistening cellophane surface for a lingering close-up.
Just as well, since this was about all the shine, glitz and sensuality we were going to get in Series Three of
Mistresses
- as if there wasn't enough doom, gloom and sobriety to go round in this recession-hit world they'd taken away the Prosecco, the frilly knickers and the killer heels. And this was reportedly the last series. From here on in it was to be blubbing angst, bad wardrobes and flats (
Grazia
might say that flatties are "bang on-trend" but where's the glamour?) And the sex? The pregnancy kit was our only evidence of any of that saucy carry-on.
But before we even got to the point where Jess (Shelley Conn) collapses in a teary heap as she discovers, yet again, that she isn't - next stop IVF, but can Mark afford it? - one could hardly miss the dour mood that had afflicted this normally feisty troupe of erstwhile bed-hopping pals. As soon as we see Dr Katie's (Sarah Parish) jaw set firm against her quivering apprehension in the opening shot (impressive - such nuanced acting - could do well to give tips to fellow Mistresses) you knew that something serious was afoot. More serious, indeed, than a GMC inquiry for an inappropriate sexual liaison, plus mercy killing, of a dying patient - who also happened to be your future father-in-law (Katie, in Series One); or the discovery that the first wife of one's betrothed isn't actually dead, merely mentally incapacitated and in a care home (Trudi and Richard manage to talk this one over in Series Two; Trudi addresses her trust issues; they move on).

No, this was more serious yet, for the girls were no longer on speaking terms, no longer in the frame for swapping risqué anecdotes while topping up the Prosecco at one or the others' designer pad, nor for providing the Kleenex for teary outbursts. But despite the nuclear fall-out that had resulted in a friendship abstinence of six months, Katie had somehow managed to engineer a frosty meeting. And this is how we first find them, glacially eyeing each other up in Katie's kitchen.

It was good that they'd managed to cultivate the daggers look, since you know that the script's a bit ropey anyway. Plus, appearances often do speak more eloquently than words, and you just had to look at Jess to remind yourself of the truth of this. She, who normally manages to bring off the perfect femme look that is part dark and sultry, part bubble-headed glamour, was actually looking dowdy: white pumps that weren't cute, baggy, faded jeans that were even less so, and some oversized beige windcheater thing. Her hair was a bit of a mess too, and not in that tousled, bed-head way that we'd all like to tease our locks into if only we had the time, but in a way that suggests she might actually be depressed - or at least a bit annoyed, since given Conn's range it's pretty hard to tell which mood she's pulling off. Still, she looked better than the others, as is the way of the naturally pert and pretty.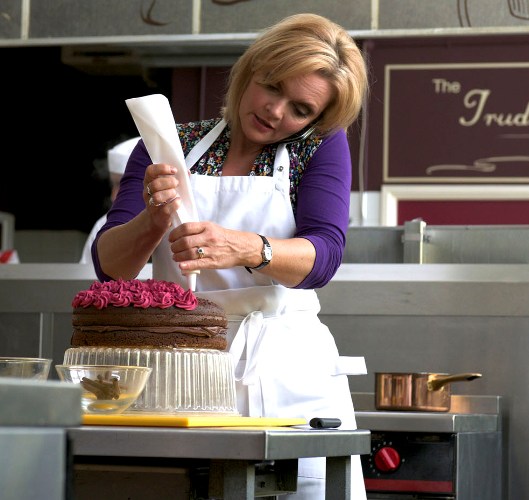 Even when the credits rolled we still hadn't got the detailed ins and outs of the fall-out. But given Katie's penchant for dodgy liaisons, Katie's mother, played by the truly glamorous Joanna Lumley - they hadn't tried to dress her down - tried to warn of hazards ahead in the shape of Trudi's drippy husband Richard. For while Trudi (Sharon Small, pictured right) has been over-stretching herself in the kitchen (not the one at home - she's hardly ever at home, hence the trouble brewing on the domestic front - but the one for her cake-baking enterprise), while also trying to balance the books, Richard and Katie have been getting along very well indeed. They've even had a sneaky cigarette together (oh Katie, always a bad sign - good, in some cases, but in your case bad).

And I've not even mentioned Siobhan's (Orla Brady) recent exploits, or lack of them. From picking up strangers for anonymous sex (she only needed to sit at an empty hotel bar for two minutes for a nice, clean-looking chap to roll by and give the requisite nod and wink) she's gone to Jane Austen-like chaste longing for a man that once might have been, but, apparently, since becoming engaged to another, no longer is. Still, glances have been furtively exchanged, so it still looks promising. Or, possibly, disastrous. In either case, we already know there'll be tears before bedtime. All of which makes Mistresses, with its moreish blend of bitter-sweetness, lightness and froth, my cup of coco.