Troy: Fall of a City, BBC One review - soapification of the Trojan War |

reviews, news & interviews
Troy: Fall of a City, BBC One review - soapification of the Trojan War
Troy: Fall of a City, BBC One review - soapification of the Trojan War
Classical myth reborn as low-voltage melodrama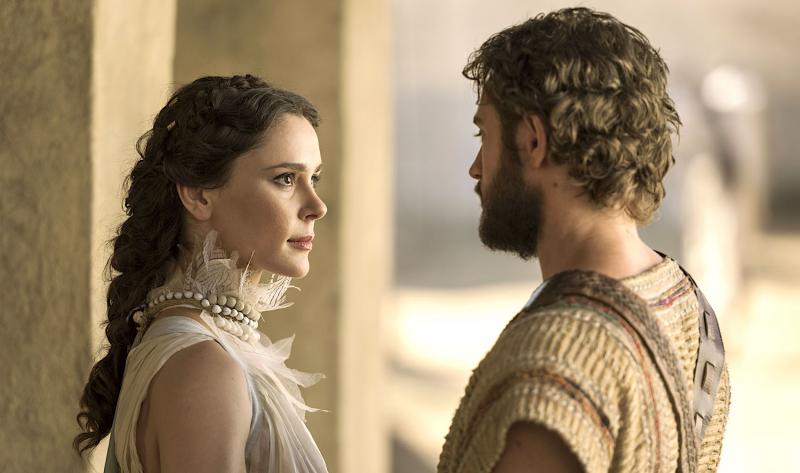 This may end badly: Helen (Bella Dayne) meets Paris (Louis Hunter)
The plan to bring drama back to Saturday nights on BBC One enjoyed mixed success with Hard Sun, but now threatens to slide over a cliff with this trip back to the Homeric era. In the era of Game of Thrones and now Britannia, you can see why somebody fancied having a go at the swords-sandals-and-sorcery of the Trojan War. The question is, how?
A dash of instant lustre has been added in the shape of screenwriter David Farr, who also wrote the much-admired adaptation of The Night Manager. However, early enthusiasm is liable to fade in the face of the beige-ish characterisations and mundane dialogue with which Farr has littered his stage, while a largely unknown cast lacking big personalities who might dominate the screen doesn't help much. Having characters in robes and carrying swords amid gods, goddesses and mythic scenery, yet talking like normal folks waiting for a bus or down the supermarket, leaves the action feeling starved of dramatic wattage.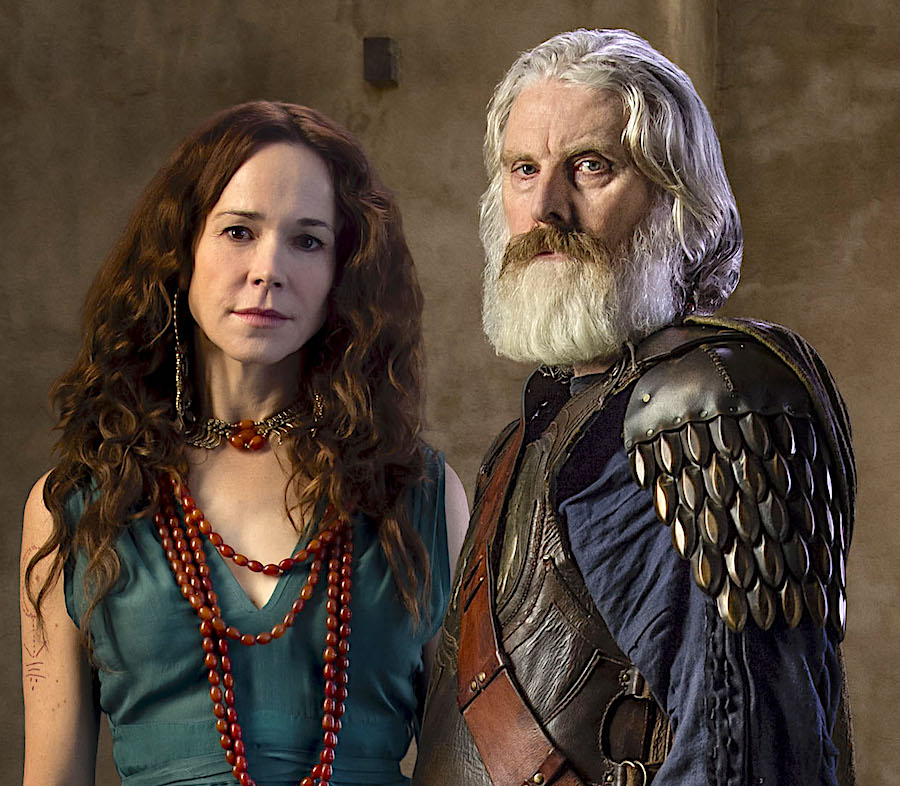 There is, at least, David Threlfall bringing a modicum of gravitas to the role of Troy's King Priam, while his wife Hecuba is sympathetically played by Mrs Selfridge, Frances O'Connor (pictured right with Threlfall). This opening episode kicked off with Hecuba undergoing a gruesome childbirth involving a red-hot knife and buckets of blood (did nobody think to call the midwife?), so it was a miracle the child survived. The omens were not good, however – when young Cassandra caught a glimpse of her new baby brother, she instantly had a vision of a fiery apocalypse and suffered a screaming fit.
Though we don't know it at first, the baby boy grows up to be Paris (Louis Hunter), whom we next encounter as a kind of classical cowboy, rounding up cattle on horseback amid rugged and mountainous landscapes (Troy was shot near Cape Town). Pursuing a missing calf through a wood, he happens upon Hermes and a trio of goddesses. Zeus, the big enchilada of Olympus and grumpily played by Hakeem Kae-Kazim (pictured below), had decided that Paris must choose which of the goddesses is the loveliest (he had to pick up a flaming apple from a fire to give to the winner, and miraculously did so without feeling any pain). Frankly they looked more like C-list celebrities trying to gate-crash an Oscar night party than goddesses, but he chose Aphrodite, because she promised to give him the world's most beautiful woman in return.
You can see the way this is going, even if Farr has played a tiny bit fast and loose with the accepted mythology. Paris is the royal son who (in this version) was stolen away by wolves as a baby, but now returns to take up his birthright. His dad packs him off in the royal yacht to ink a mutually-beneficial pact with Sparta's King Menelaus (Jonas Armstrong), but Paris, an untutored youth who hasn't a clue about politics, diplomacy and so forth, becomes fixated on Menelaus's wife, Helen (remember that name). Playing Helen is a big ask for any actress, she being the world's most beauteous woman who will in due course launch 1,000 ships etc, and Bella Dayne does it here… kind of okay, I guess. A glimpse of her with what appears to be her private lesbian harem gets Paris's sap rising, and before you know it she has lured him out to her leafy private boudoir in the palace grounds.
Paris must return to Troy, though Helen is feeling too tired to see him off. But what do you think might be inside the huge trunk that is sent down to his ship? Answers please in a mystical vision of fire, sword, passion and computer-generated navies.
A largely unknown cast lacking big personalities who might dominate the screen doesn't help much
rating
Explore topics
Share this article