Britannia, Sky Atlantic review - Druids, sex and sorcery |

reviews, news & interviews
Britannia, Sky Atlantic review - Druids, sex and sorcery
Britannia, Sky Atlantic review - Druids, sex and sorcery
Roman legions versus warring tribes and hippie squatters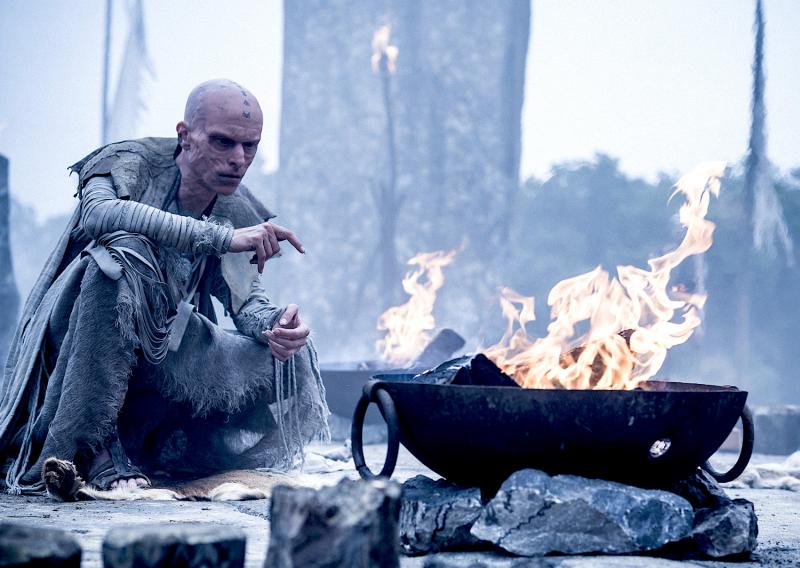 The 10,000-year-old man: top Druid Veran (Mackenzie Crook)
What did the Romans do for us? On the evidence of new drama Britannia, they pillaged, murdered and tortured, but also found themselves mesmerised by the psychedelic Druid magic that hovered over our ancient land like fairy dust.
Creator Jez Butterworth dug into a resonant, folklorish notion of British history and identity in Jerusalem, and took something of the same idea across the Irish sea for The Ferryman. Here, in cahoots with his writer-brother Tom (who co-wrote Sky Atlantic's Tin Star), he lets himself get a bit more fanciful in his treatment of first-century history. The coast upon which General Aulus – played with macabre relish by David Morrissey (pictured below) – lands in 43 AD, with his 400 ships and 20,000 men, is the gateway to an unformed land of marsh and forest, caves and waterfalls, mists and yellow frightfulness. The local Cantii and Regni tribes have been hacking away at each other tooth and nail for as long as anyone can remember, and the toll of slaughter and betrayal shows no sign of abating.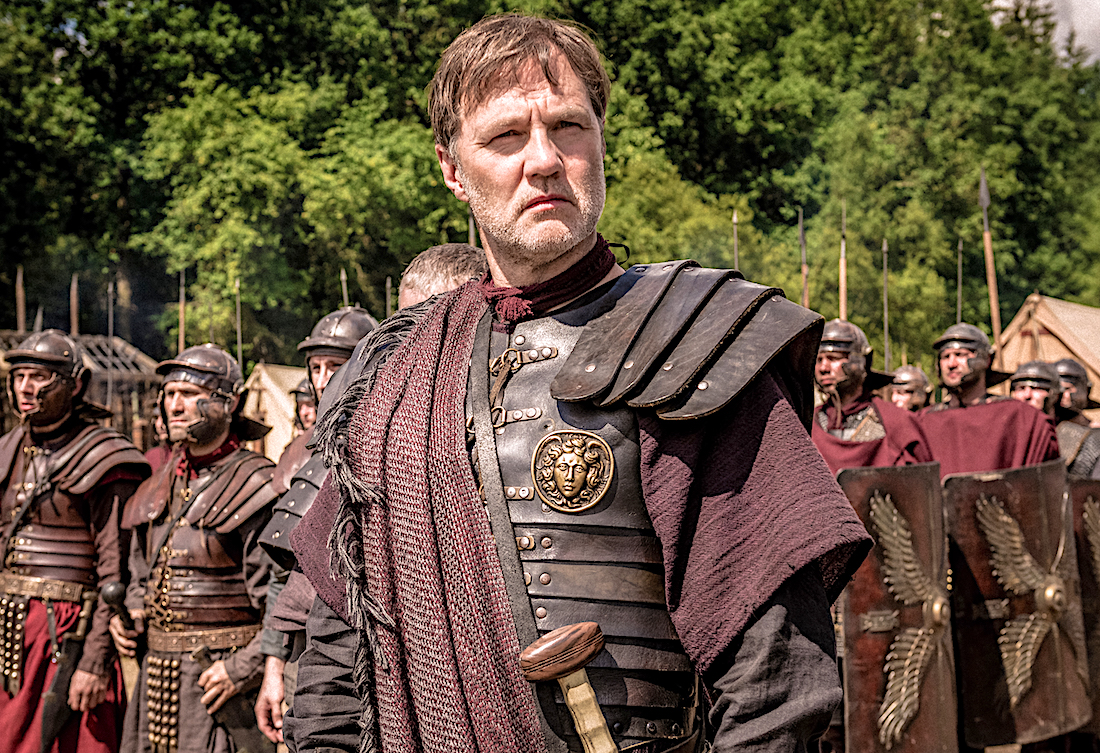 But Aulus has learned from Julius Caesar's abortive mission to Britain in 55 BC, and he has arrived with a big idea. He's happy to massacre the local opposition on the battlefield when necessary, but he aims to launch a hearts-and-minds campaign by co-opting the gods that the bloodthirsty Brits hold dear. To do that he needs the help of the Druids, who control the divinity-related agenda with a mixture of ruthless barbarity, mind-altering substances and interminable cosmic gobbledegook. The fact that the show's theme tune is Donovan's hippie-dream mantra "Hurdy Gurdy Man" ("Histories of ages past/Unenlightened shadows cast") gives a glimpse of where everybody's head is at.
As Aulus sees it, his campaign to conquer Britain can make good use of the struggle for supremacy between the British tribes, since a divided opposition may turn out to be hardly any opposition at all. King Pellenor of the Cantii (Ian McDiarmid) cheerfully tells Aulus's emissaries to fuck off so he can get on with the serious business of battering the Regni, but, devout disciple of the Druids that he is, he didn't expect the sensational turn of events that put his daughter Kerra (Kelly Reilly, pictured below, with a rampant russet mane of Warrior Queen hair) on his throne instead. But were Aulus's mysterious secret journeys to the grotto where the Druids hang out, organised by passing messages inside the severed head of a luckless legionary, somehow behind this?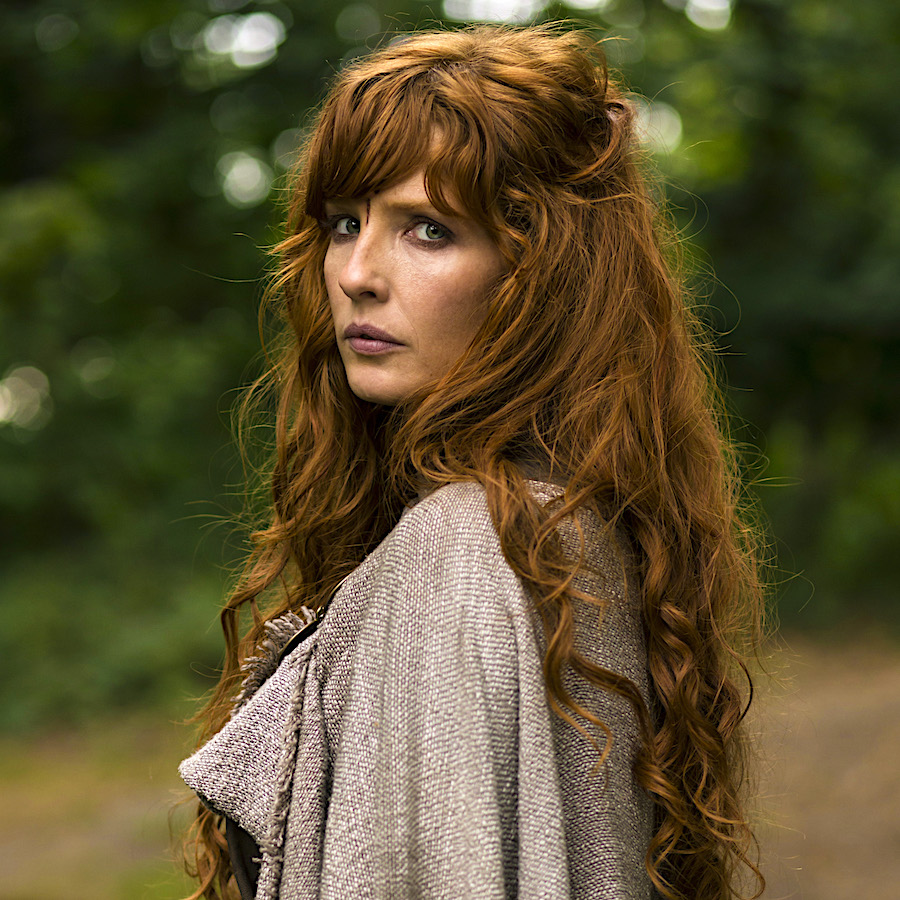 In general, the Druids behave like a bunch of '70s Notting Hill squatters. Mackenzie Crook plays top Druid Veran with writing on his head and a hideous prosthetic face which makes him look as though his features have been sucked into his skull. Veran is said to have been born from an oak tree 10,000 years earlier, and claims a visionary hotline to the deities which grants him the right to control pretty well everything. Kerra loathes him, because he sentenced her mother to be flayed alive, and she's pretty sure he's selling them all out to the Romans.
History books tell us that the Roman invasion of 43 AD was successful, but it probably didn't look much like this. The Butterworths have stoutly avoided anything resembling period language by having Roman legionaries speak like south London moped-bandits, while Kerra's brother Phelan (Julian Rhind-Tutt) seems to have been mentored by Leslie Phillips. Zöe Wanamaker is Antedia, queen of the Regni, and has a major beef with Kerra (who married her son to bond the warring tribes together, but then bit off his, uh, bits). Oddly though, Antedia sounds less like an avenging banshee than a jaded professional administering strict punishments in some louche Soho basement.
Various other characters circle, waiting for their moment to strike. The potty-mouthed Amena (Annabel Scholey) despises the weakness of her husband Phelan, who she thinks should rightfully be king, and will stoop to anything to get ahead. To complicate matters, at the behest of the Druids she's also married to the hunky Gaul, Lindon (Stanley Weber, pictured right with Scholey), who loathes her but has taken a shine to Kerra. Divis (Nikolaj Lie Kaas) is an outcast Druid who wanders the land, hallucinating intermittently. He's had a vision of Aulus as an embodiment of a demon called Lokka, and has lent a helping hand to young Cantii girl Cait, who barely survived being slain by the Romans. Fate has decreed that Cait will loom large as the series progresses.
If you like Game of Thrones you may enjoy this, though it's a bit short on dragons and midgets. You can see why they cast Morrissey, because if anyone can remain stony-faced while all around him are having drug-fuelled orgies, paying visits to the Underworld or dismembering corpses at a mini-Stonehenge, it is he. It will probably make a great computer game.