David Oakes: 'I haven't done anything as bad as my characters' |

reviews, news & interviews
David Oakes: 'I haven't done anything as bad as my characters'
David Oakes: 'I haven't done anything as bad as my characters'
The actor stars opposite Natalie Dormer in Venus in Fur. Why is he always exploring the dark side?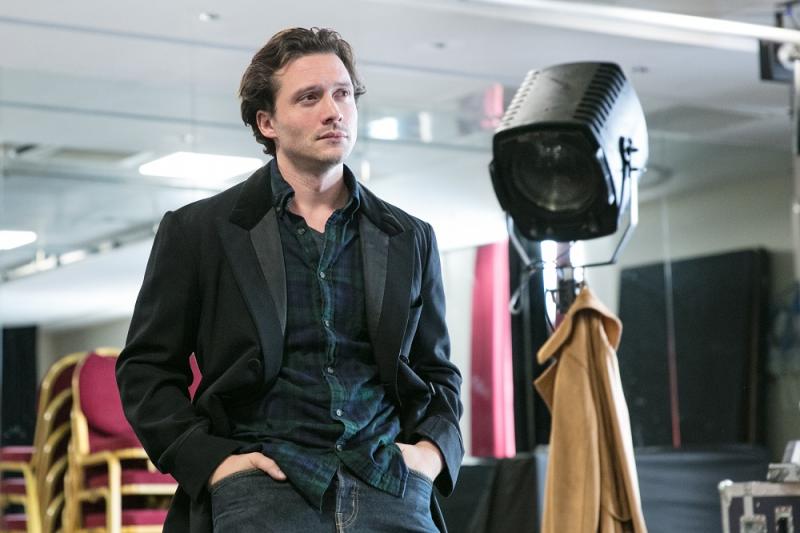 'It is exhausting in ways that I never knew acting could be': David Oakes in rehearsal for 'Venus in Fur'
"He has something of Dillane about him." Thus Patrick Marber on David Oakes. "I rate him very highly indeed. One of the very best of his generation." Audiences at the Theatre Royal Haymarket will be able to judge for themselves this autumn. Oakes, 34, stars opposite Natalie Dormer in Marber's production of Venus in Fur, a sizzling two-hander by David Ives.
Oakes's main field of operation in recent years has been historical fantasy in the likes of The Pillars of the Earth, The Borgias, The White Queen and, currently, Victoria, in which he plays Prince Albert's doomed romantic brother Ernest. Despite his good looks, he doesn't get cast as romantic leads. The closest he came was as Darcy in Regent's Park Open Air Theatre's much praised production of Pride and Prejudice.
Venus in Fur was a huge hit on Broadway, and was later made into a film by Roman Polanski starring his wife Emmanuelle Seigner and Mathieu Amalric. The play is a hall of mirrors. Oakes plays Thomas Novachek, a writer/director who has adapted the novel Venus in Furs (1870) by Leopold von Sacher-Masoch, the Austrian man of letters who gave half his name to the ism. The novel tells of Severin von Kushemski's all-consuming pact with a fascinating woman called Wanda von Dunayev he encounters in a hotel. Novachek despairs of finding an actress with the chops to play the part when a brash young New Yorker calling herself Vanda Jordan appears as if by magic.
Ives's play-within-a play asks a lot of its two actors. As Vanda/Wanda, Dormer has the showier part, and the flashier wardrobe. The challenge for the actor playing opposite her is to keep the play in balance, to ensure this is a genuine duel whose outcome cannot be predicted. "It's a challenge indeed," says Marber, "but he has risen to it. David has made Thomas full of wonderful contradictions and he is completely credible as a writer/adapter – hard to pull off that." (Pictured below: Dormer and Oakes by Johan Persson)
JASPER REES: This play is about an audition. Did you have to audition for this role and what did it involve?
DAVID OAKES: I've known Patrick Marber as a child growing up watching Alan Partridge. When you get the chance to audition for Peter O'Hanraha-hanrahan you just have to go for it. I thought it would be a typical audition – just turn up for 15 minutes, try your best, see what they think. But it wasn't at all. We spoke for half an hour and then pretty much read through the entire play. I don't even know how much of it was an audition. It was certainly not anything like the audition in the play.
Did you know about the play?
No. I had read the book, weirdly, at university. It's interesting in terms of its sexual, political, social context in the same way that Lady Chatterley's Lover is. It was pretty risqué at the time and then you look back at it and go, "That's not that big a deal, it's just someone hitting someone with a stick." When I read the play I was filming Victoria at the time and had a weekend off. The first thing that struck me was it is an incredibly erudite and witty play. It's sharp and clever. And it's just far enough ahead of you at all times without making you feel stupid. You think you know where you are and yet it's just there a moment before you. And then the climax of the play occurs. I remember reading that on the train and I didn't know what to think. It spun me out in a way I wasn't expecting. More than any play I've read or seen, I think it really does get better on re-reading or re-watching. You start to see the layering, the meta-theatrical layers of the book being adapted into a play being presented as an audition. And then you look at the fact that Polanski turned it into a film with his own wife in the female lead. And then put it in the context with Harvey Weinstein and we're accidentally discussing very important issues of the day within the same entertainment industry.
You're an actor playing a director and an adapter who plays a version of his own self. How do you go about finding the layers?
It's a tricky one. It helps having a director who is a writer, adapter, director, actor. What's exciting is you get to feed off your own experiences to get the vocational setting for the character, but also the whether or not Thomas shares certain devious kinks in common with Kushemski is something that Thomas isn't aware of at the beginning. And subsequently, the more he goes down the rabbit hole of enacting moments from the play, you get to go on that voyage of self-discovery. It's not about knowing where you start. It's about allowing the intoxication of the piece to draw you forward and to seduce you as a character. Natalie and I at the start of the play know that we have got that 95-minute run, and yet you can't hold the whole thing in your hand at any one time. I've never played anything like this before.
You may be playing the creator but it's not necessarily always the case that you are in charge. It's a hell of a show role for the actress opposite you.
It's the single best contemporary female part I've ever seen in a play. It's that simple. In the context of this play, if it were Morecambe and Wise, she is very much front and centre as Eric Morecambe and I'm short and squat at the back. It's a great responsibility to be the straight man to such a virtuosic performance as Natalie's. And it's that the power shift from the beginning to the end and how it changes and how neither of them realises who is in charge.
Is your ego up to the reality that the audience's eyes will be on her a lot of the time?
I was well aware of what this part was going to involve when I came into it. I knew I was going to be onstage next to one of the most beautiful actresses of my generation wearing an incredibly revealing costume. I also know that she has a performance ability that augments the great writing to make her shine. It is wonderful to be in a play where the female character is the one that shines so brightly, because that is frustratingly rare. Thomas goes on one hell of a journey emotionally. It's just quieter. It's Saturn next to Jupiter.
It's very different from what you're known for: historical fantasy and massaged history. Does it feel like a step change to move from that world to this?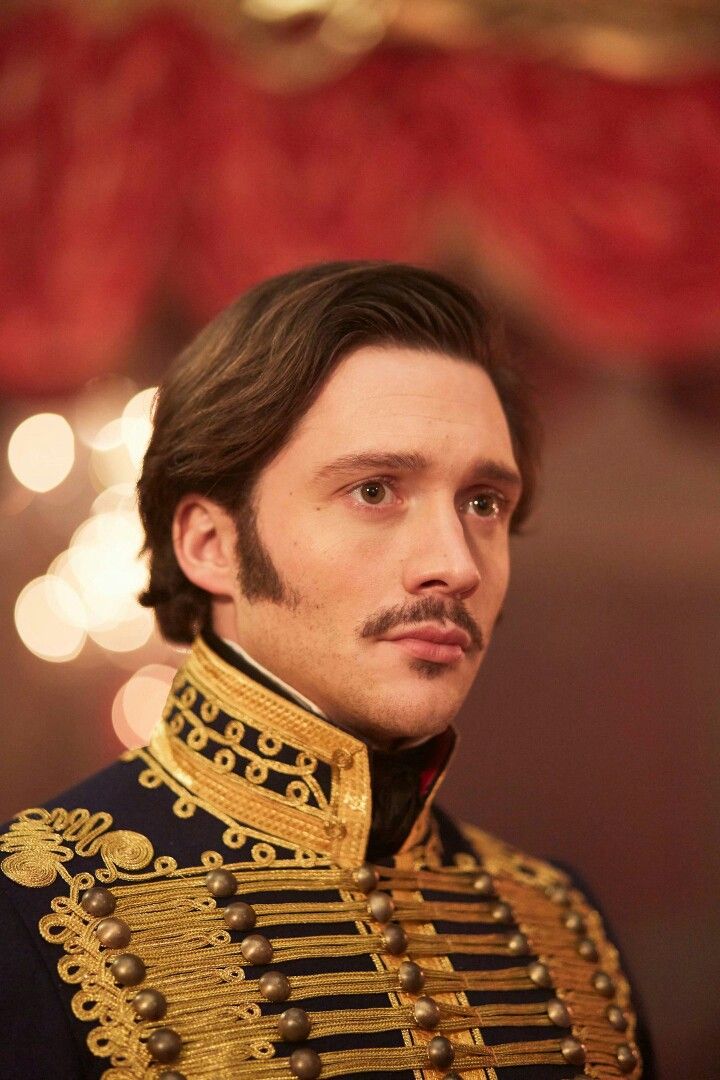 What's quite nice is about Ernest in Victoria (pictured) is he doesn't commit quite so many non-consensual sex acts as some of the previous characters I've played. If there's one true line between the characters I've played on screen and Thomas it's that they have certain elements of their past that have sent them on particularly deviant or socially unacceptable passages. I wouldn't say that Thomas is a huge change. I think I've always tried to show the human side to the darkness of characters.
What do casting directors see that finds you so often exploring the dark side?
I don't really know. When I was at drama school I was the youngest in my year and was just playing floppy-haired romantic leads. I played Lysander four and a half times before I became a professional actor. Maybe I rebelled against what I had already done and was more inclined to delve into the darkness and the depths. The other actors I've worked with over the last decade – Eddie Redmayne or Sam Claflin or Tom Hughes in Victoria, or Doug Booth – have gone down the more traditional romantic juve lead route. And I just never went that way. I don't know why. Maybe I genuinely have a darker soul and directors are good at picking up on that. I certainly haven't done anything anywhere near as bad as any of the characters I've played have. I have a very firm moral framework. My dad's a vicar so we grew up with that. You have that in you whether you want it or not.
How do you feel when you take the bow together at the end of Venus in Fur?
It is exhausting in ways that I never knew acting could be. Shell-shocked really. I've been known to have a little cry at the end and Natalie comes up and gives me a hug after every show. Without giving anything away, it's amazing within a real-time 90 minutes to go from a point of confidence and power and being aware of one's own identity and creative possibilities to find yourself in that position. It's shattering. It is emotionally numbing and it hurts. It's very real. You have to expose yourself quite a lot in this. You say stuff like this and you always sound like a wanky actor but in this instance it's true. It's painful. It's a painful play.
Venus in Fur at Theatre Royal Haymarket until 9 Decembe
I knew I was going to be onstage next to one of the most beautiful actresses of my generation wearing an incredibly revealing costume
Explore topics
Share this article