Yende, Vaughan, Cadogan Hall |

reviews, news & interviews
Yende, Vaughan, Cadogan Hall
Yende, Vaughan, Cadogan Hall
This lyric soprano is the real thing. Unfortunately her recital programme mostly wasn't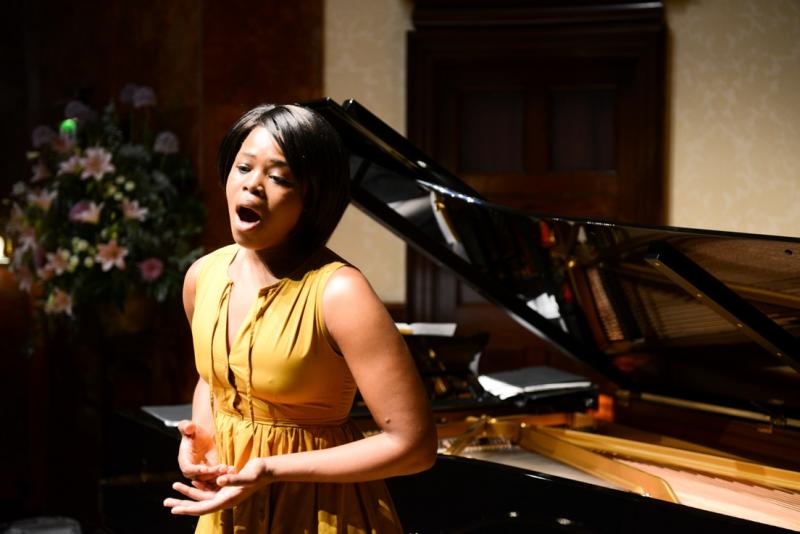 Pretty Yende in last year's Rosenblatt recital
Lovely singer, consummate pianist, shame about the programme. "Art song" is a rather prissy term, but we could have done with a few to ballast a diet of old pop – French chansons, Italian canzonettas, Spanish canciones, Victor Herbert tralala. Even a few substantial operatic arias with piano accompaniment made have made a difference.
Not that Pretty Yende didn't reveal her instinctive musicality and the lessons of her
bel canto
training in Milan at some point in every number, but an evening of encores is just too much for even the sweetest tooth.
In fact it was one of the genuine encores which told us why Yende is already so much in demand at the Met – Pamina, Lucia, Adina and Rosina are in prospect there, according to the programme - and by several of the big European houses. Lauretta's "O mio babbino caro" from Puccini's Gianni Schicchi revealed it all in two minutes – the bloom on the bright lyric voice, with its forward placement much assisted by what sounded like idiomatic Italian, the artistry on the advancing and retreating note towards the end – pure messa di voce, not for the first time in the evening – and above all the interpretation of the role. Yende went not for sentimentality but for the urgency of Lauretta's plea: the girl does threaten to throw herself in the Arno if her father won't let her marry the man she loves, after all, and that's a bit more than the mere coquetry we usually get outside the operatic context.
The trouble, in short, with most of the numbers was that they gave little or no chance to forge the distinctive characterisation at which Yende would seem to excel. She's clearly a stage animal with the most natural of musical instincts, but most of the lyrics and their settings yielded only the most generalized possibilities. To do her credit, she made us realize how sad she was even when the bland, cheerful music of Donizetti's "L'amor funesto", too similar to the Rossini and Bellini songs before it, is so at odds with the sentiments. "It is still an art," declares composer Flamand on an Italian duo in Richard Strauss's Capriccio, "to use so cheerful a tune to express a terrible sorrow."
Yende is better than a lot of her materialThere were a couple of gems, at least, in the French quarter of the concert. The coloratura highlighted in Dell'Acqua's "Villanelle" is something Yende does well, and much better than Anna Netrebko, if not yet at the very highest level, and the pitch very occasionally sags; I wonder if pure lyricism won't remain her strongest suit. Pianist James Vaughan was especially good at encouraging and complementing the freedom of his singer with stylish lilt in waltz songs like Poulenc's "Les chemins de l'amour" – but six specimens of the genre, however varied, were four too many. There are much better zarzuela numbers than the ones we heard by Geronimo Giménez, though they did at least allow Yende change into a much more fetching (flamenco) dress than the one she'd worn in the first half and begin to relax further, and one of Victor Herbert's sentimental ditties is quite enough (we got three).
If all this sounds mean-spirited – and to be fair the audience, with its singalong contingent and a smattering of noisy Italians, absolutely loved it all – then it's only stated with the concern that Yende is better than a lot of her material. Vaughan, Head of Music Staff at La Scala, where Yende trained at the Academy, must have felt a little unrewarded, too, though he did everything needed to support his singer. Strauss's lighter songs, a more probing look into the French repertoire, even some better operetta numbers would have made all the difference. Still, the bottom line ought to be that we're lucky to hear such a quality voice at all. Of one thing I'm confident: when we see Yende in an operatic role here, and a Royal Opera debut is on the cards, she'll own the stage and captivate us all.
Most of the numbers gave little or no chance to forge the distinctive characterisation at which Yende clearly excels
rating
Share this article