Vengerov, Golan, Barbican Hall
Vengerov, Golan, Barbican Hall
Reserved performance of Beethoven and Schubert gives way to thrilling late-Romantic romp
Thursday, 21 February 2013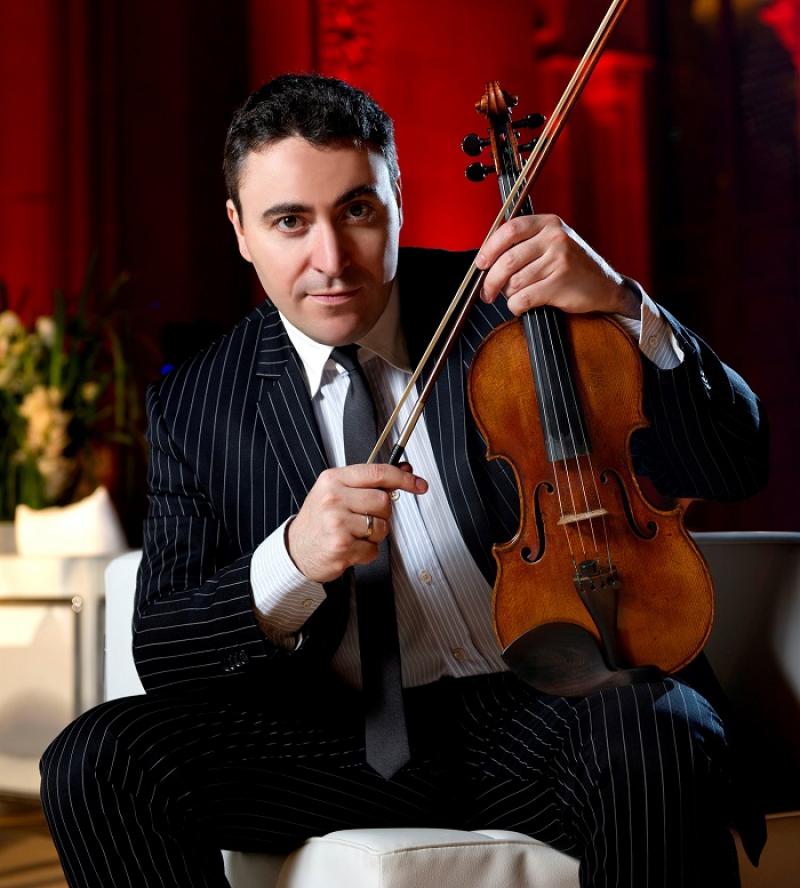 Maxim Vengerov: middle-aged man in a Blues Brother suit draws collective swoon
Maxim Vengerov's four-year absence from the London stage is recent enough that any performance by him has the added value of having been clawed back from a jealous god. That a violinist of such explosive talent could have been permanently silenced by something as mundane as an injury sustained in the gym is barely thinkable, though the possibility seemed very real in the hinter years between 2008 and 2012.
But back he is, and entirely on form too. That said – look away now if you deplore journalistic cliché – this was very much a concert of two halves: a solid but buttoned-up take on two early-Romantic sonatas to start with, followed by a ravishing and carefree gambol through some late-Romantic repertoire.
Both his Beethoven (Sonata in G Major) and Schubert (Sonata in A Major) were played from the sheet music, which would be entirely unremarkable if there hadn't been something reserved in his performance. Granted, these aren't party pieces, and any arbitrary flamboyance wouldn't fit the bill. Nor would it be an exaggeration to say that the performance was flawless, with Vengerov's infinite palette of timbre giving breath to Schubert's Lieder-like melodies and distinction to Beethoven's motivic interplay.
In the lusher pastures of Franck and Saint-Saëns, he was clearly freer and happierItamar Golan on the piano held his own. If the balance was a little off at first, he felt his way into the hall's acoustic soon enough, and it is only fair to point out that the Barbican is hardly the ideal chamber music venue. The Schubert sonata's nickname, "Grand Duo", is a nod towards the importance of the piano part and Golan was a worthy sparring partner. Both musicians shaped their phrases with a sense of natural momentum which only sounds truly effortless when the details have been thought through. And yet the feeling remained of something being held back.
After this slightly under-seasoned main course, in the second half Vengerov did not disappoint. With the music stand put away and in the lusher pastures of Franck and Saint-Saëns, he was clearly freer and happier. The Franck Sonata in A Major is a substantial piece with many virtuoso flourishes in violin and piano, ethereal melodies and juicy harmonies. Again, the wonders of that bowing arm boggled the mind. It is impossible to scientifically describe what makes a repeated phrase on paper sound like a call and response. Not louder or quieter, just different: a play of light and shade. It is details like these that separate living and breathing music from technical efficiency, and mark out Vengerov as a master.
With the Saint-Saëns Introduction and Rondo Capriccioso and Havanaise we were definitely in pudding territory, with passages stretching credulity for sheer quantity of notes, and Vengerov in showman mode. In these image-obsessed times, it is great to see that a middle-aged man in a Blues Brother suit can draw a collective swoon from an audience by just being brilliant, and so he was. The audience, many offering a standing ovation, weren't about to let him ago without an encore. With Fauré's lovelorn lullaby Après un rêve, Vengerov sent us home replete.
Vengerov performs the Britten and Dvořák concertos with the Oxford Philomusica on 10 April