Maxim Vengerov, Itamar Golan, Wigmore Hall |

reviews, news & interviews
Maxim Vengerov, Itamar Golan, Wigmore Hall
Maxim Vengerov, Itamar Golan, Wigmore Hall
The world's greatest violinist returns and reclaims his crown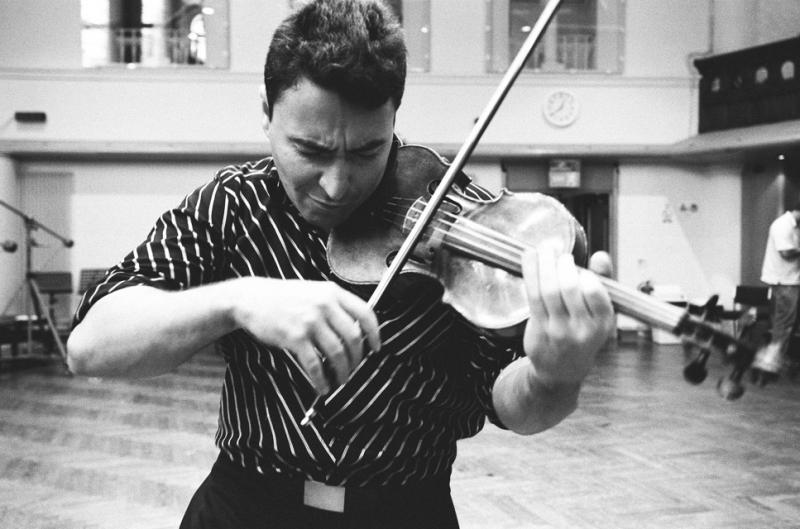 Maxim Vengerov on top form at the Wigmore Hall
Musicians can go one of two ways after a period of prolonged professional absence. The hiatus can either set them free (Horowitz) or screw them up (Pogorelich). In the case of Maxim Vengerov, we already knew that the latter hadn't happened.
A
successful early reappearance
with the St Petersburg Philharmonic at the Royal Festival Hall a few weeks back - where he stepped in for an AWOL Martha Argerich - proved that. But the real test was always going to be his recital comeback at the Wigmore Hall last night. How has the Russian violinist evolved since we last heard him in London in 2007?
A lot has changed. A lot has remained the same. All of it for the better. Gone is the youthful twisting and turning of the body. Still present is the rich legato tone and impeccable dexterity. Present now also is an air of the elder statesman. Bach's great Partita in D minor that opened the evening benefitted from it all. This was big, bold Bach in the great Eastern European tradition. Shut your eyes and you could have been listening to Ida Haendel or David Oistrakh.
Even his encores didn't turn to flashiness but focused on subtler pleasures
Was it following the rules of Baroque performance practice? Probably not. Did anyone care? Unlikely. Stylistic questions, doubts, quibbles were being swept aside by the conviction of Vengerov's vision. His control of dynamic and rhythm in the Sarabanda, the textural playfulness in the Giga, the voicing of the Ciaconna was personal, persuasive and gripping. It was all you could ask for from a Bach recital. And even Baroque purists would have to admit that, where there wasn't a stylistic adherence, there was an adherence to the spirit of Bach. Vengerov's resonant Romantic sound was being deployed to rich polyphonic ends.
I'm not sure that further period performance investigation (Vengerov seems to have forgotten most of what Rachel Podger imparted to him half a decade ago) would have rescued the performance of Handel's D major Violin Sonata, Op 1, No 13. A little more practice from both violinist and pianist, Itamar Golan, who both had their heads buried in the score, wouldn't have gone amiss. Still, there were fleetingly delightful things in here: delicate trills in the Allegro finale and a beautiful singing tone to the opening Affetuoso. But every time Vengerov came close to drawing you in, Golan's dry, eccentric attempt at a Baroque sound would drive you away.
After the interval, they reunited in explosive fashion for the Kreutzer Sonata. Golan's violent eruptions appeared to egg Vengerov on and intermittently push them both into passages of thrilling recklessness. Yet, amid all this ferocious tumult, it was Vengerov's sudden pianissimo in the coda above a beautifully burbling Golan that stole the show. "Bravo!" the audience shouted at the movement's close. The easy little pizzicatos and accompanying crotchets of the Andante variations deserved a bravo too. Then came the tarantella-like finale, hot-footing its way brilliantly through its many impish and manic moods.
I got the feeling the audience wanted a little more of the carefree, teenage Vengerov of the first movement. But understatement and quiet authority seems now to reign in Vengerov's playing. Even his encores, Brahms's Hungarian Dance No 2 and Wieniawski's Scherzo Tarantelle, didn't turn to flashiness but focused on subtler pleasures. Word is that he's due to return for a Bach cycle in 2014. Clear your diary.
Word is that he's due to return for a Bach cycle in 2014. Clear your diary
Explore topics
Share this article