Uchida, CBSO, Nelsons, Symphony Hall, Birmingham |

reviews, news & interviews
Uchida, CBSO, Nelsons, Symphony Hall, Birmingham
Uchida, CBSO, Nelsons, Symphony Hall, Birmingham
The charm and simplicity of the Japanese pianist aren't always in style with Latvian conductor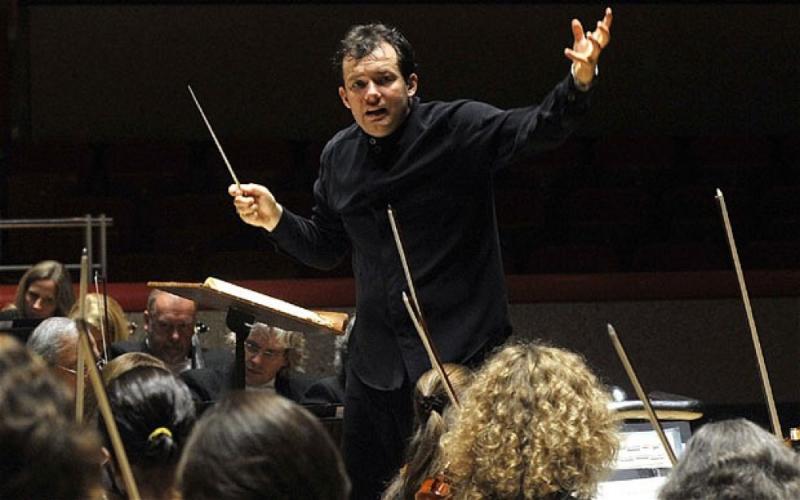 Andris Nelsons: a tiger in Mozart, more human in Scriabin
"Did he who made the Lamb make thee?" Blake asked the tiger. One might have asked the same question of Scriabin's Poem of Ecstasy, with Mozart's G major Piano Concerto, K.453, as the lamb, in this hyper-diverse Birmingham concert.
The image of divine simplicity was in the delicate hands of
Mitsuko Uchida
, whose Mozart resisted every striped temptation that Andris Nelsons and the CBSO threw in her path. On their own in Scriabin and, to a lesser extent, Webern's
Six Orchestral Pieces
, they could emote at will, fearful symmetry and all.
Often enjoyable, and with many exquisite moments, Mozart's concerto verged at times on the incoherent. For Nelsons the slow movement seemed to start out as an essay in proto-expressionism, with heavily marked dynamics, bulging phrases, everything shaped and moulded. Uchida, confronted with the same music, played it as written: a limpid C major, without a nuance to be heard or seen. In the opening movement, her first subject (marked legato by Mozart) was ostentatiously staccato and unpedalled, as if written for a harpsichord. Nelsons seemed unprepared for this detail, and never matched it in the orchestra's own frankly not entirely rhythmic playing of the exposition.
Scriabin is often regarded as a gushing sensualist, all juice and no brain
Yet when Mozart's warmth was inescapable, in the lovely E flat episode of the Andante, they all came together marvellously. And the variation finale at last achieved a certain shared wit and brilliance: the tiger lay down with the lamb, and all ended happily.
Impossible not to love Mitsuko Uchida (pictured below right): her modest bearing, her palpable devotion to the music, her genuine concern that the orchestra should take the tiger's share of the applause. After Messiaen's ornithological piano concerto, Oiseaux exotiques, she solemnly handed bouquets to the different sections of the orchestra (wind and percussion). Yet the performance also had its slightly discordant aspect, quite apart from the dissonances Messiaen attributes (on doubtful grounds, in my opinion) to our feathered friends. Uchida herself rattled joyously through the piece, with the score in front of her but evidently not much bothered by its presence. Nelsons, on the other hand, spent a good deal of the performance face down, and left a slight impression of less than complete familiarity with the music. At any rate, there are refinements in Messiaen's orchestral writing that eluded this performance.
In the end conductor and orchestra were happier on their own, in their own music. An admirer of Scriabin's piano works, I waver about The Poem of Ecstasy, a splashy and at times frankly derivative piece of self-advertisement. But if a performance could change one's mind, this one might have done. It was sumptuous and eventually (I'm sorry, but the intention was plainly the composer's) orgasmic, with especially memorable brass playing, the trumpet being Scriabin's symbol for what you might imagine. More importantly, it felt clear and structured, for all the rich density of the sound. Scriabin is often regarded as a gushing sensualist, all juice and no brain. But this charge never survives sympathetic playing of his music.
As for the Webern pieces, there was so much to enjoy in the detail that one forgave the exiguous, fragmentary discourse – historically Webern's claim to fame. Nelsons conducted the original 1909 version, with its vast orchestra, so much more fun than the homogenized, cut down twenties revisions normally done, for obvious economic reasons. In so doing, he emphasized what a vertical score this is, height and depth, but no horizontal line. It's as if Webern wanted music to be like a picture, simply there, not going anywhere. "Going," he later claimed, no longer seemed possible in 1909. Others managed it all the same. No doubt there's some medical term for enjoying one's own blockages.
Impossible not to love Mitsuko Uchida: her modest bearing, her palpable devotion to the music
rating
Explore topics
Share this article