Trifonov, LSO, Rattle, Barbican review - Russian style with French chic (and cheek) |

reviews, news & interviews
Trifonov, LSO, Rattle, Barbican review - Russian style with French chic (and cheek)
Trifonov, LSO, Rattle, Barbican review - Russian style with French chic (and cheek)
Piano prodigy meets his match in a blistering band
Tuesday, 19 February 2019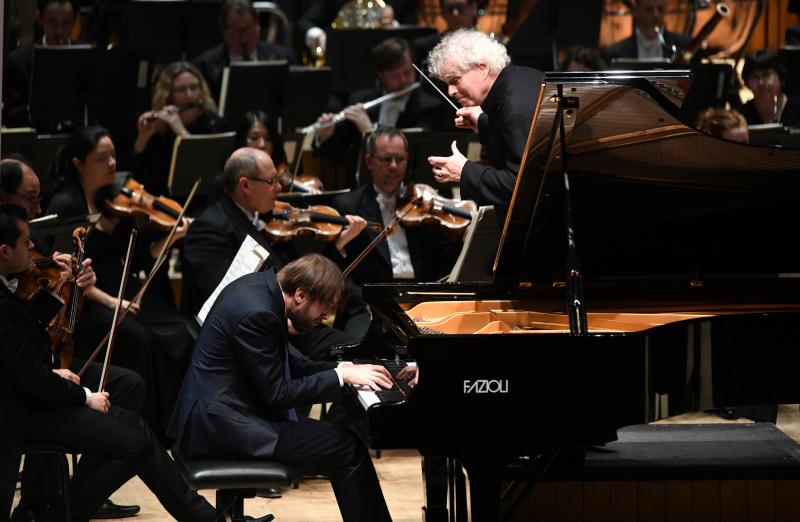 Maestro, meet Wunderkind: Trifonov and Rattle
The arc of Daniil Trifonov's reputation has soared and then, to some ears, stalled in a familiar modern way. Russian Wunderkind pianist bags a sackful of competition trophies (Rubinstein, Tchaikovsky prizes; Gramophone Awards). Early recitals and recordings display stupendous technique allied to audacious, beyond-his-years interpretation. Hype shoots off the scale.
The prodigy from Nizhny Novgorod (born 1991!) is the new Richter, Rubinstein, Argerich
und so weiter
… Then come the iffy PR-driven choices; the unwisely stretched repertoire; the odd duff gig. The jury, having garlanded the youngster with rapturous acclaim, withdraws again to reconsider the verdict.
More or less, that's where we have reached with Trifonov. Last night's Barbican concert with Sir Simon Rattle and the LSO – part of an ambitious sequence of collaborations between soloist and orchestra – hardly pressed a definitive thumb on the scales. Ravel's jazzy, witty but kind-of-blue piano concerto in G required, and received, the sort of deft, fleet and formidably engineered outing that we know that Trifonov can deliver night in, night out. His acrobatic assurance and microscopic control duly impressed; but did they express anything new in the music? For all its syncopated sophistication, this piece needs to move us, too – especially in the long, melodious, melancholy walk the pianist takes around the keyboard in the middle-movement adagio. Sure-footed, finely articulated, rather than dreamy or yearning, Trifonov never stepped out of line. He hardly left a deep emotional impact, either. I wondered, too, about his fondness for that big, rich Fazioli piano sound: radiant, defined, compelling, yes, but (just a suggestion) a trifle soulless, in this work at least? The concerto's outer sections, as the LSO swung and squawked delightfully while Trifonov spun the bravura passagework into nicely-crafted shapes, worked better.
The LSO brass and woods boogied from the back with a real swagger. So chapeau bas, on this evening of French music, to principal trumpet David Elton: a star in the Ravel, as throughout the programme. Rattle thrives in this upmarket cabaret ambience, and had fun steering an up-for-it LSO through every bluesy shade – though still much more Left Bank than Harlem – of Ravel's orchestration. Contemplative moments of mingled stillness and lucidity did hint at Trifonov's undeniably special gifts. A shame, then, that his encore – a set of self-penned variations on Rachmaninov – yielded not much more than a slice of dazzlingly well-played pianistic pastiche.
As often happens, the star guest invited to the party failed to hog every ray of available limelight. To start the evening, the LSO had strayed way out of their comfort zone into the Baroque heartland of Rameau's suite Les Indes Galantes: a fanciful diversion drawn from a 1735 music-drama whose balletic interludes were designed to bring dancers inspired by the "noble savages" of the non-European world on stage. Complete with the rattling chains that announce the opening "air for African slaves", Rameau's dodgy exoticism would ring a din of alarm-bells for arts funders now. Shrunk to chamber size, the LSO made the most of his catchy and cunning interludes, with the charming woods and (again) trumpets sounding more at home on this alien terrain than the strings.
After Trifonov's turn, and the interval, came a Rattle commission, originally for his former crew at the Berlin Philharmonic. This was the UK premiere of A Little Summer Suite by the now 92-year-old Franco-American composer Betsy Jolas. Over the course of an illustrious career, she has collaborated with Boulez, Messiaen, Varèse et al; and it all showed, in a short, intriguing mood-piece whose sinuous lines allowed LSO leader Carmine Lauri a chance to shine in solo excursions. Meanwhile, ear-catching explosions from the excellent LSO percussion ambushed the more lyrical allusions to the serenity of a summer's day. By the time the final tutti spirited us into a more sunlit bucolic realm, it wasn't so much Messiaen and his peers that came to mind as the earlier pagan pastorals of Debussy and Ravel. Jolas herself (pictured above) took a welcome bow; a scarlet-shawled faun who, on this evidence, is much enjoying her long afternoon.
We closed with two absolute treats. Like the Rameau, Poulenc's suite from Les Biches is repurposed theatre music, hewn out of the 1923 ballet choreographed by Bronislava Nijinska for Diaghilev. With that swaggering trumpet once more to the fore, the LSO relished every mouthful of this gloriously sly and smart neo-classical confection: a bit like Grieg's Holberg Suite, but with added cocaine and crème-de-menthe. Rattle kept things both louche and lively, with a cocky strut to his pacing and a frank pleasure in the stark changes of tempi that sometimes – and rightly – verged on the parodic. With the strings back in charge, the finale avoided excess bluster to give a farewell taste of Poulenc's underlying sweetness. And that deep string swoon – with the powerhouse violins in a tight gang to Rattle's left, while the cellos and basses spread out lavishly in the other direction – fuelled the last number: Ravel's La valse.
Thoroughly in his element, Rattle honed this bittersweet, post-Great War dance of life and death into a tremendously compelling piece of aural theatre. The disconnected sounds at its start – as the plucked basses emerge out of the void – have never reminded me so much of the formless musical chaos that begins Haydn's Creation. Here, though, civilisation has reverted to nothingness, until – so it seems – the massed dead rise from the mud of the Western Front and whirl us back to frenetic life in some Viennese ballroom crowded with spectres.
Rattle gave us both the thrill and the terror, astutely conjoined, with strings and then (at the finale) brass lurching through this post-mortem bacchanal in debonair despair. Here, and throughout the evening, he refused to downplay the necessary brashness that these scores demand; the rough edges, along with the smooth sides, of music born out of post-traumatic shock. In Poulenc and both Ravel pieces, Rattle crafted a nightclub raunch and honk as well as salon suavity. Perhaps the refined Trifonov could have done with a bigger slug of that bitter brew.