Matthias Goerne, Daniil Trifonov, Wigmore Hall |

reviews, news & interviews
Matthias Goerne, Daniil Trifonov, Wigmore Hall
Matthias Goerne, Daniil Trifonov, Wigmore Hall
An exceptional recital, combining symphonic weight with chamber intimacy
Matthias Goerne: The German baritone is a musical storyteller par excellence, a magician with a melody
If you needed further proof of the intelligence, the thoughtfulness of Daniil Trifonov's musicianship, the programme for his four-concert residency at the Wigmore Hall would go a long way towards providing it. How many young soloists of Trifonov's standing would choose to turn song-accompanist for an evening of lieder? And how many, having done so, would deliver so generous and self-effacing a performance?
The evening belonged, as it should, to baritone Matthias Goerne. Having crafted a sequence of songs opening with Berg's Vier Lieder Op.2, moving through Dichterliebe, Michelangelo settings by Wolf and Shostakovich and closing with Brahms's Four Serious Songs, he proceeded to deliver them as a single, continuous arc of music. Talk about schmerz – there's enough suffering, enough guilt and human misery here to satisfy a whole mountain-top of Romantics, and taken as a whole, scarcely a pause throughout, it was almost too much, emotionally and musically, to endure.
It has been nearly 20 years since Goerne's fine recording of the cycle with Vladimir Ashkenazy, and the singer's interpretation has moved on
But few singers can weave gold out of anguish quite as smoothly as Goerne. His legato just spins and spins, an infinitely generous sound that spills out easily and without strain. Most affecting from a voice this large is the pianissimo. Goerne finds a tiny space at the top of his register to place his most intimate musical thoughts, and the effect is of devastating intensity. It took nearly 15 minutes for the baritone to sing anything above a mezzo piano, delivering all the Berg as though a cautionary tale whispered in the ear of a fellow sufferer, handling the nauseous beauty of these compact settings with concentrated care.
When volume and vocal force finally arrived in Schumann's Dichterliebe it was a release the audience needed. It has been nearly 20 years since Goerne's fine recording of the cycle with Vladimir Ashkenazy, and the singer's interpretation has moved on. His poet-lover is more impatient, less able to bear musing on his suffering. "Ich grolle nicht" pushes forward faster, as though any lingering might break his resolve to "bear no grudge". Yet, if anything, his moments of peace are cherished more carefully, and there's even greater folk-simplicity to "Im wunderschönen Monat Mai" and "Am leuchtenden Sommermorgen".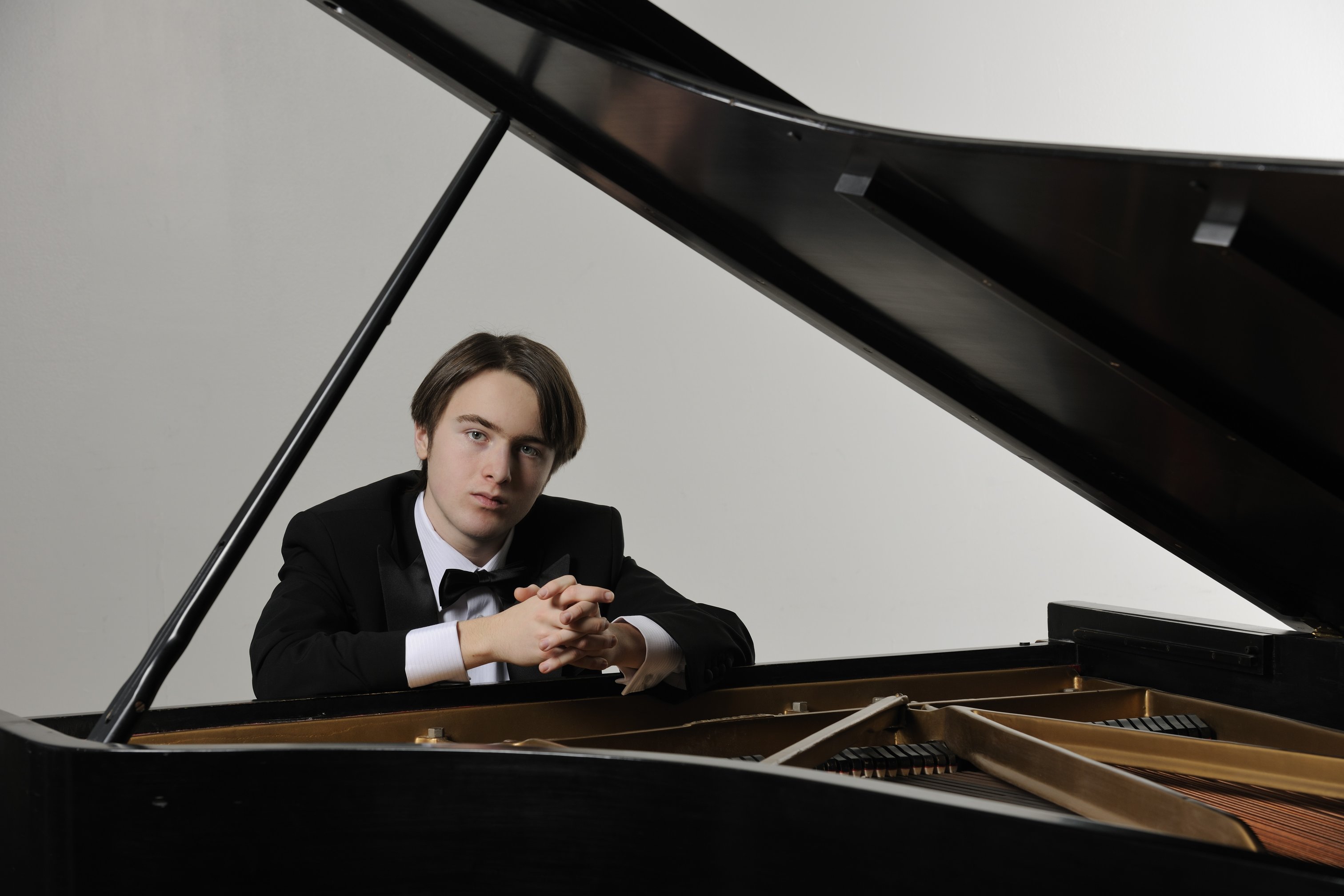 Trifonov's accompaniments were expressive, responsive, but couldn't conceal the challenges of this kind of playing. Schumann's settings are all about manipulating a miniature scale of emotion and expression, and at moments of intensity or passion Trifonov (pictured above right) often wielded too broad a brush, distorting the shape of the song and taking the Fazioli beyond beauty. Pedalling, too, tended to expose the decay of the sound, intruding into the balance of Schumann's final chords. The glorious piano epilogue was unbalanced by some over-emphatic voice articulation, losing that shimmer that we need from those final moments, a musical promise of hope, redemption.
Both the Brahms and Shostakovich were more successful, but with so unremittingly dark and dense a programme it was hard to find the concentration these songs deserved. You can only ask so much surrender from your audience; Goerne and Trifonov demanded and deserved so much more, holding an often fidgety Wigmore audience completely within their control for over 90 minutes. As a feat of musicianship it was outrageous – a recital with symphonic weight but the intimacy of a chamber concert. Exhausting and exhilarating in equal measure.
You can only ask so much surrender from your audience; Goerne and Trifonov demanded and deserved so much more
rating
Share this article