Stephen Hough/Lucy Crowe, Anna Tilbrook, Wigmore Hall online/BBC Radio 3 review - the end of the beginning |

reviews, news & interviews
Stephen Hough/Lucy Crowe, Anna Tilbrook, Wigmore Hall online/BBC Radio 3 review - the end of the beginning
Stephen Hough/Lucy Crowe, Anna Tilbrook, Wigmore Hall online/BBC Radio 3 review - the end of the beginning
Comfort and joy as live performance returns to top chamber music venue - at a distance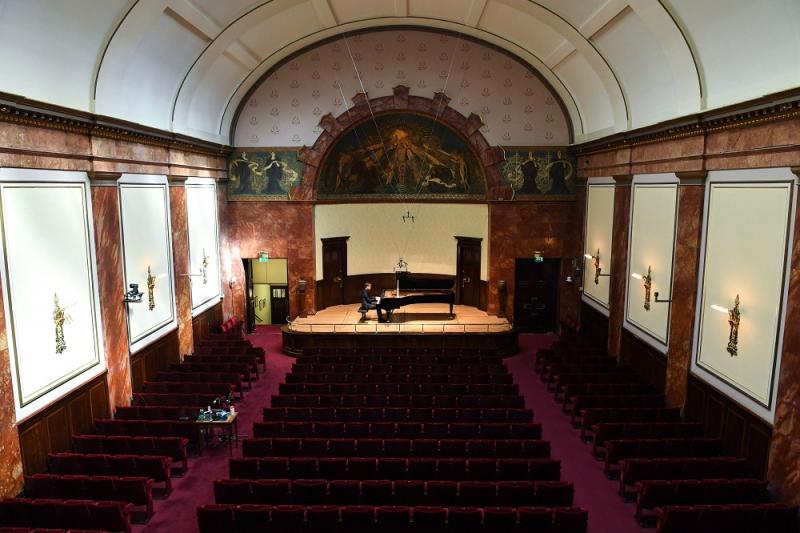 Stephen Hough in a nearly empty Wigmore Hall on Monday
After a devastating drought, even a light shower can feel like something of a miracle. Under normal circumstances, a 60 minute lunchtime piano recital from the Wigmore Hall would represent wholly unremarkable business as usual for BBC Radio 3.
As it was – coming (as the presenter Andrew McGregor reminded us) eleven weeks after the Wigmore had last heard live
music
– this felt like an event of profound significance. Perhaps that's no bad thing. Perhaps we haven't always listened to artists as life-affirming as Stephen Hough, and music as great as his opening programme of Bach and Schumann, as attentively and as appreciatively as we might have done.
For now, though, the sound and sight (the concert was livestreamed by the Wigmore Hall, and remains available on their website; donations are requested but not required) of Hough playing to an empty hall, provoked the sort of widespread and heartfelt reaction on social media that most chamber music promoters can usually only dream about. At least 2000 people are reported to have watched the livestream, and Hough (pictured below in a still from the filmed concert) proved to be an inspired choice to re-launch concert life in the capital. Few living pianists manage to combine open-hearted virtuosity with so tangible and unaffected a sense of an inner world beyond the notes: Hough is a fundamentally compassionate artist who never turns his back on his listeners even when the composer is in full inward retreat.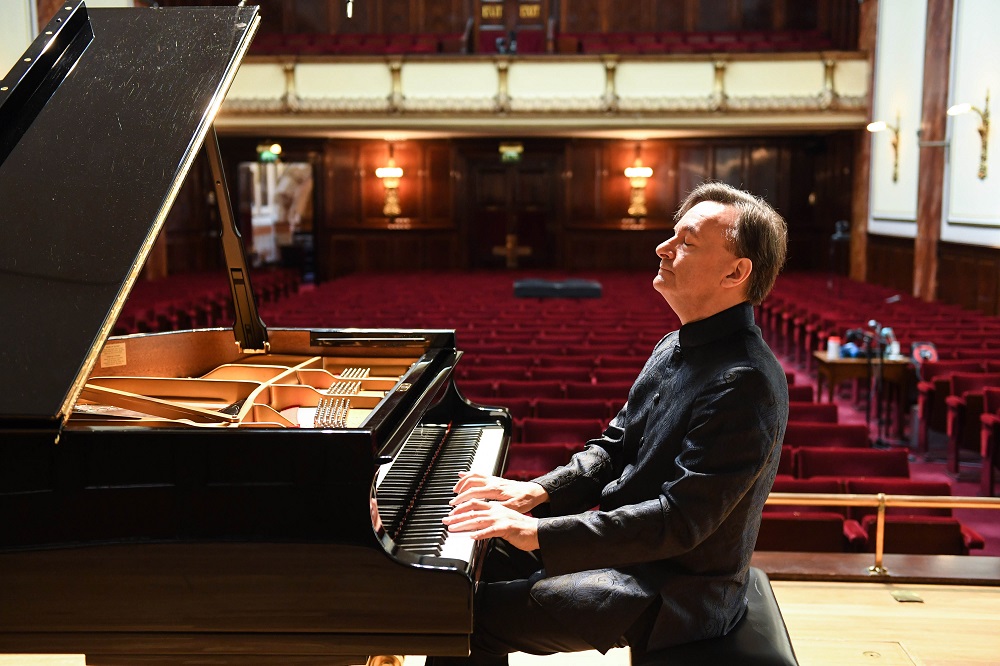 Hough's choice of repertoire revealed something too. He began and ended with Bach; a composer whom Hough has said that he finds difficult to love (an admission whose full courage in today's conformist classical climate can probably only be fully appreciated by those who feel the same way). Interestingly, he's said something similar about Schumann, whose C major Fantasy made up the majority of the second half of the programme. Perhaps, for Hough, a sense of struggle – of friction beyond the matter of mere self-expression – was what the occasion demanded.

He'll surely have been aware of the Fantasy's conception as a musical monument to Beethoven: a vision (though Schumann later abandoned his projected movement titles) of stars rising above a landscape of ruins. In Hough's reading, the tragic grandeur and underlying instability of that extraordinary opening movement threw its shadows across the whole length of the work. The instability underlying even the tenderest of moments (and no-one makes the centre of a chord melt like Hough does) created one of those occasions when the mood of the time finds its ideal musical expression.

As for Bach; well, Hough approached him through two Romantic intermediaries. In his hands, the Busoni transcription of the D minor Chaconne was simultaneously monumental in its strength and sensuously, translucently playful in its harmonic colours. To paraphrase Busoni himself, the sunlight never blinded and even in shadow there were clear outlines. Gounod's Meditation on Bach's C major Prelude (in other words, his Ave Maria – "I don't even need to say it", commented Hough) served as an expansively-phrased, self-evidently sincere encore. Current stylistic orthodoxy regards this approach to Bach as terribly wrong. It's never felt more right.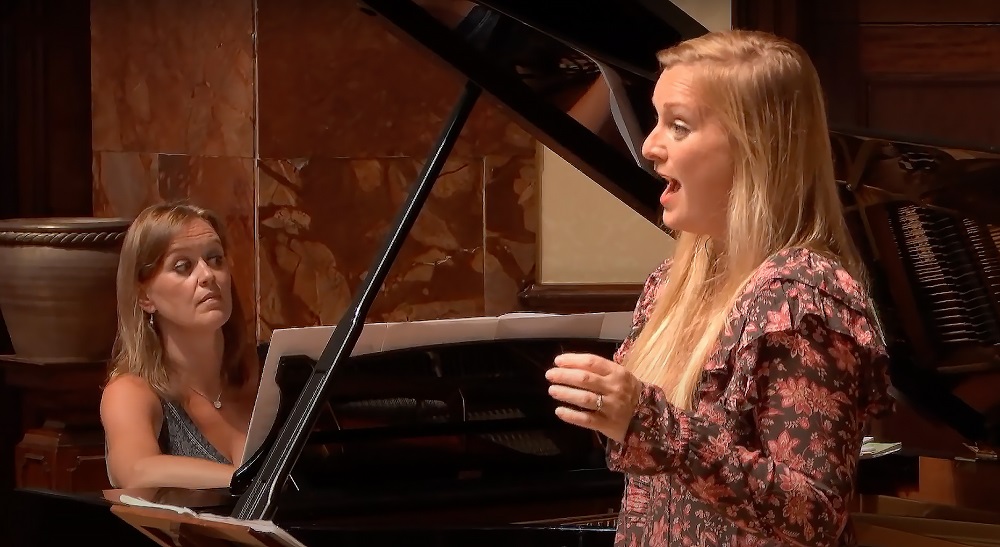 Tuesday's recital was given by Lucy Crowe and Anna Tilbrook (pictured above) and again, I didn't think it was just the circumstances that helped it land an emotional punch out of all proportion to the small scale of the repertoire and the emptiness of the hall. Would the soaring, weightless high note that Crowe floated across the climax of Vaughan Williams's "Silent Noon" have sounded quite the same if the Wigmore's seats had been full? It surely wouldn't have felt it, at any rate and nor, perhaps, would her sequence of folk song arrangements (by Britten, Phyllis Tate and Thomas Dunhill) have been quite so touching: though the artistry with which she let individual lines intensify out of the ends of plangent, vibrato-free phrases come as no surprise with a singer as sensitive as Crowe.
Tilbrook matched her, alert and unaffected; giving a delicious swing to Madeleine Dring's "It Was a Lover and His Lass", and holding Ivor Gurney's "Sleep" in eerie equipoise between melancholy and ecstasy. They'd begun with Arne's "O Ravishing Delight", and that's exactly what it was, as Crowe's soprano unfurled in front of us like some huge, fabulous blossom. It was a flourish of pure theatrical optimism, beautifully balanced at the end of the hour by Ivor Novello's "We'll Gather Lilacs" – and just how snobbish would you have to be to object to a performance as unsentimental and as beautifully weighted as this one?

Once again: you just know when something feels right, and on this early showing, these lunchtime recitals are already giving a lot of comfort and joy. If the two groups of songs by Berg and Schumann intensified the feeling of loss in the current situation, with no programme books or surtitles to provide the texts (might subtitles be a possibility – not to say an opportunity – in future Lieder livestreams?), they certainly sounded glorious. It's far too early to suggest that normal service will be resumed any time soon, but if these lunchtime broadcasts continue in the spirit in which they've begun we might be able to risk saying that – musically, at least – we're over the hump.
We might be able to risk saying that – musically, at least – we're over the hump
rating
Explore topics
Share this article