St Lawrence String Quartet, LSO String Orchestra, Adams, LSO St Luke's |

reviews, news & interviews
St Lawrence String Quartet, LSO String Orchestra, Adams, LSO St Luke's
St Lawrence String Quartet, LSO String Orchestra, Adams, LSO St Luke's
No sitting back and relaxing through a seminal American string symphony and a brain-dizzying quartet
Thursday, 24 January 2013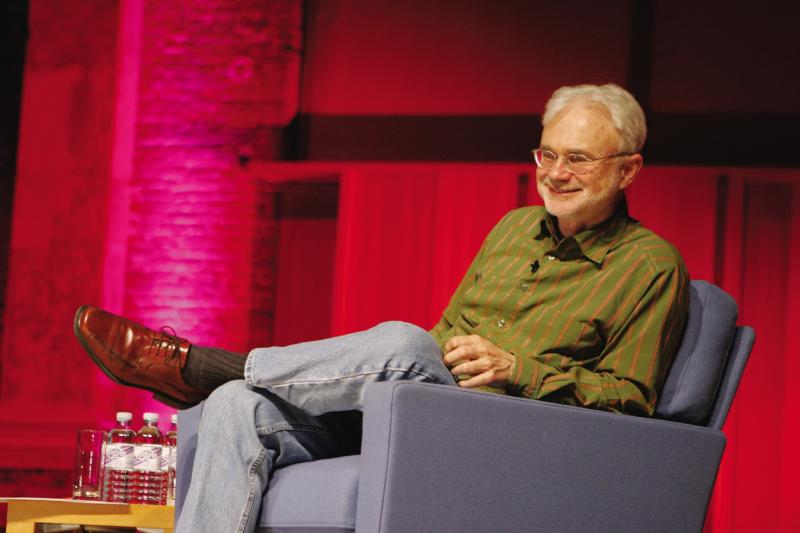 John Adams in relaxed mood at LSO St Luke's
"It looks like the Coconut Lounge," remarked John Adams as he stepped up jauntily to introduce the first of two big string pieces composed 30 years apart. The folk with their drinks at the candlelit tables, though, were never allowed to sit back and let it all wash over them.
The seminal Shaker Loops of 1978, heard here in its string-orchestra incarnation of five years later, buffets and charges you as it flies or coasts through space, the polar opposite of the more placid minimalism which inspired it. That was nothing, though, compared to the strange adventure of Adams' recent String Quartet – exhausting for the listener, as it must surely have been for the phenomenal St Lawrence String Quartet, but in a good way.
How thankful we must be that Adams' overhaul of Shaker Loops' antecedent, Wavemaker, included a double bass among the instruments enriching the original quartet. Add two more for the orchestral version, and in the excellent acoustics of St Luke's, the LSO trio added a resonance and a rumble that really charged up the engine, bounced into life by a knee-flexing Adams as conductor . In the second of the four seamless movements, "Hymning Slews", those basses made whalesong which complemented what Adams described as the violins' earlier mewing "like kittens in a box".
Here came that much needed smooth background which gave us some respite from the vibrant shakes embodying one half of the title. Adams also had in mind for the third movement an almost extra-terrestrial imitation of what as a child he imagined to be the Shaker sect's wild ceremonies. Will it ever stop electrifying us with the shock of the new, that series of roof-rocking, steam-train accelerating chords? Audiences in the Seventies and Eighties must have immediately realised they were in the presence of a masterpiece; we still felt it last night.
If they'd been selling a CD and a score on the way out, I'd have bought bothWhere, though, to begin with the Quartet? Any thoughts of similarities with the early work's shakes at the start were set aside in wonder at the cello's dazzling pizzicato figures. The St Lawrences (pictured above by Marco Borggreve) tore into it with the total assurance and edge-of-seat commitment that can only come from knowing the work inside out. What can I add to Adams's own observation of a team who first transfixed him with their playing in John's Book of Alleged Dances that "they can both play as an absolute unity, and also play with four individual personalities that are extraordinary and differentiated"?
That taken for granted, you could only trust them on the journey, which had all the urgency and at times anguish of Janáček's two quartets as well as the unpredictability of Beethoven's later labyrinths. Fragments of distinctive ideas that rarely surface anywhere in many new works were hurled around the four players before you had time to grasp them, though with a crucial slowing of the pulse the scalic patterns shared in haunting dialogue did have space to make their mark. Full energy regained at the end, the St Lawrence players sent me stumbling out with brainache – again, in a good way. If they'd been selling a CD and a score on the way out, I'd have bought both and absorbed myself into the small hours. But then you'd have had to wait a lot longer for what as it stands has to be a mere superficial eulogy in praise of - yes, another masterpiece.
The String Quartet is exhausting for the listener, as it must surely have been for the phenomenal players, but in a good way
rating
Explore topics
Share this article