Ronald Stevenson (1928-2015): A virtuoso remembered |

reviews, news & interviews
Ronald Stevenson (1928-2015): A virtuoso remembered
Ronald Stevenson (1928-2015): A virtuoso remembered
Memories of a maverick pianist and composer of 80-minute homage to Shostakovich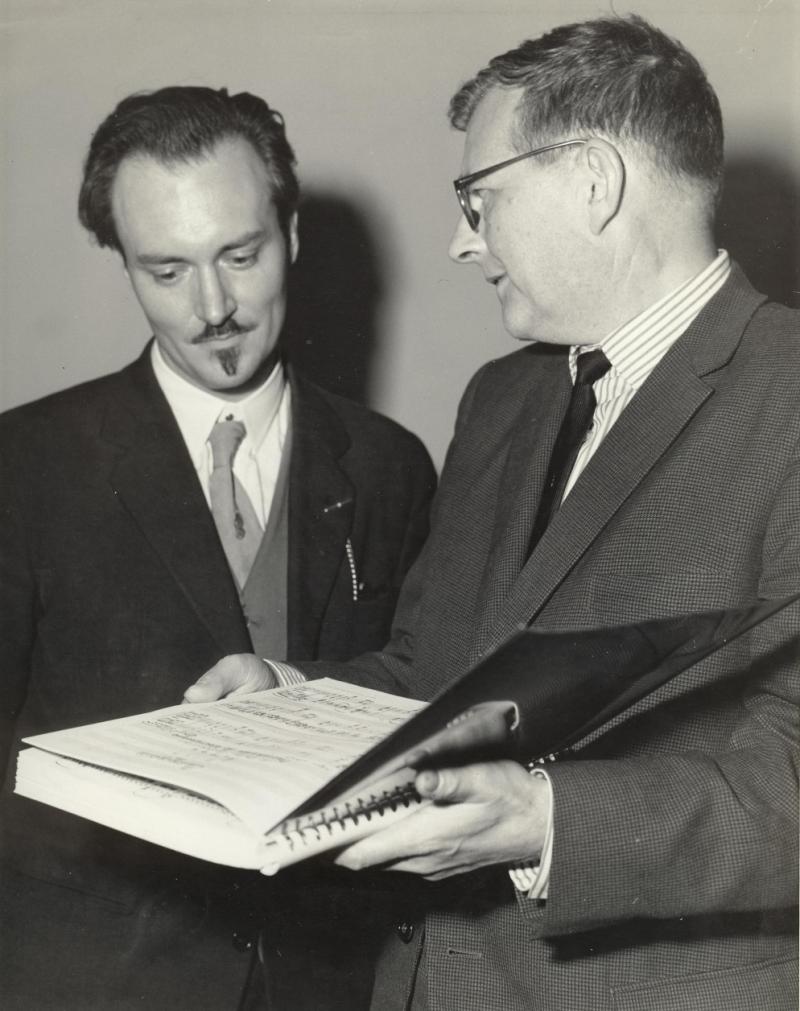 Stevenson presenting his 'Passacaglia on DSCH' to Shostakovich at the 1962 Edinburgh Festival
Ronald Stevenson, who died on Saturday at the age of 87, was a composer and pianist who will be much missed both in the small Borders village where he lived and by the much larger musical community in Scotland and beyond. As a composer he was unashamedly rooted in the late 19th Century tradition of intellectual pianism – in his music you can trace a line of descent from Bach to Liszt through his great hero Busoni.
He believed passionately in the "primacy of melody"; he loathed
The Rite of Spring
and in his polemical book on Western music (Kahn and Averill, 1971) he reflects that the "impact of two world wars seem to have sent the arts temporarily berserk".
I feel greatly privileged to have known Ronald for about the last 35 years. In the early 1980s when I worked at the BBC as a recording engineer in Edinburgh, Ronald would sweep into our magnificent music studio with his characteristic cowboy tie, black fedora, and a flowing Lisztian cloak. He was dramatic before the music even began. I was somewhat in awe of this rather formidable figure but he was kind and patient with the seemingly endless process of capturing his performance on quarter inch magnetic tape. He was a fabulous pianist.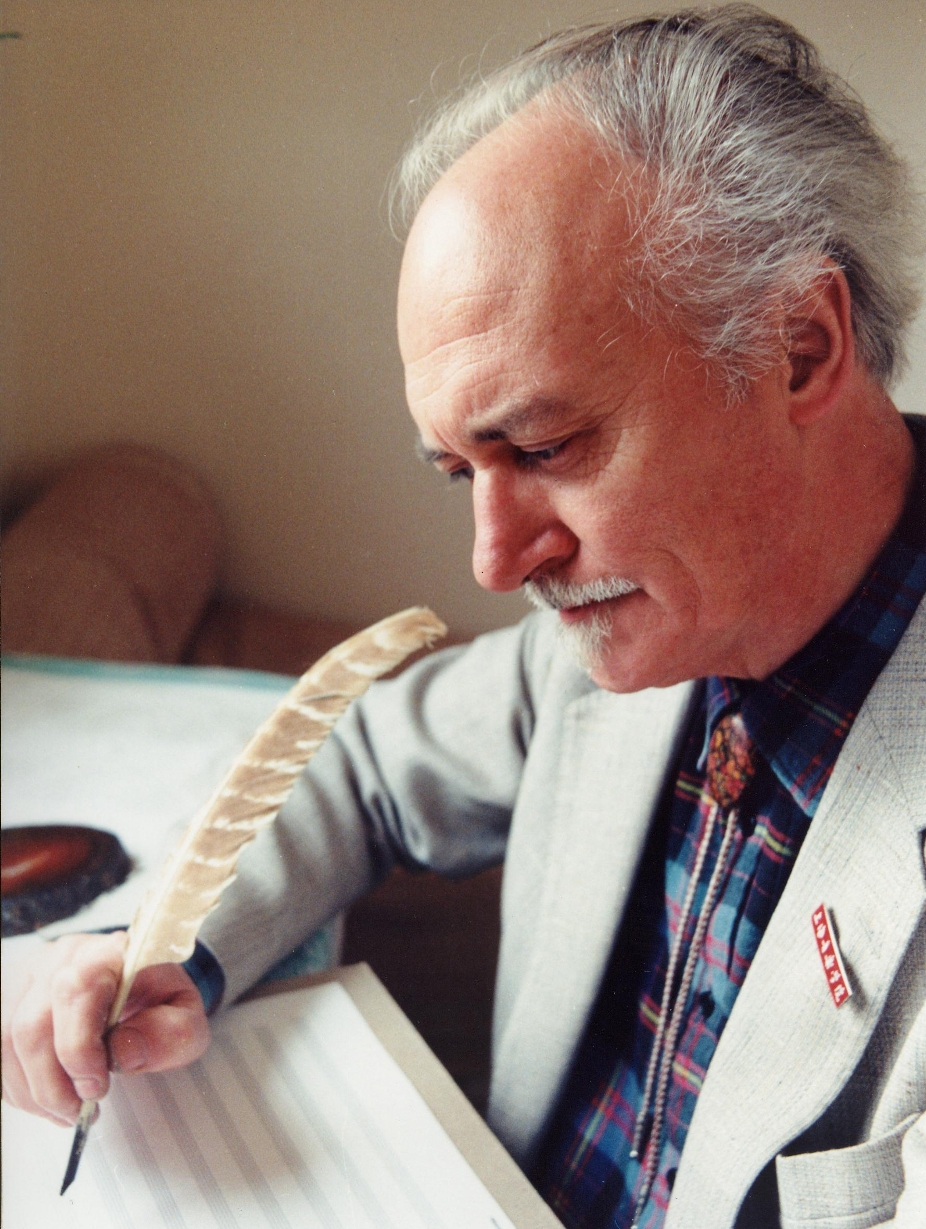 As gamekeeper turned poacher, I found myself some years later writing about his music. His 1992 Violin Concerto was commissioned and conducted by Yehudi Menuhin but attracted interest in the press chiefly because of its length. I rang up Ronald. "I hope you won't make infantile remarks about its being long," he said. "Of course it's long, it contains the entire history of western fiddle music."
Stevenson is probably best known for another monumental work, his solo piano Passacaglia on DSCH, an uninterrupted homage to Shostakovich that lasts about 80 minutes. It is not often performed – John Ogdon was a champion – and at the only performance I have heard I found Ronald in a fury afterwards as the pianist, whose name luckily escapes me, had made so many unauthorised cuts.
Some time after that I went to see Ronald in his charming village house in the very heart of West Linton. He guided me into a small room dominated by a large piano. "Welcome to my den of musicquity," he said. On the piano was his recently completed Festin d'Alkan, and the walls were crowded with memorabilia, photographs, letters, manuscripts. He revealed then that all his life he had corresponded with any composers willing to reply to his letters, and he had accumulated a vast stash of unique correspondence. There were letters from Walton, Percy Grainger (with whom he struck up a particular epistolary friendship), Alan Bush, Bliss, Britten, Stokowski, and even Sibelius, though sadly the latter exchange did not progress beyond polite formalities. The correspondence, which became the focus of a long article in the Daily Telegraph, is now lodged in the National Library of Scotland.
When I moved to the Borders, Ronald became a neighbour – about 15 minutes away as the car drives. Trying to find a piano teacher for my son Alexander, I asked Ronald if he knew of anyone locally, but to my surprise he volunteered himself. It was a short but fruitful relationship. Alexander was, as I had been, awed by Ronald's depth of knowledge and experience. I think that most of the time they talked, and Ronald played, and Alexander marvelled. He went on to be taught by Ronald's daughter Savourna, also a composer and well known for her work for the clarsach – but not before Ronald had written out in his immaculate hand a short arrangement of the Peebles folksong "Coulter's Candy", "especially for my pupil Alexander Lambton." It is a document we treasure (pictured above) .
Advancing years brought a familiar litany of frailty and illness. I went to Ronald's 80th birthday party only to arrive shortly after he had, to everyone's delight, played some Busoni on the piano. After that, he was not often to be heard performing. But he told me once of a visit to hospital shortly after a mild stroke. The doctor had asked Ronald to demonstrate that he could move each of the fingers on his hand. Ronald went one better, and asked "doctor, can you do this?" and played on the tabletop, at speed, one of those excruciating five finger piano exercises that professional pianists do in their sleep. The doctor was silent.
I last saw Ronald shortly before Christmas, when he came to the Broughton Choral Society concert, at which we were performing a short piece called The Dream, by Savourna. He was as charming as ever and everyone remarked at how well he looked. He was a loyal patron of local music events, coming to amateur concerts such as these, and also professional concerts which I occasionally promote in the village hall, always accompanied by his most loyal and tireless wife Marjorie. To her, and to his family, I can only say that I will miss Ronald greatly.
Footnote by David Nice: I can't claim to have known Ronald Stevenson anywhere near as well as Christopher did, but he left an indelible impression as a presence at the 1983 Aldeburgh Festival, where I was working as a Hesse Student. There was a mini-Grainger festival, in which Stevenson gave a recital at the Jubilee Hall, spinning our heads with Grainger's Rosenkavalier Ramble, amongst other oddities. And at the big Snape Maltings concert, where I heard for the first time - and, alas, never since under live circumstances - the amazing Tribute to Foster with rim-rubbed wineglasses as the music of the spheres, Stevenson was sitting behind us students. He tapped me on the shoulder after one piece and said, "Stravinsky, eat your heart out. Tell me he could ever have written a melody like that". Of course we didn't jump to agree with him, but I love it that he stood up so wholeheartedly for the power of original melody.
Of course it's long, it contains the entire history of western fiddle music
Explore topics
Share this article