Prom 50 review: Josefowicz, Clayton, CBSO, Gražinytė-Tyla - personality in every bar |

reviews, news & interviews
Prom 50 review: Josefowicz, Clayton, CBSO, Gražinytė-Tyla - personality in every bar
Prom 50 review: Josefowicz, Clayton, CBSO, Gražinytė-Tyla - personality in every bar
Light rather than power in Beethoven, plus two superb soloists in Stravinsky and Barry
Mirga Gražinytė-Tyla: look, no baton! No score!
Everything you may have read about Mirga Gražinytė-Tyla's wonder-working with her City of Birmingham Symphony Orchestra is true. Confined to a Turkish hospital bed when their first Prom together took place last August, I wondered from the radio broadcast if the extremes in Tchaikovsky weren't too much.
In the live experience last night, the miracle of the detail and the justification for even the most startling decisions proved totally convincing. And what a stunner of a programme, too, with plenty of wit in
Stravinsky
and Gerald Barry (of course) and a lightness you don't often get in trailblazing
Beethoven
.
Mirga – the single name is as likely to stick as Adele or Beyoncé – conducted her Beethoven without a score or a stick. Potentially dangerous, in the latter case, when so much rhythmic precision is needed. There was no need to worry, though: the liberation of Florestan by his courageous wife in the Leonore No. 3 Overture flew with both spirit and focus, while the offstage – back of the hall – trumpet call conjured more drama than the whole of Juanjo Mena's half-tilt Fidelio performance earlier in the Proms. Usually it's the flute solo after it that sets the spine tingling, but here Mirga urged a very special other-worldly sense of awe from unison winds just before. The flurry of string activity into the final victory was done by starting with the front desk of violins and spreading to the back – another cause for frisson.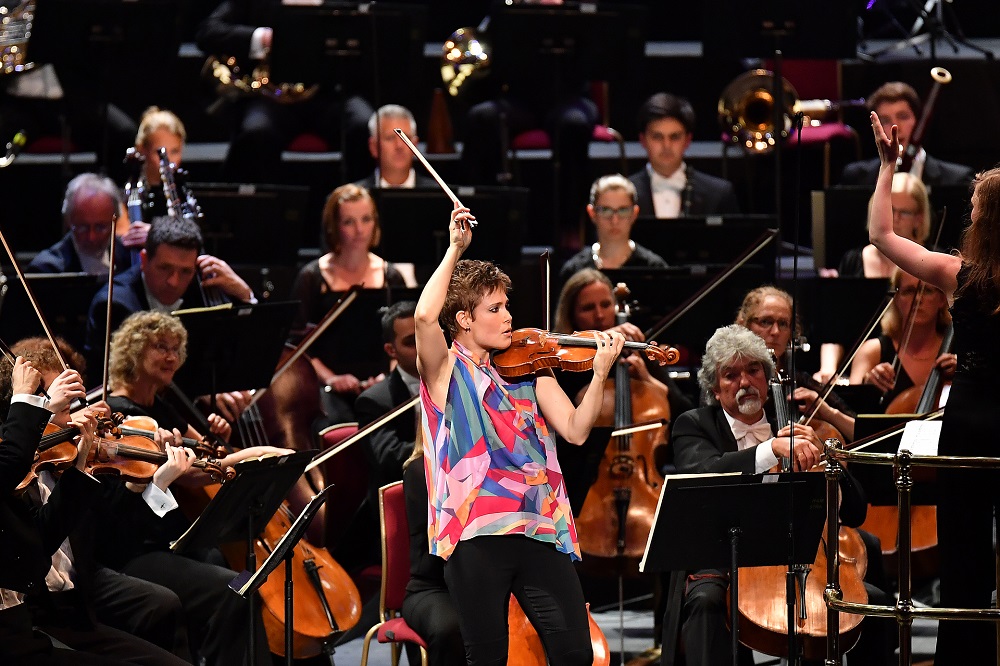 The winds' brilliantly placed, spot-on snap chords in Stravinsky's Violin Concerto were as much a thing of wonder as Leila Josefowicz's electrifying tune-calling (the violinist pictured above). Not for her any metrical rigidity; she set such a dangerous pace for the finale that you wondered if Mirga could keep tabs on her. But she did, and in any case Josefowicz was tuned in to the orchestral soloists so far behind her in various duets, making wonderful triangles with Mirga and flautist Marie-Christine Zupancic, later replaced by first horn Elspeth Dutch: ineffable woman power at the Proms. Just occasionally she seemed to be playing from her own special edition, but the suppression of a trill here, a double-stopping there only seemed to help Stravinsky's imaginative strangeness.
I don't think I've ever heard such a buzz of excited chatter in a packed Albert Hall as we got at the end of Gerald Barry's Canada. What struck the composer as the "everyday and strange" name and country furnishes three syllables very variously enunciated by the brilliant Allan Clayton, totally at ease in the vasts of Albert's colosseum. We also get some of the words (in English, French and German) but not – unless it's so subterranean I didn't catch it – the music of the Prisoners' Chorus from Fidelio, two orchestral wild rides, typical Barry berserking, one consonant, the next dissonant, and a coda in which the soloist encouraged the orchestra to speak "Canada" ever more softly (a final play on the captives' "spricht leise"). No idea why, but it brought tears to my eyes – of hilarity, sadness? With Barry it's so difficult to tell. But certainly the hall laughed freely, and this typically unsettling jeu d'esprit lasted not a second too long (pictured below, composer, tenor and conductor with the CBSO).
There was no chance that Beethoven's Fifth would be too portentous after it, not in Mirga's re-imagining, anyway. Natural trumpets and bright kettledrums had set us up for this in the Beethoven Overture (maybe she might soon follow Robin Ticciati's example with the Scottish Chamber Orchestra and have valveless horns, too, though the modern variety sounded terrific). She took the best-known first movement in symphonic history as a keenly-articulated scherzo, though not without the force to make the oboe's voice from another world as startling as ever; the Andante was indeed, as it too rarely is con moto, more an intermezzo where delicate winds and strings had to overcome the pompous brass interjections.
The real drama came in the interlinked Allegros of the last two movements, dynamics awesomely quiet and tense for the hobgoblinish half-lights of the third so that the great blaze came upon us suddenly. No finale repeat, praise be, and only fun to be had with the over-extended ending. I may never get used to the most flatulent C major symphonic conclusion of all, which is probably my blind spot, but best that it be despatched with light and good humour. And while Josefowicz had chosen to follow Stravinsky's very sincere homage to music's greatest master – "Bach with smallpox" was Prokofiev's unkind and untrue response – not with a Partita movement but with Esa-Pekka Salonen's Chaconne Lachen Verlernt (Laughter Unlearned), Mirga chose the most exquisite, stylistically pure encore possible: the Air on the G string from the Third Orchestral Suite, allowing solo quartet supported by double bass its own special ornamentation to send us away treading air. As for Mirga's now-customary invitation to join her and the orchestra in Birmingham, this coming season gives plenty of reasons to be there.
To be screened on BBC Four on Sunday 27 August
Mirga took the best-known first movement in symphonic history as a keenly-articulated scherzo
rating
Explore topics
Share this article