Philip Langridge, 1939-2010 |

reviews, news & interviews
Philip Langridge, 1939-2010
Philip Langridge, 1939-2010
Tributes to the electrifying British tenor who died last week
Langridge as Peter Grimes, making the audience shake like a leaf
Britain's most communicative singing actor, lyric-dramatic tenor Philip Langridge has died at the age of 70. I offer a personal reminiscence, looking back on some of the greatest theatrical experiences of my life, and ask conductors Sir John Eliot Gardiner, Sir Mark Elder, Edward Gardner and Vladimir Jurowski as well as director Richard Jones what Langridge's example has meant to them.

List your top ten operatic performances: it's an exercise some critics are asked to undertake by rating-hungry newspapers, and a task many of us like to indulge in simply to remind ourselves what's truly seared us over the years. In my personal top ten, Philip Langridge pops up at least three times in interpretations which I don't see ever being knocked from pride of place - characterisations so powerful that the list might stretch to embrace dramatic performances in the round; Langridge's special channelling of intensity and anguish has always served as a masterclass for actors as well as fellow singers. The roles I'd chose all come from his heyday at English National Opera: Britten's Peter Grimes and Captain Vere
(pictured below, photograph by Clive Barda for ENO)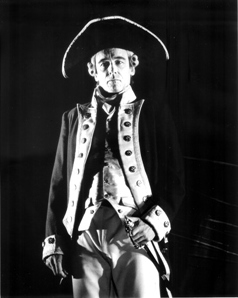 - alas, I missed Langridge's Aschenbach on stage - and Janáček's Zivny. The very fact that many readers will ask "Zivny in what?" is a measure of how much, back in the 1980s, Langridge branded an unfamiliar role in the British opera-going consciousness: without him, I don't think we'd be inclined to set Janáček's
Osud
as shattering equal alongside
Katya Kabanová
or any of the composer's other late masterpieces.
It was a vintage Langridge performance, a harrowing portrait of a tormented central character who ends up providing his own stricken but cathartic ending for an autobiographical opera. Not that this in many ways very unEnglish tenor ever exploited hallmarks or tics for every interpretation. The voice, it's true, was always instantly recognisable: you could tell from hearing just a note or two on the radio who was singing. There was that slightly nasal but very human delivery, the cathedral-tenor beauty of tone opening out to an edge and an urgency which very few of his successors can emulate (certainly not Ian Bostridge or Mark Padmore, though Toby Spence seems to be heading in a similar direction).
In his early days, having trained as a violinist as well as a singer and gone on to follow the path to stardom via the Glyndebourne chorus like other British greats from Janet Baker and John Tomlinson to Sarah Connolly, Langridge was well served by sheer elegance of tone and stylishness of phrasing in oratorio and concert performances (his recitals were unusually personable; he'd talk freely between songs). I'd forgotten how refulgent was his part in the 1976 Marriner recording of Handel's
Messiah
, one of a remarkably limited clutch of performances posted on YouTube.
Undoubtedly he had to sacrifice some of the beautiful sound in the interests of dramatic truth. In the Britten roles mercifully captured on DVD and CD - not just Grimes and Vere but also a feral-sensual Quint in
The Turn of the Screw
and a suave Essex in
Gloriana
- he went further than any of his predecessors, the creator of the roles included. As
Edward Seckerson noted on his website
, "he took what Peter Pears had started and took it somewhere else entirely". I'll never forget his Grimes at the Barbican, pacing like a thing possessed at the side of the platform before coming on to take centre stage. Even in this concert performance, he was utterly credible as the maddened fisherman. Time and again I'd come out of a Langridge Britten performance shaking like a leaf.
Langridge was as fine in Mozart as he was an interpreter of thornier operas such as Berg's
Lulu
- in which at Covent Garden last summer he essayed three radically different parts - or works by Birtwistle and Ades, no doubt because he saw all alike as reaching to the heart of the human predicament. He recalled as "one step too far" an unbearably moving scene with his second wife, the distinguished mezzo Ann Murray, playing Idamante to his father Idomeneo in Johannes Schaaf's wild, dislocating Royal Opera staging. Here he sings simply of the virtues involved in good emperorship in Nicholas Hytner's Glyndebourne production of
La Clemenza di Tito
.
I'd forgotten that husband and wife could be equally good in comedy, Langridge sparring as Benedict
(pictured below right, photograph by Clive Barda for ENO)
with Murray's Beatrice in the Berlioz caprice at ENO. They may well be the only married couple in recent operatic history to have played the same part - the Witch in Humperdinck's
Hänsel und Gretel.
Vladimir Jurowski, who worked with Langridge on the Metropolitan Opera production (Richard Jones's, originating with Welsh National Opera) to which the tenor-witch returned last December, remembers the humour of the situation below. Sir John Eliot Gardiner and Sir Mark Elder recall their early days with Langridge, reminding us that he went back beyond Mozart to Monteverdi, and a conductor of a younger generation, ENO's Edward Gardner, tells us what role Langridge has played in his life. Finally, director Richard Jones highlights the qualities which made Langridge unique in both rehearsal and performance.
Vladimir Jurowski


I still can't believe Philip is gone. I only knew him from that memorable December 2007/January 2008 period when we worked together on Hänsel at the Met, but for me he has been some kind of "a source of eternal youth" - both as a singer and as a man. And a real gentleman he was. I'll never forget the dedication with which he threw himself into the difficult and demanding (both physically and vocally) role of the Witch - a role of course in which his lady wife excelled too. And it was so touching to see her coming to the opening matinee of the piece to support her husband. How heartily they both laughed when I presented them with a "Witches' Calendar" for 2008, since they both now belonged to that category of beings. He shall be remembered by many and for a very long time!
Sir John Eliot Gardiner


The news of Philip's death is deeply shocking to those of us who had the privilege of working with him. Though alas our paths did not often cross in his later years, we worked closely in the 1970s and '80s, and I admired him immensely as an exceptionally open-minded, musicianly tenor who could turn his mind and voice to almost anything. With his deserved reputation in such a wide repertoire, a specialist in 20th-century roles (unforgettable in Janáček and refreshingly un-Pearsian in Britten) Philip was also a brilliant stylist in "early" music. I first met him when we were both hired by Imogen Holst - as also, incidentally, were Robert Tear and Roger Norrington - to sing Tallis's 40-part motet "Spem in alium" at Aldeburgh in the late Sixties. I shall never forget his impassioned singing of "Nigra sum" and the great "Gloria" from Monteverdi's Vespers, nor how game he was to tackle the stratospheric tenor leads in the Rameau operas we revived together (Dardanus, Les Boréades, Les Fêtes d'Hebé) - superbly delivered in impeccable French and with dramatic élan. What a musician!
Sir Mark Elder


I first met Philip when I was still a Cambridge undergraduate. I was playing the harpsichord in a university production of Stravinsky's The Rake's Progress and he'd been suggested as a fine young tenor who might come up and sing the role of Tom Rakewell - and I remember him seizing the chance straight after that to go and sing Rossini's Almaviva in Amsterdam. So we got to know one another and started to do recitals together in 1970 or '71, including a BBC recording of Britten's Holy Sonnets of John Donne. We just clicked, and I felt an incredible excitement to be dealing with a musician of such fantastic talent and instinct who happened to be a few years ahead of me in his career.

Then we lost contact for a while when I emigrated to Australia to learn how to become a conductor, but he sang in my last concert - Monteverdi, he had such flexibility for that music - before I left. Our paths crossed again when I came back to ENO. I got to know Ann as well - I conducted them together in Berlioz's Beatrice and Benedict - but what was incredible was to work with him on Osud. He'd sung Zivny in concert with Simon Rattle, and ENO decided we had to do it. He was free and we forced it into the schedule. It's extraordinary, and so was he.

Philip was one of those singers who changed their minds about coming to the Coliseum when I was music director; with the exciting period of the 1980s under way they wanted to be part of the project. His performance in Birtwistle's The Mask of Orpheus was just unbelievable. And how lucky that the public were able to savour his Grimes and Captain Vere there. What's most poignant for me is that now I'm studying Billy Budd [for the new Glyndebourne production due this summer] whenever I can between all the Mahler we're doing in Manchester, and his voice just rings off the page for me - much more than anyone else's. His way of articulating and phrasing is for me more touching than Pears's. Perhaps that's a generational thing, and older people may disagree, but for me Philip's Britten is definitive. Then I've been astonished by how well he was able to continue to sing in his 60s - he had a secondary role in Ades's The Tempest at Covent Garden, but he still sounded top dollar.

I remember thinking quite early on how lucky we were to be flush with English tenors who sang such an international repertoire - not just Philip, but also Anthony Rolfe Johnson and Robert Tear, who was slightly older. They all had the most fantastic declamation - Tom Allen too - and nowadays it's not stated enough in capital letters how connected very good diction is with good natural singing. All those singers sang in a very natural way, and Philip was supreme in that respect.

Philip was a role model to young professional singers of how to be, and I don't mean this in any rose tinted way, because I always marvelled at how fastidious he was about his work. It seems strange to recount that he never had a high opinion of his own musicianship because he was married to someone who was so naturally and instinctively gifted; he always said he had to work much harder than Ann did. He was rather neurotic about his voice, like a lot of singers; he'd come to rehearsal saying things like "I feel a frog in my throat", but what was important was that the work in hand never suffered because of that. He always marked well at rehearsals, and he was always worried that he wouldn't make it or wouldn't do well enough, but that was part of his temperament, and that's what gave his performances such incredible intensity.

Some singers can be great vocalists but not such great colleagues to share the process of preparing a show. Philip was always such a lovely spirit to have around, and that's very rare.
Edward Gardner


Philip was a leading light for all of us in this profession - a singer with a beautiful sound, but an artist who would never compromise meaning or the quality of delivery of text for anything else. I came to know his work through his extraordinarily sympathetic portrayal of Peter Grimes in Tim Albery's ENO production. He was of course well known on stage and in recordings for his distinctive, magnetic performances of many of Britten's roles. His range of repertoire was astounding - Mozart to Stravinsky, Janáček and Birtwistle - he recently sang Birtwistle songs at the Wigmore Hall for his own 70th birthday celebration. Talking at Richard Hickox's memorial, he spoke about Richard's warmth and humanity - those very qualities he had himself in abundance, on or off the stage.
Richard Jones


The shows I made with Philip were Tippett's The Midsummer Marriage in Munich, Wagner's Ring at Covent Garden in the 1990s [in which Langridge's fire-god Loge embodied the quicksilver quality of a spellbinding Rheingold], and Humperdinck's Hansel und Gretel in New York. I'd worked with Ann earlier, so I'd met him before directing him, but because he was so self-effacing, I wasn't prepared for the ability I encountered.

How best to describe him? In the rehearsal room: always genial, light, naughty, entirely committed to his work, with a huge emotional intelligence about what was going on for others, very funny, kind, polite, a fresh and original thinker about text, luminous, full of boundless energy, thorough, rigorous. In performance: possessed, intense, very brilliant - and often in unexpected ways.

No-one sounded like him. He influenced me. He's a yardstick for how actors can behave and what they can create in a rehearsal room and on stage.



Above is an appropriately consoling, radiant finale: the optimistic end of Janáček's Jenůfa in the classic Glyndebourne production directed by Nikolaus Lehnhoff. For the concluding duet in which Langridge's Laca and Roberta Alexander's Jenůfa face an uncertain future together, go to 5m48s. But don't miss another of those top ten performances, Anja Silja's as the Kostelnička, explaining why she drowned her stepdaughter's child to try and give everyone else a better life, in the first few minutes of the excerpt.