Pereira, LA Phil New Music Group, Dudamel, Adams, Barbican Hall |

reviews, news & interviews
Pereira, LA Phil New Music Group, Dudamel, Adams, Barbican Hall
Pereira, LA Phil New Music Group, Dudamel, Adams, Barbican Hall
An engrossing evening of new music from the Pacific rim
Gustavo Dudamel and Joseph Pereira, who showed himself to be more than just a stylish percussionist
For finding new popes as much as for hunting down new music, looking to the ends of the earth seems a fruitful route to take. Last night saw the start of the Los Angeles Philharmonic's Barbican residency with their principal conductor, Gustavo Dudamel. And with them, they brought the latest music from the Pacific rim, all of it quite surprising.
Surprising, that is, for not being very surprising. For the new music from West Coast Americans John Adams and Joseph Pereira, and Korean Unsuk Chin, didn't sound like you might expect. It wasn't bracingly fresh or pioneeringly brave. Nor did any of it wear ethnicity on its sleeve - like some of Dudamel's previous picks from these far-flung regions. And none of these unencumbered non-Europeans seemed to want to unshackle themselves from the music's European heritage.
'Palimpsest' is full of delicious mirrorings, doublings, echoes and chases Indeed, in John Adams's Son of Chamber Symphony (2007), the shackles could almost be seen and heard. The legacies of Charles Ives, Schoenberg and Beethoven all clang away in the work. Adams's own backstory is here, too. The second movement reworks material from Naïve and Sentimental Music, the third the "News" aria from Nixon in China. All of these reminiscences felt healthy. Never did they become obsessive, except when the rhythm from the scherzo of Beethoven's Ninth suddenly threatened to hijack the first movement.
At speed, Adams can come across like Louis Andriessen-lite. Much better was his second movement, with its slippy bassline and sorrowful violin solo. The third, resembling a bingo machine with its troupe of airborne notes, was very pleasing, Adams himself at the podium pushing the LA Phil's New Music Group to its limits in a game of orchestral keepie-uppie.
To look backwards is no bad thing. To look sideways is no bad thing either, as Joseph Pereira showed. His Concerto for Percussion and Chamber Concerto (2012) was really a Concerto for Percussion and Ligeti, and no worse off for it. Sampling Ligeti's masses of sound for orchestra, while setting off a riot of rhythm in the foreground on various tabla, larger drums and marimba, Pereira's percussion concerto proved a lively addition. The second movement paid further obeisance to Ligeti, with its drones, crescendos and punning name – "Lontanissimo". But the third, travelling beyond the influences to build up a compelling energy and speed, confirmed Pereira to be more than just a stylish percussionist.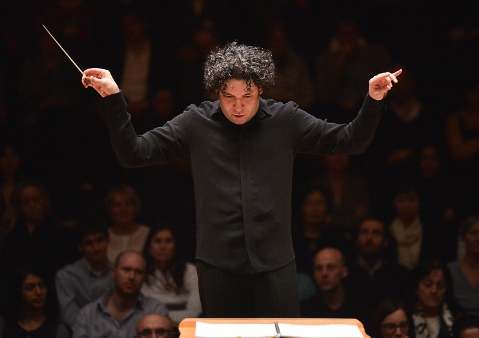 The second European premiere of the evening was Unsuk Chin's Graffiti (2013). Thirteen years divide Chin and Pereira, and Chin's musical maturity shows. Chin's is a work of focus, clarity and real interest. We began with a movement titled "Palimpsest": full of delicious mirrorings, doublings, echoes and chases. From nowhere a string trio emerges, which Hindemith could have written. It builds and implodes, returning us to the smears of the orchestra.
A memorable series of bells, tuned gongs and bass woodwind open the slow movement, which moves into cloudier territory. It's a clever contrast, the way we go from almost complete blindness to total certainty, from a hazy "Notturno" to a confidant "Passacaglia". The final engrossing movement, the "Passacaglia", unfolded like a game, one half of the orchestra – now under the watchful eye of Dudamel (pictured above right) – attempting, but failing, to dislodge the steady, if precarious, staccato tread of the other.
Chin's is a work of focus, clarity and real interest
rating
Explore topics
Share this article