Los Angeles Philharmonic, Dudamel, Barbican review - brilliant if overwhelming showcase |

reviews, news & interviews
Los Angeles Philharmonic, Dudamel, Barbican review - brilliant if overwhelming showcase
Los Angeles Philharmonic, Dudamel, Barbican review - brilliant if overwhelming showcase
An ensemble on top form makes polished noise a bit too much of a good thing
Gustavo Dudamel in action last night with the Los Angeles Philharmonic
Insistence was the name of the LA Phil's first game in its short but ambitious three-day Barbican residency - insistence honed to a perfect sheen and focus, but wearing, for this listener at least, some way in to the Shostakovich Fifth Symphony played in the second half.
The essence was a layered, ultimately blistering performance of
Varèse
's ever startling
Amériques
sculpted with the energetic rhythmic precision at which Gustavo Dudamel excels, and rich with sensuous perspectives not easy to achieve in this flattening, amplifying hall. That would have been enough to send us home bouncing and buzzing after barely more than half an hour's worth of music.
Under the circumstances, it was just as well that Esa-Pekka Salonen composed his Pollux first of two new pieces. Castor, the mortal non-identical twin of Greek mythology, will be characterised in the second, Salonen vows, by "extrovert and mostly fast music". The twittering skyscapes in which the immortal brother dwells were a gift to the sophisticated stardust of this ever more impressive orchestra, of which Salonen was principal conductor for 17 impressive years until Dudamel, then seen as the new force for the good nurtured by Venezuela's now-legendary El Sistema, took over in 2009.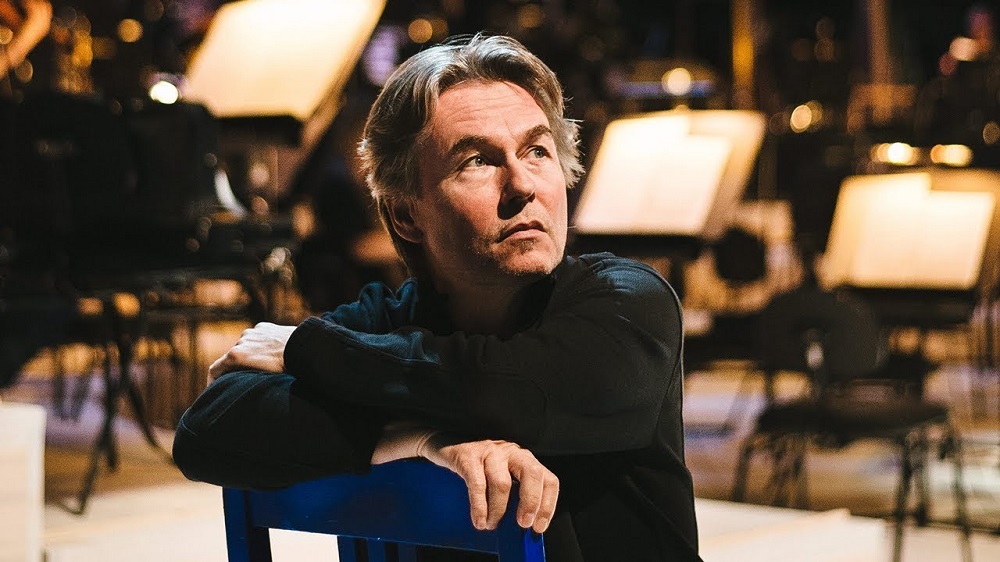 Pollux is an effective opener ("parking-lot music," as Salonen's friend and fellow composer Anders Hillborg told me they call the opening slot in America). You could lead fresh ears to the marvel of orchestral textures by pointing out how it descends from the heavens via woodwind to lower, brass-dominated textures - the effect of Rilke's Orpheus, Salonen tells us - and ascends again. Pleasingly concise for such big sounds, a good balance of melodic lines - not outstandingly memorable, though Salonen (pictured above by Benjamin Suomela) clearly found the "post-grunge band" bass he wrote down in a Paris restaurant exactly that - with plush surround-sound.
Much more, though, is to come out of the alto-flute solo and shimmering tensions at the start of Amériques, still a masterpiece with the capacity to astound nearly a century after it was composed. Dudamel held a line through the fragmentary early stages, and the orchestra wrought its magic at every turn, with amazingly precise and brilliant Latin flares from the violins. The final thrash, all screams and lunges, was simply stunning.
In one dimension, the Shostakovich symphony made a good contrast. Its lines are bonier, though the LA sound put plenty of flesh on them. Perhaps too much in the one movement that doesn't sound contrived alongside the very best of Shostakovich's symphonic work, the Largo; it could have done with more inscaping. But in dynamics and phrasing Dudamel's work with his orchestra was irreproachable, and the excitement he generates only threatened to run away with itself once, in the tumult of the first-movement development, which had some difficulty pulling itself back towards the biggest climax.
Were you to slice into any moment of the performance, though, you'd still be impressed by the orchestral polish and heft (those basses and bassoons at the start of the Mahlerian scherzo!). And even from a seat at close quarters, the strings never had a hair out of place. In the wake of the relentlessly awful symphonic coda, though, one did feel like echoing Prokofiev's remark which gave such offence to his fellow composer: "so many tremolos! Just like Aida!" Just like the climax of the "Liebestod" from Wagner's Tristan und Isolde, one might have added. Maybe it was a mistake to choose that as a very odd encore, one which didn't quite soar vocally with the regrettably absent soprano - generous but, like the rest of the programme, just a bit too much of a good thing.
The final thrash in Varèse's 'Amériques,' all screams and lunges, was simply stunning
rating
Explore topics
Share this article