London Piano Festival, Kings Place review - feasts of fearless fingerwork |

reviews, news & interviews
London Piano Festival, Kings Place review - feasts of fearless fingerwork
London Piano Festival, Kings Place review - feasts of fearless fingerwork
A galaxy of great repertoire, world premieres included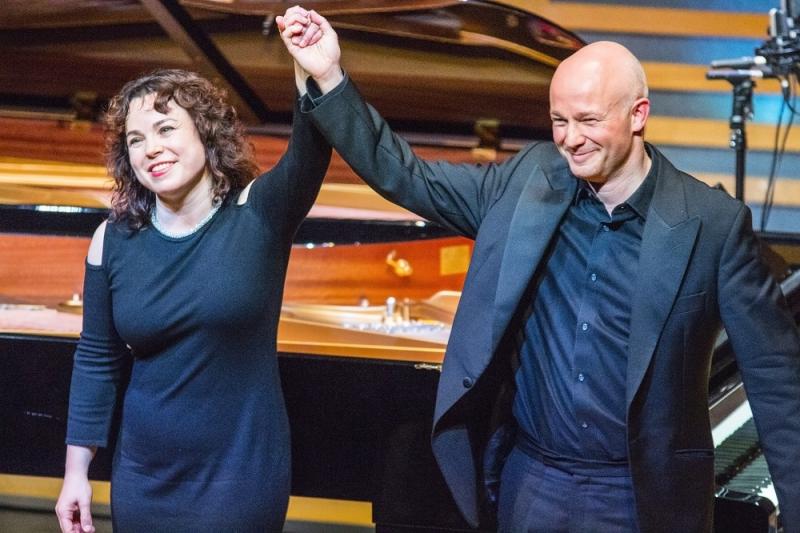 Katya Apekisheva and Charles Owen, leading lights of the London Piano Festival
What has 12 hands, 18 legs, 176 keys and two page-turners? Party night at the London Piano Festival, of course. The six-pianist, two-piano marathon on Saturday evening was a high point of this delectable four-day event – though far from the only one.
Now in its second year, the London Piano Festival is the brainchild of the well-established piano duo Charles Owen and Katya Apekisheva. It's a welcome addition to the London scene. We're all used to piano recitals, but don't always delve so deeply into the instrument's galaxy of repertoire and the range of personalities among those who play it. Here, music ranged from Bach to world premieres and a family concert with Simon Callow, Peter and the Wolf and Babar the Little Elephant; Jason Rebello played jazz, Nelson Goerner a Great Romantics recital. "Smörgåsbord" doesn't quite cover it.
Owen and Apekisheva (pictured below, playing RedMare by Elena Langer) themselves kicked off the festival on Thursday. First, each arrayed his and her stall in a solo set. Owen traversed the extremes of romanticism, from rugged opacity in Brahms's Rhapsodies Op. 79 through Schumann's "Widmung" (Dedication) in Liszt's transcription, the watery joys of Liszt's own "Au bord d'une source" and the same composer's arrangement of the Liebestod from Wagner's Tristan und Isolde – in which Owen's degree of mystical rapture could have sent us home happy after just half an hour. Apekisheva chose "October", "November" and "December" from Tchaikovsky's The Seasons, played with luminously intense tone, floating the melodies freely with the aplomb of a pianistic Maria Callas.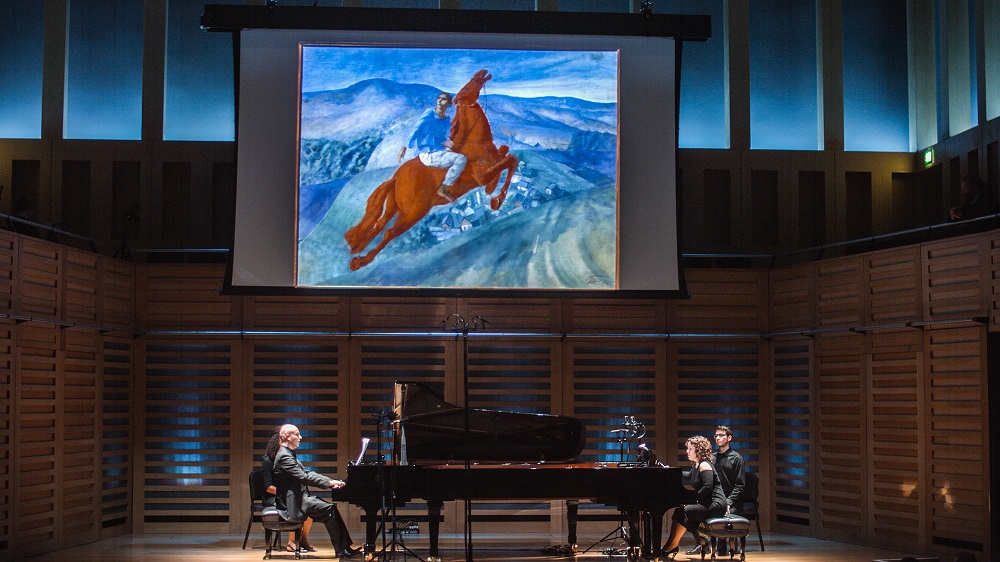 Her account of Mieczyslaw Weinberg's Piano Sonata No. 2, written in 1942, added a particularly welcome rarity. A friend of Shostakovich, with personal trauma to spare, Weinberg was long eclipsed, but his star is now rising again. This sonata is a rigorous, concentrated four-movement work, traditionally structured but characterful in its distilled textures. The harmonic language echoes Shostakovich and Prokofiev, yet strips back expression to the bone. Its extreme clarity makes it exposed and challenging for the pianist, but Apekisheva's performance was magnificent.
Together Owen and Apekisheva are not just one-plus-one, but virtually a third entity. The second half plunged them into Rachmaninov's heavenly Suite No. 2, its dizzying Waltz delivered with extraordinary precision, yet full of subtle, pearly colouring. The Polovtsian Dances from Borodin's Prince Igor sounded wrought in primary reds and yellows, its writing less sophisticated than the Rachmaninov, but great fun – played with tremendous panache and no sentimentality at all.
On Saturday, the strong of ear could take in piano music from 11 am across 11 hours, notwithstanding meals. The morning concert by Lisa Smirnova (which I'm very sorry I missed) was devoted to baroque repertoire, while 2 pm brought the mercurial delicacy of Melvyn Tan to the concert grand – even today we tend to associate him with early instruments. His programme, "Dances and Mirrors", united Weber, Ravel and a new work by Kevin Volans. Weber's Invitation to the Waltz introduced Tan's magical combination of near-improvisatory phrasing, hushed tones and heart-warming relish. Ravel's Valses nobles et sentimentales emerged pure and translucent; and in Miroirs, one could almost swat at the gathering insects of "Noctuelles" ("Alborada del gracioso" fared less well, but frankly that piece is a minefield). The highlight was the world premiere of Volans' L'Africaine: taking the tropes of driving, motoric "minimalism", the composer mixes them with African-inspired techniques and a surprise quote from Debussy. It's stirring and substantial and should make an appealing addition to the virtuoso repertoire.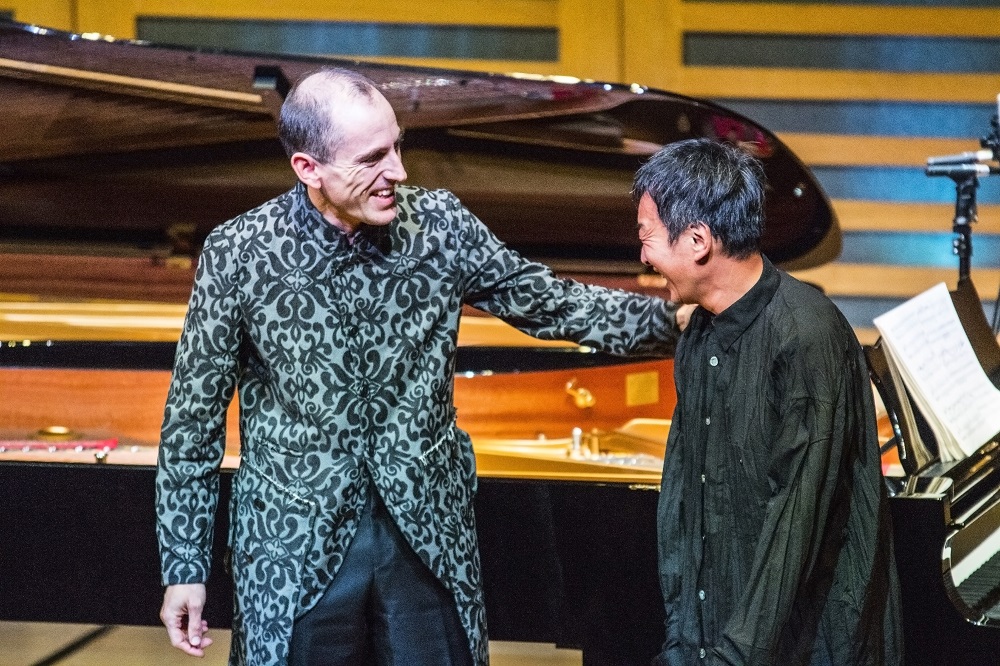 It's hard to imagine a performer more different from Tan than Ilya Itin, who arrived next to deliver two sizeable sonatas respectively by Schubert and Rachmaninov. Born in Russia, Itin won the Leeds International Piano Competition in 1996, yet plays in the UK once in a blue moon.
While Tan is all winsome presence and cat-like motion, there was something almost Zen about Itin's stillness: conjuring a giant range of colour and dynamics, his back remained straight, his aspect deadpan. Schubert's D major Sonata D850 perhaps inherently lacks a certain amount of contrast and sometimes its cheerfulness can feel slightly forced. Itin's tone, though, was focused and bright, he was alive to a sense of threatening quicksands beneath the genial surface of the second movement's many variants, and he wove in moments of sheer magic: a subtle shift of colour on a single, transitional chord, or the way the finale's high, ticking-based theme became an evocation of a musical automaton and, in the final bars, wound gently down to stillness. His account of Rachmaninov's gigantic Sonata No. 1 – essentially a Faust symphony for piano – held much to admire, including magnificently controlled voicing, with gradations of power and songfulness to match, even if one perhaps missed something of the ideal cause-and-effect narrative sweep.
All the soloists (except Goerner) joined the two-piano marathon – a cavalcade of treats from John Adams's Hallelujah Junction brilliantly navigated by Owen and Driver to a glittering account of the Mozart Sonata for Two Pianos with the vivid, mesmerising Smirnova (please, someone, bring her back quickly!) joining forces with the Heifetz-faced seriousness of Itin. The pair returned later for Shostakovich's Concertino; written just after Stalin's death, it contrasts funereal rhythms with manic William Tell effects. Tan and Driver (pictured above) met in tender Schumann – the Andante and Variations Op. 46 – plus the closing wildfire of the Variations on a Theme by Paganini, written by Lutosławski for himself and Andrzej Panufnik to perform, for survival purposes, in the cafes of wartime Warsaw.
As for Owen and Apekisheva, this time they not only played the living daylights out of Rachmaninov's Symphonic Dances, but coloured Ravel's Rhapsodie espagnole with a palette of Monet-like subtleties. A notable joy was the world premiere of their new commission, RedMare by Elena Langer. The music is full of evocative slivers of melody, glistening runs, allusive harmonies and plenty of galloping virtuosity. It is inspired by Kuzma Petrov-Vodkin's Fantasy: a painting (projected above the pianos) of a woman gazing backwards from a forward-leaping red horse, without holding on; the pair seem utterly contrasted, yet co-exist through trust alone. Perhaps the image was not chosen to symbolise a piano duo – but it does so rather well.
Next year's festival is already in the diary. Here's to many more.
'Smörgåsbord' doesn't quite cover it
rating
Share this article