Kovacevich, Argerich, Wigmore Hall |

reviews, news & interviews
Kovacevich, Argerich, Wigmore Hall
Kovacevich, Argerich, Wigmore Hall
Dangerous, intense at 75 - but does the great American pianist need anchoring?
Tuesday, 03 November 2015
Side by side: Kovacevich and Argerich in Rachmaninov last night
"People think when a person becomes old, he has to become serene," declared that great pianist Claudio Arrau in his mid-seventies. "That's absurd.
The expressive intensity is, I feel, much stronger, much more concentrated in my playing than years ago." You could argue the same for Stephen Kovacevich at his 75
th
birthday concert, though in the case of Schubert's final, B flat Piano Sonata, was it entirely intensity that had him racing through a work that, back in 1982, he took about 10 minutes longer over, albeit with repeats?
Without the promised BBC Radio 3 broadcast, pulled on Sunday, giving a chance to listen again the morning after, I'm not sure. I do know that former partner-in-both-senses Martha Argerich anchored him in Debussy and Rachmaninov without ever losing the necessary sense of danger in the latter.
Argerich took the upper part (pictured below by Clive Barda) in Debussy's En blanc et noir – crystalline, bell-like and never too much in a hall which, as Kovacevich pointed out in interview the other week, can over-amplify things. Aurally, it was perfection; the visuals, from the right side of the hall, meant that you couldn't see the second pianist or even the second piano. Argerich and Kovacevich sat side by side rather than facing each other, which is the more usual pattern, and everyone remarked on how uniquely low Kovacevich positioned himself at the piano. Part of the fun of a two-piano recital is how you should be able to register visually what at least one of the player's role is. That wasn't possible from my seat, but one thing can certainly be claimed: that they played as one, even if when Kovacevich came out on top in the Rachmaninov, his touch turned out to be no longer quite as even as it used to be.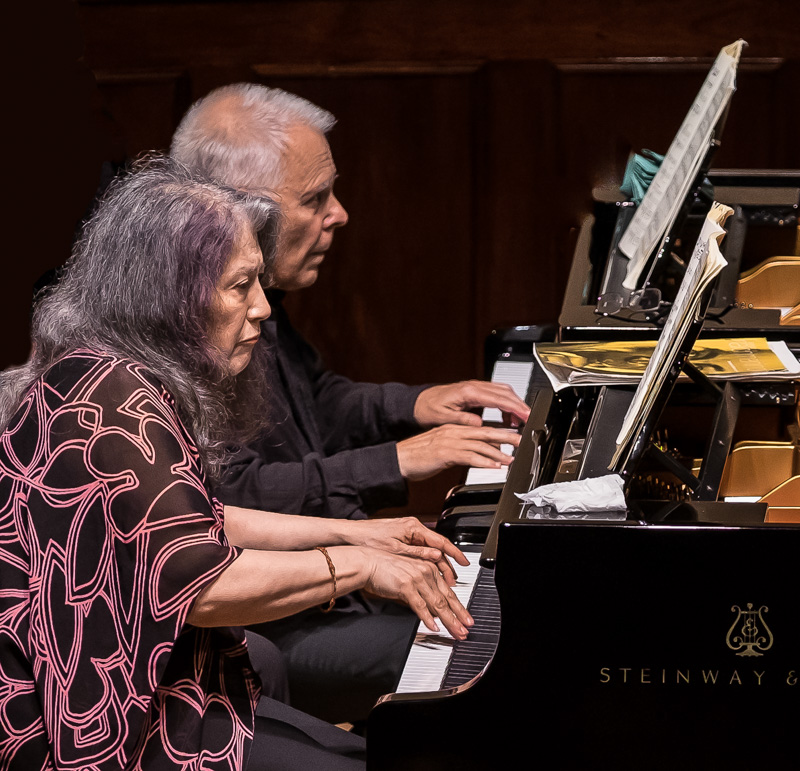 The odd wrong or missing note notwithstanding, the Symphonic Dances turned out to be a formidable late weapon in his armoury (he's played little Rachmaninov up to now). Between them Kovacevich and Argerich shattered us with apocalyptic chords, took the first dance's curious non allegro marking with unusual but striking heaviness, sang out – literally, in Kovacevich's case, Glenn Gould-style, and who could begrudge him that? – the nostalgic but still pure melody which in the orchestral version belongs at first to the alto saxophone. The build-up to the return of its main stomp caught fire; the dissolve into the calm coda, transfiguring the First Symphony's vengeful main theme, had a magical touch from both.
When in interview Kovacevich insisted that the waltz they were going to take more directly belonged to the middle of the third and final movement, I thought he must have got it wrong and meant the rubato-laden second, played swiftly with all the essential freedom. But the most radical re-think was indeed in the keening heart of the last nightmare, painfully in-your-face. Another stunning build, just that little bit more space for the quotation from the "glory" sequence from the Vespers, and then it was all over. At Kovacevich's 70th birthday celebrations, firebrand Khatia Buniatishvili stole the show with a shocking-in-a-good-way Liszt B minor Sonata, but there was no doubt about last night's highlight.
There was still a slight cause for concern over how Kovacevich would handle the Schubert (pictured above by Simon Jay Price). It began serenely but swiftly, seeming to veer out of control within minutes only to be pulled back by the benedictions at the end of an exposition which had to do without the crucial link back to the repeat. After a frighteningly intense development, the same pattern was repeated in the recap, so the veering must have been deliberate. The ultimate aching sadness ultimately transfigured of the great slow movement, though, didn't have room to breathe, while a blink-or-you-miss-it-scherzo and a finale that soon found its feet seemed deliberately light rather than a continuation of Schubert's life-and-death struggle.
Well, we must remember that though this is "late period" Schubert, he was still only in his early 30s when he raised questions of mortality like no other composer. Maybe I'm wrong to want Richter's slow-motion skating on thin ice, or indeed the spaciousness Kovacevich himself found 30 years ago. But this D960 didn't go deep enough for me.
In interview, Kovacevich had promised encores with two string players from the audience. We got one, Alina Ibragimova (pictured above with Kovacevich by Clive Barda), but the way she played Rachmaninov's "Vocalise" was a perfect summary of what Kovacevich wants from the composer – no dreamy sentimentality, but a direct and constant song. Then Argerich came back on to the platform and without a "happy birthday" – that, after all, took place over a fortnight ago – the celebrations to a very privileged audience which unhappily couldn't be joined by a Radio 3 audience were over. It should be noted that proceeds went to SANE and CLIC Sargent, the leading cancer charity for children and young people and their famiies, following in an honourable line which saw Kovacevich produce his Hyperion recording of Schubert's last sonata for Amnesty International.
Between them Kovacevich and Argerich shattered us with apocalyptic chords
rating
Share this article