Lise Davidsen, James Baillieu, Barbican review - opulence and the promise of greatness |

reviews, news & interviews
Lise Davidsen, James Baillieu, Barbican review - opulence and the promise of greatness
Lise Davidsen, James Baillieu, Barbican review - opulence and the promise of greatness
German song not always in focus, but the soprano's Sibelius was awe-inspiring
Tuesday, 11 February 2020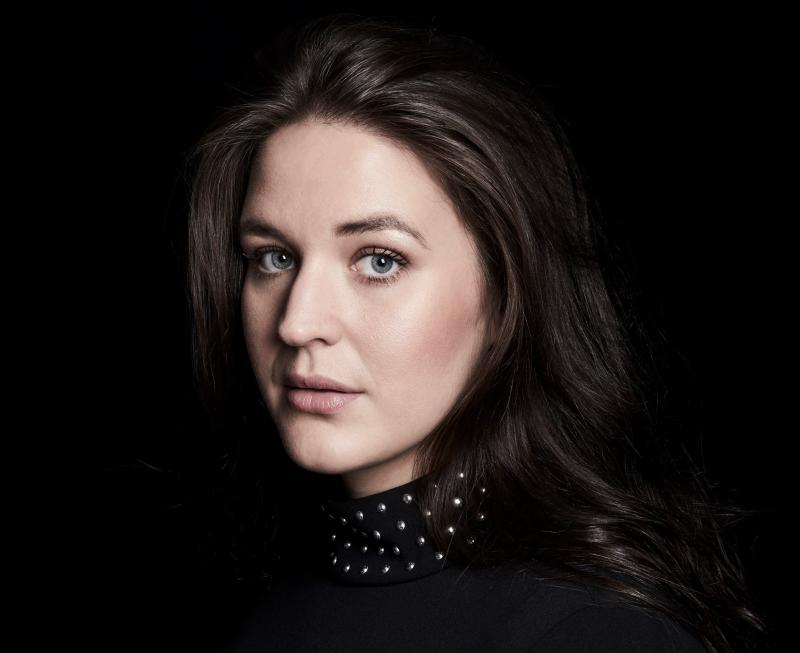 Lise Davidsen: settling to her statuesque best
So much pressure is on for Lise Davidsen to be the next Kirsten Flagstad or Birgit Nilsson, but the question has to be asked: is this just The Voice - a big "just" when a dramatic Wagnerian soprano is at stake - or The Complete Artist?
Intimations of the latter flashed through much of a well-planned programme - elements of it already featured in her Wigmore Hall debut recital - in partnership with consummate, calm pianism from James Baillieu, but settled in the divine shape of
Sibelius
's Luonnotar, nature-spirit and sea mother, haloing her in mysterious glory.
Though this tone-poem for voice and orchestra really needs more than piano accompaniment - somehow Sibelius conceives with a master painter's art - it allowed Davidsen to freeze her statuesque person, always a beautiful presence, for the epic narration of the Finnish creation myth. Fine by me that the Barbican's sometimes tricksy lighting design - a hideous green for Brahms, inept red for Grieg - settled on projecting the swelling sea over Davidsen's torso, since all was in the facial expression. We're used to hearing the work from lyric sopranos who can rise to the high notes of luminous sea-bird cries - Karita Mattila, Soile Isokoski, Susan Gritton, Anu Komsi - so to experience the application of the full dramatic works was a first for me. Davidsen, who will sing this all over the world as peerless interpreter, could do the scaling-down, too, and the haunting white notes, in the Swedish-language Sibelius song sequence: hypnotic in "Little Lasse", vividly dramatic in the ballad immortalised by Flagstad, "The girl returned from meeting her lover", ending on a unique hollow colour for the low-note last word.

Well-planned in symmetry to frame the Finnish master, present either side of the interval, the programme let him break out of the songs to German texts by Brahms, Schumann, Grieg and Strauss. Davidsen's placement in this language is sometimes recessed, and there were times when Baillieu (pictured below by Kaupo Kikkas) drew more focus in exquisite intimacy (the progressions of Grieg's "One day, my thoughts, you shall be at rest", miraculous).
Yet she drew upon mezzo resources for the voice of the mother in Brahms's "Liebestreu" ("True Love"), and in a less well-proportioned Strauss sequence, the subtle tone painting of a modest but harmonically elusive epilogue to a life in song-writing, "Malven" ("Hollyhocks"), stood out (Davidsen, incidentally, was less well advised to choose the Four Last Songs in her debut recording, hit and miss). There's an inherent danger at times in the spread of the voice, which doesn't always allow for a perfect legato, though I don't want to join the doomsayers in warning of trouble ahead without due care and marshalling of resources.
Sometimes you don't always want to know the words for Strauss Lieder: when they're up there in English translation behind the singer, you realise that the texts he chose are limp alongside those of Sibelius's favourite poet, Runeberg, and the directness of the lines attributed to Mary, Queen of Scots which Schumann set not long before his untimely end. Conveying one emotion per song, these again allowed Davidsen to settle to her nobler mode, and the spoken introduction plus Baillieu's interjection before the final Prayer helped the mood of devotional concentration.
No objections, either, to Davidsen's vote of thanks before her official final song, "Cäcilie"; you can tell she's a genuinely nice and humble person. First of the encores, Sibelius's "Svarta rosor" ("Black roses"), found Davidsen at her ringingly dramatic best, though it's a brave singer who chooses the almost-whispered intimacies of Strauss's "Morgen" ("Tomorrow") at the end of a taxing evening: here Baillieu again carried the magic. No doubt about it, though, this is a voice of a warm amplitude we haven't heard for a very long time, and experience will give Davidsen the confidence to give it dramatic significance every time.