Capuçon, Philharmonia, Järvi, RFH review - Dvořák in blazing focus |

reviews, news & interviews
Capuçon, Philharmonia, Järvi, RFH review - Dvořák in blazing focus
Capuçon, Philharmonia, Järvi, RFH review - Dvořák in blazing focus
Centrist conductor and cellist strike a perfect balance between passion and precision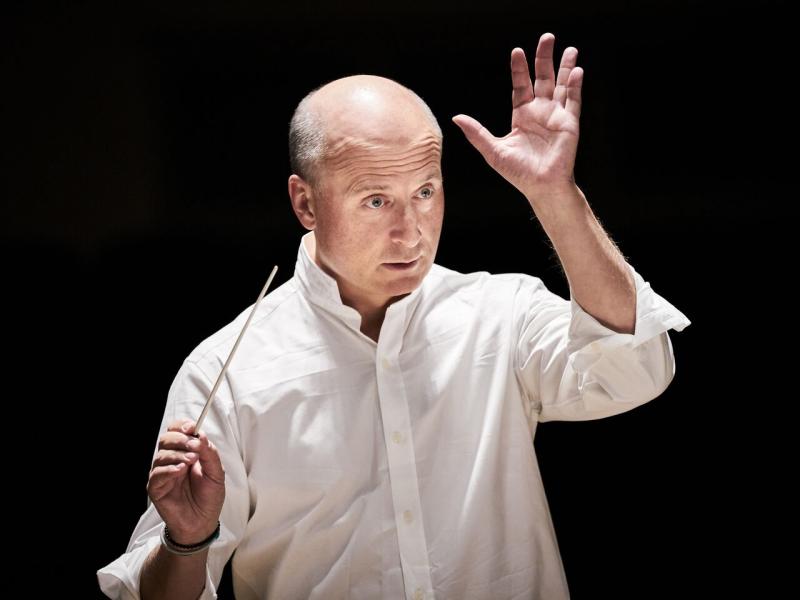 Paavo Järvi in rehearsal on his recent tour with the Estonian Festival Orchestrarvi
You can't have too much Dvořák in a single evening, at least not when the works in question operate at the highest level of volatility and melodic abundance like last night's overture, concerto and symphony.
You can't have too much Dvořák in a single evening, at least not when the works in question operate at the highest level of volatility and melodic abundance like last night's overture, concerto and symphony. "Febrile centrists" might look like an oxymoron, but that just about sums up conductor Paavo Järvi and cellist Gautier Capuçon: superlative techniques, feet firmly planted only so that the music can fly, moving dexterously through the turbulence but never pushing too hard. With the Philharmonia burning for both, this was an incandescent event.
Rarely did we encounter the Dvořák of sunlit Bohemian woods and fields; the Seventh Symphony, in any case, is closer to the dark German forests of Brahms and even Wagner. For all its showpiece glitter, the Overture Carnival has a manic-depressive essence perfectly captured here; after all, pre-Lenten jollity is all about excess, and Dvořák is quick to spotlight the melancholy soul driven forward by the crazy crowd. Even the central idyll, beautifully underpinned by Jill Crowther's cor anglais, has a sadness about it, and Järvi managed the transitions with queasy flexibility, the natural rubato possessed only by the greatest conductors.
That Capuçon (pictured below by Gregory Batardon) is among the greatest of cellists was announced by the passionate projection of his amazing sound from the start. When I last heard him in this concerto, in a Turkish open-air auditorium, the amplification was unnatural; last night showed that he brings his own, much assisted by his handsome-looking 1701 Matteo Goffriller instrument. The sound has more upper than lower resonance, which may not be to the taste of all cello lovers, but it allows every note to be heard. In a work where the orchestration could sometimes overwhelm the soloist, that's an asset; so is perfect intonation in fierce or flyaway passages where cellists usually can't help a sour note or two.
Yet all that wouldn't be enough if the emotional picture were wanting. Neither Järvi nor Capuçon allowed any slack in the more introspective passages, but the yearning still hit the spot, and both underlined how the journey to a deep contentment is very hard-won; the finale's third, clinching melody told us we'd reached haven, capped by the meditative reminiscences before the final swell. Capuçon is an exceptional chamber musician too, so it was hardly surprising to find him fine-tuned to his orchestral colleagues. So often there's concertante work with the woodwind, as in a Mozart piano concerto, and especially with the first flute; Philharmonia principal Samuel Coles joined Capuçon to make the weave at the start of the development an unforgettable moment, leading to an equally inscaped climax.
That boded well for the symphony, where the flute always gilds the lily and softens the craggier moments in this most embattled of Dvořák's nine. It can come across as over-manipulated tragedy, but Järvi kept the focus, the energy levels and the elasticity working at all times; I've never heard the Philharmonia play better, or more engagingly, for him. Violins to Järvi's right as well as left offered examplary clarity in the interchanges of scherzo and finale; articulation throughout reigned supreme. The intensity was also helped by running the second, third and fourth movements without a break.
While trombones found a wealth of colour in their ensembles, the horns were not quite on top form; agents and PRs should be careful not to push the considerable talents of last night's principal, BBC Young Musician finalist Ben Goldscheider, too hard too soon. But that's an insignificant cavil in the face of a great interpretation. With Principal Guest Conductors Jakub Hrůša having provided vintage Brahms, and Santtu-Matias Rouvali a legendary Musorgsky/Ravel Pictures, Järvi's Dvořák set a third diamond in the current Philharmonia crown – and it looks like there may be more to come this season.
Capuçon is an exceptional chamber musician, so it was hardly surprising to find him fine-tuned to his orchestral colleagues
rating
Explore topics
Share this article