Berezovsky, Orchestre de la Suisse Romande, Järvi, Royal Festival Hall |

reviews, news & interviews
Berezovsky, Orchestre de la Suisse Romande, Järvi, Royal Festival Hall
Berezovsky, Orchestre de la Suisse Romande, Järvi, Royal Festival Hall
The great Estonian returns for classic interpretations with his Swiss orchestra
Neeme Järvi: among the greatest of conductors
In 1980, an orchestra and conductor then hardly known in Britain came to the Royal Festival Hall. I went to hear Elisabeth Söderström in Strauss's Four Last Songs; I left stunned by an unorthodox Sibelius Second Symphony and above all by one of the encores, Cantus to the Memory of Benjamin Britten by one Arvo Pärt.
Thirty three years later Neeme Järvi, now indisputably one of the great master conductors and at the helm of a Swiss orchestra rather than the Swedes he'd then conducted (the Gothenburg Symphony Orchestra), not only began with a work by fellow Estonian Pärt but also ended unofficially with that same tribute to a composer whose centenary we celebrate this year.
It was an even cannier choice this time round. Pärt's bell-punctuated, five-layered descending minor scales, coming slowly down to earth from high violins, reflect not only Britten's mining of the simplest pattern in music but also the way the scale stalks Tchaikovsky's Sixth, Pathétique, Symphony. That was the work in the second half of the Suisse Romande Orchestra's visit, and the players could not have had a more assured guide through its peaks and troughs than Järvi. Already his work on the string sound can make it blossom in a matter of seconds; short- and long-term crescendi sent the soul soaring and, in the tragic final Adagio lamentoso, aching in sympathy.
There was no sentimental lingering; at nearly 76, Järvi knows exactly where to apply the pressure points in the big melodies. If anything, the vast first movement was almost too professional at times; it took the long-term control of the graciously oddball (5/4) waltz's rises and falls to bring the expected tears to the eyes. Freshly nuanced reprises and a daring slowdown for the return of the brash third-movement march were typical Järvi touches; but there was no messing with the ultimate dark night of the soul, its central hymn granted the long term vision which only the greatest of conductors can command.
The Suisse Romande brass (last night's team pictured above by Jas Sansi) – bright but not quite perfect in ensemble - still need streamlining, and not all the orchestra's woodwind are real characters. First flute and horn, though, certainly are, and they made their mark in the Grieg Piano Concerto almost as much as the ever-surprising Boris Berezovsky, in true partnership with Järvi. Theirs was a fresh take not quite of this world, and decidedly out of it when Grieg pulls his last, and finest, melody out of the bag in the finale. Odd, then, that Berezovsky (pictured below by Sansi) and Järvi encored the slow movement, which seems to me in search of a tune like that; I was expecting the maverick pianist to play one of Grieg's Lyric Pieces, or his celebrated Medtner. But it's unfair to carp when he had tackled a showpiece with the lightest of touches and the subtlest of rubato, both perfectly matched by his conductor.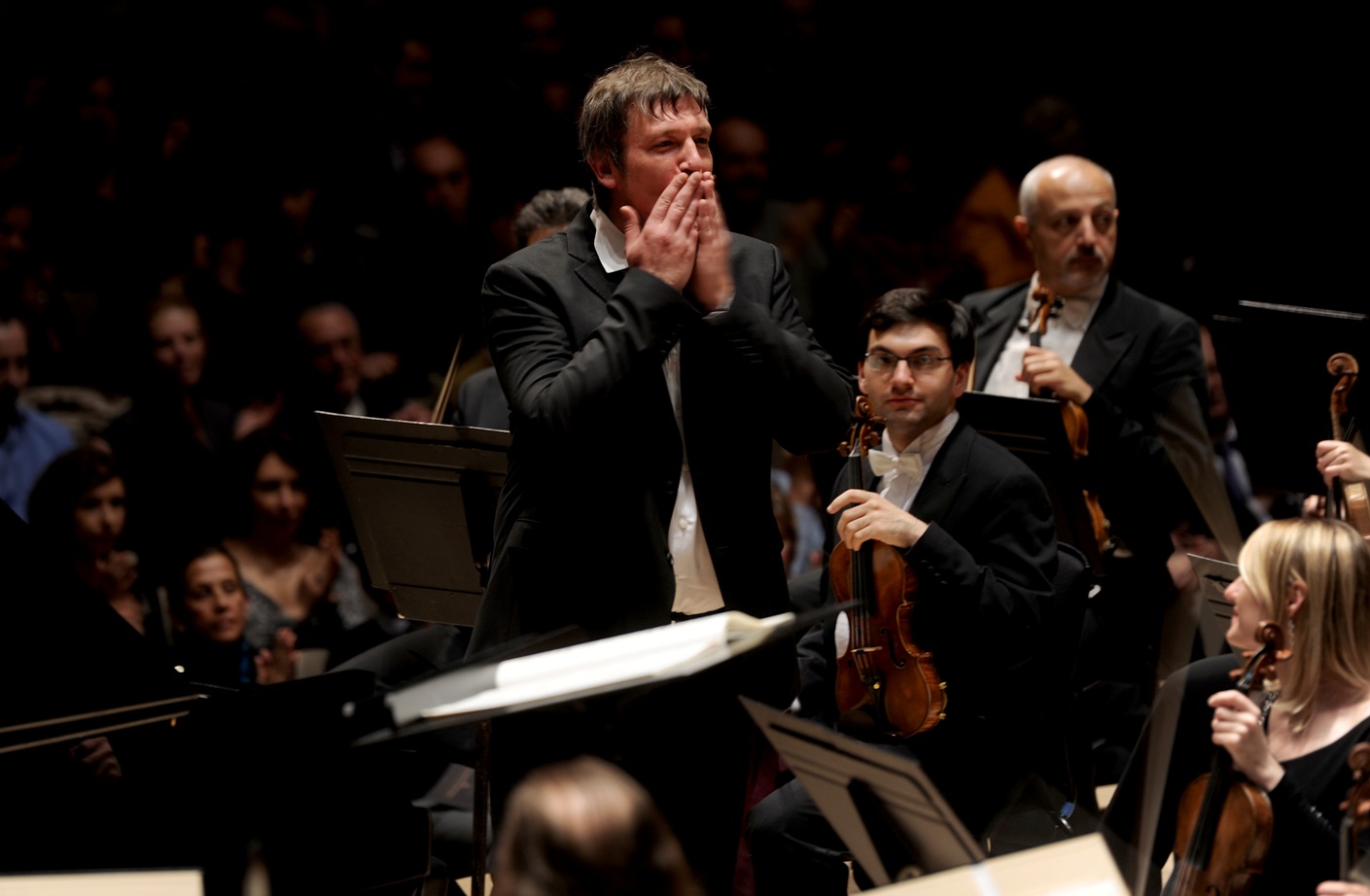 As for Pärt official and unofficial, a bell began and ended the evening. You expect his Silhouette (Hommage à Gustave Eiffel) for strings and percussion, composed in 2009 for Neeme's son Paavo taking up his post as the head of the Orchestre de Paris, to essay the same minimal drift as the Cantus, composed over three decades earlier. But soon pizzicato strings kick off a valse lente with a dark undertow that never quite becomes an explicit threat. Pärt's Britten tribute – I'm sure Järvi had a second encore up his sleeve, but a slightly stuffy audience didn't clamour enough for more – had the same mesmerizing impact as in 1980, decisively signing off as it came to rest on the authoritative low A of the Suisse Romande's nine double basses.
Theirs was a fresh take not quite of this world, and decidedly out of it when Grieg pulls his last, and finest, melody out of the bag
rating
Share this article