BBC Proms: BBC National Orchestra and Chorus of Wales, BBC Symphony Chorus, Otaka |

reviews, news & interviews
BBC Proms: BBC National Orchestra and Chorus of Wales, BBC Symphony Chorus, Otaka
BBC Proms: BBC National Orchestra and Chorus of Wales, BBC Symphony Chorus, Otaka
An evening of English music flies the flag for Britain
Wednesday, 01 August 2012
'In that night was Belshazzar the king slain': John Martin's apocalyptic vision of the doomed Babylon
Our athletes over at the Olympic Village might not yet have brought home a gold, but in an all-English programme at the Proms last night the BBC National Orchestra of Wales and combined BBC Symphony Chorus and BBC National Chorus of Wales under Tadaaki Otaka surely did just that.
As the brash, glittering tumult of Walton's
Belshazzar's Feast
– "Praise ye the god of gold" – rioted around a packed Royal Albert Hall, the audience were still, marvelling at the skill and artistry of Britain (and Wales's) best.
Mustering some of the most electrically-charged pianissimo tone we've heard this season at the Proms, the concert opened with Vaughan Williams's Fantasia on a Theme of Thomas Tallis. Coming so soon after Barenboim, Otaka's (pictured below) organic approach to the endlessly unfolding lines felt delicate and fresh, investing his steady pace with real direction.
The effect was rather magnificent, in a hanky-dabbing, corset-straining sort of way
While the Royal Albert Hall acoustic can sabotage so many works, there are some (usually those involving spatial effects) that become magically transformed in this unusual space. A few years ago John Eliot Gardiner gave us a Monteverdi Vespers in magnificent surround-sound, and Holst's The Planets is regularly transformed by its offstage women's chorus up in the top gallery. Last night Vaughan Williams's distant strings illuminated the hall from above and around, stealing imperceptibly into the texture before amplifying and transmuting the music of the earthly onstage band into that of an answering heaven.
Lest gauzy rhapsodies get too out of hand, John Ireland's curiosity These Things Shall Be swiftly returned us to the everyday. This piece of pacifist pomp is something of a throwback musically, tugging its forelock at Elgar with a brass fanfare and a flourish. With strings and chorus in full spate the effect yesterday was rather magnificent, in a hanky-dabbing, corset-straining sort of way (and what a coup de théâtre the upper voices achieved at "transcending"), but it's a work that, even superbly executed, still feels a little rich for contemporary tastes.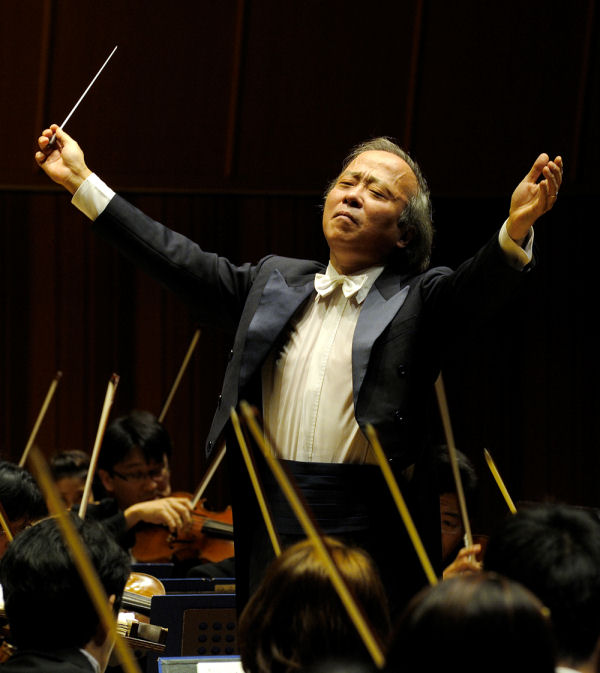 The orchestral interlude A Walk to the Paradise Garden from Delius's opera A Village Romeo and Juliet by contrast paints its emotions in pastels. Although transitions occasionally faltered, the BBC NOW created an elegantly transparent texture to allow the inner pastoral stirrings and scuttlings of the composer's orchestration their moment in the sunlight. Wexford Opera will be staging a rare full production of the opera this season, and this sneak preview certainly whetted the appetite.
With the organ lit in hellish red and the massed chorus hovering malignantly either side, Walton's Belshazzar's Feast was pure John Martin (he of the enormous 19th-century apocalypses) in both sight and sound. With an unusual amount of younger voices, the chorus were able to fling themselves at Walton's dramatic climaxes without fear, romping through disaster and death with breathless virtuosity. The orchestra matched them for energy, dancing wildly on the doomed king's grave through the syncopated final section.
It was good to see Maori bass-baritone Jonathan Lemalu back as soloist, but despite a solid vocal showing he still found himself outdone by all around, failing to bring the personality and narrative angle to his character that someone like Gerald Finley achieves so naturally.
Whereas last year's "Gothic" Symphony by Havergal Brian saw a huge musical force deployed on the Royal Albert Hall stage for little effect beyond blunt trauma, here we had a marriage of power and musicality (from material and performers alike) that was about more than just impact. Whether we win our coveted gold medal or not in 2012, we've had one triumph this season whose sheen will take an awfully long time to fade.
The chorus flung themselves at Walton's dramatic climaxes without fear, romping through disaster and death with breathless virtuosity
Explore topics
Share this article