Large, Hudson Shad, BBCSO, Gaffigan, Barbican |

reviews, news & interviews
Large, Hudson Shad, BBCSO, Gaffigan, Barbican
Large, Hudson Shad, BBCSO, Gaffigan, Barbican
Storm-force Brecht and Weill means lumpy Korngold is worth enduring
Thursday, 24 November 2016
Storm Hudson: poised and sassy as Brecht and Weill's Anna
Has there ever been a more pertinent time to revive the poetic mythologies of Brecht and Weill? The writer said that the good-life-for-dollars city of Mahagonny was not exclusively an American state of mind and should be set in any country where it's performed. But the inverted morality tale of The Seven Deadly Sins explicitly references seven American cities. And with lines like (in the Auden/Kallman translation) "If you show your offence at injustice, Mr Big will show he's offended", it's very much of the moment. Add a performer of colossal magnetism like Storm Large, the slickest Weillian barber-shop quartet in the business and a searing BBC Symphony Orchestra under James Gaffigan, and there were more than a few shivers and goosebumps last night.
Unfortunately the way to this skewed American road journey was, for the first half of the concert, strewn with lumps. If there's a 20th century symphony less worthy of resuscitation than émigré Korngold's baggy monster in F sharp, I can't think of it. The first idea, actually sketched in Vienna in 1919 rather than Hollywood in the late 1940s, like the rest of the symphony, suggests this might be Vaughan Williams' Sixth-and-a-half Symphony. But it's not even half as purposeful as anything by that composer.
The first movement gets held up by a tune which starts like "When I fall in love, it will be forever" – a hit in 1952, the year of the symphony's completion – and never recovers its sense of direction. The scherzo slow-wittedly insists on its basic rhythmic pattern before breaking out into a proto-Dallas theme on the horns and grinding to a halt in a sludgy trio, after which we have to hear the whole long first section again. At the halfway mark of the slow movement, depressing but not in a good way, I just wanted to leave the hall. The only light at the end of the tunnel after an interminable cyclical parade of subfusc ideas was the yellow right-hand page at the end of the players' scores. I can imagine a lighter touch than that of Gaffigan (pictured below by Daniela Kienzler), but the excellent orchestra was saddled with a dinosaur.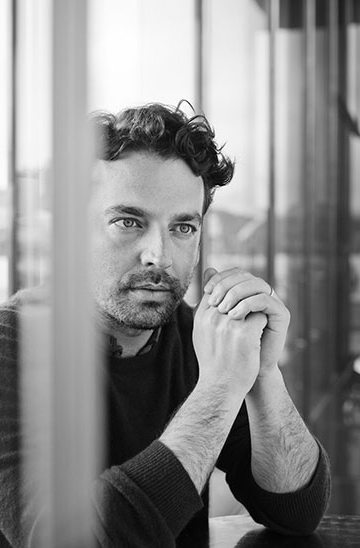 It might have been overkill, but Weill's Second Symphony – close in idiom and time to The Seven Deadly Sins – would have made a much livelier first-half candidate. No complaints about the a cappella intermezzo, a parade of music by Germans (Weill and Walter Jurmann) and a Ukrainian (Dimitri Tiomkin) straddling America and pre-World War Two Germany. The male quartet representing Hudson Shad seemed at first deceptively ramshackle, an amiable bunch of rum-looking coves, but once the pitch settled, you realised how consummate they were (and besides, I could listen to the narrative drawl of bass Wilbur Pauley for ever). Ingenious arrangements took us from the off-kilter wackiness of young Weill's Klopslied (Meatball Song) to Tiomkin's 'Do not forsake me, o my darlin'" and a delicious first encore, the theme song for Rawhide.
Storm Large was more than just the icing on a bittersweet cake as the tall, sinuous Anna of The Seven Deadly Sins who leads her more pliant sister – a dancer in the somewhat confusing scenario of the "ballet chanté", largely ignored here – on a soul-destroying journey from Louisiana to the big cities and back. Much pussy-grabbing is involved, we infer, to convert physical assets into cash. Svelte and dangerous, Large's Anna I controlled their progress with natural ice and fire, every word keenly inflected without a hint of overkill and the voice – like the men's – perfectly miked. Her concession to the steady breakdown within as the sisters subdue their natural instincts – the "sins" of the "petit bourgeoisie" – for hard cash was to hit the bottle
Maybe supertitles for the action might have made clearer what sin happens in which city, but the only weakness of the original libretto is its outline for the mime/dance sequences, which we didn't need and didn't get, and by discarding her coat to get low down and dirty for nightclub and the movies, Large suggested everything. The ghastly family back home projected the solos as well as the close harmony – hard to pitch in the mostly unaccompanied "Gluttony", but they did it – with deadly focus very different from their ambling amiability in the previous sequence. And from the first scything pair of clarinets as Anna sets off, hard edges won over romantic yearning, tight rhythms appropriately balletic for "Pride", "Anger" and "Avarice". Large's final litany of what a girl needs to suppress to make money before Anna returns, broken, to the folk back home was spine-tingingly climactic; no wonder a small but appreciative audience roared its approval. A perfect masterpiece, perfectly done.
To be broadcast on BBC Radio 3's Afternoon on 3 in the week beginning 13 February 2017
Subscribe to theartsdesk.com
Thank you for continuing to read our work on theartsdesk.com. For unlimited access to every article in its entirety, including our archive of more than 10,000 pieces, we're asking for £3.95 per month or £30 per year. We feel it's a very good deal, and hope you do too.
To take an annual subscription now simply click here.
And if you're looking for that extra gift for a friend or family member, why not treat them to a theartsdesk.com gift subscription?