The Threepenny Opera, LPO, Jurowski, Royal Festival Hall |

reviews, news & interviews
The Threepenny Opera, LPO, Jurowski, Royal Festival Hall
The Threepenny Opera, LPO, Jurowski, Royal Festival Hall
Three star performances and a great band in this mixed line-up for Brecht and Weill's hybrid
Allison Bell: much more than just a pretty Polly Peachum
Given a fair few strange and languishing Brecht-Weill pieces that The Rest is Noise Festival's Berlin strand might have explored, Vladimir Jurowski and the LPO had a tough time of it by piecing together a performing edition of the most familiar one. Stagings of Die Dreigroschenoper with singing actors and a deft director can knit this celebrated hybrid together.
But a concert performance that tries to be true to the 1928 premiere's mixture of balladeers and fairly hefty opera singers to fill out the updated, jazz-meets-Bach riff on John Gay's thieves-den
Beggar's Opera
will be very lucky to hit all the targets. Here there were three outstanding performers in an ensemble that was otherwise only quite good.
The band was beyond reproach. You could hardly call it the London Philharmonic Orchestra, since only 10 of the regular players were involved, fleshed out with saxes, bandoneón, banjo, mandolin, guitar and Hawaiian guitar (Nigel Woodhouse, consummate). Jurowski coaxed them into the sharp-edged spirit of it all, the more prominent lines punched out into the vasts of the Festival Hall. Mark Templeton muted his trombone to play the lounge lizard, and Catherine Edwards, zipping between a whispering harmonium, celesta and a piano which Jurowski occasionally commanded at whim, rattled through the histrionic accompaniment of Lucy Lockit's arch vengeance aria. Soprano Gabriela Istoc put it across with fair conviction, but Brecht and Weill's operatic parodies aren't as good as Gilbert and Sullivan's, and hardly more abrasive either.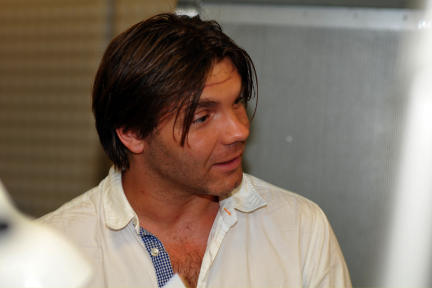 Lucy and Polly Peachum are at loggerheads over justice-evading gangster Macheath, "Mack the Knife", who has a bride or a whore in every part of south-east England. I wasn't expecting Mark Padmore to quite deliver a lethal cut, but he managed well enough given this unorthodox context. Narrator/ballad singer Max Hopp (pictured right by Karl Giant) – confident, genial-sarcastic and excellent with the guttural rrrs in the hit song – set up the scenes, so there was no Brechtian dialogue for any of the singers to bring their characters to life. Ted Huffman's clean, minimal direction, had them all as black-clad automata who only come to life at the moment they burst into song.
Padmore did a good job with the insouciant thuggishness and the mock romance, less so with the heldentenorish demands of the Act 2 finale, "What keeps a man alive?" Felicity Palmer's Frau Peachum brought Frickaish authority to bear on her verse, though, and combined line with text to deadpan perfection in the "Ballad of Sexual Bondage". As her beggar-king husband, John Tomlinson laid it on thick with bass-like authority, not always quite nimble enough to keep up with the orchestra.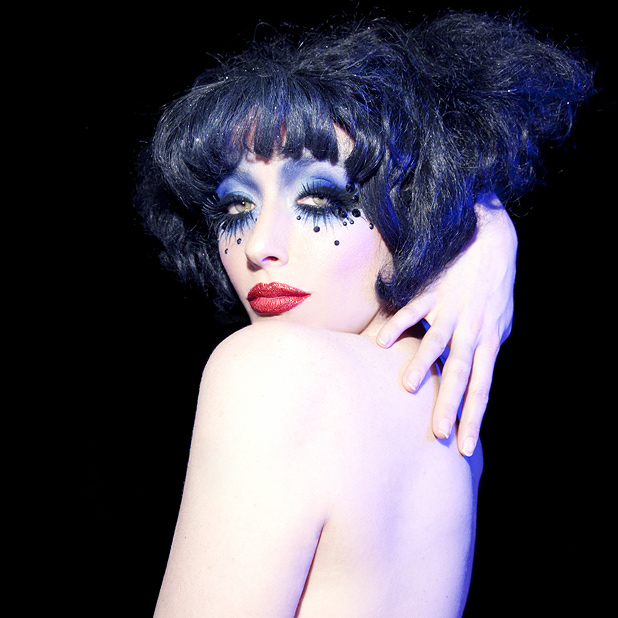 The star of the show, though, was the versatile Allison Bell as Polly, the faux-naïf teenager who falls for a bit of rough. We got two versions of "Pirate Jenny", since this soon devolved in the late Twenties to Lotte Lenya's chief whore. Anarchist cabarettista Meow Meow (pictured left by Gregor Bard), vampish to the point of self-parody, delivered it with a smoky slink that lacked the very lowest notes needed at that pitch. Her version wasn't a patch on Bell's perfect mix of speech-song with light-soprano sweetness. After all, Bell knows her Schoenberg Pierrot Lunaire – and she turned herself out as imaginatively as ever, like Louise Brooks as Lulu. That's style for you. On the wish-list, then: a Seven Deadly Sins with Bell as opportunist Anna and Jurowski conducting, maybe with a less familiar Brecht-Weill one-acter to keep it company.
Anarchist cabarettista Meow Meow, vampish to the point of self-parody, delivered a second 'Pirate Jenny' with a smoky slink
rating
Share this article