Yoko Ono, Mend Piece, Whitechapel Gallery review – funny and sad in equal measure |

reviews, news & interviews
Yoko Ono, Mend Piece, Whitechapel Gallery review – funny and sad in equal measure
Yoko Ono, Mend Piece, Whitechapel Gallery review – funny and sad in equal measure
A sign of the times in broken crockery
Thursday, 07 October 2021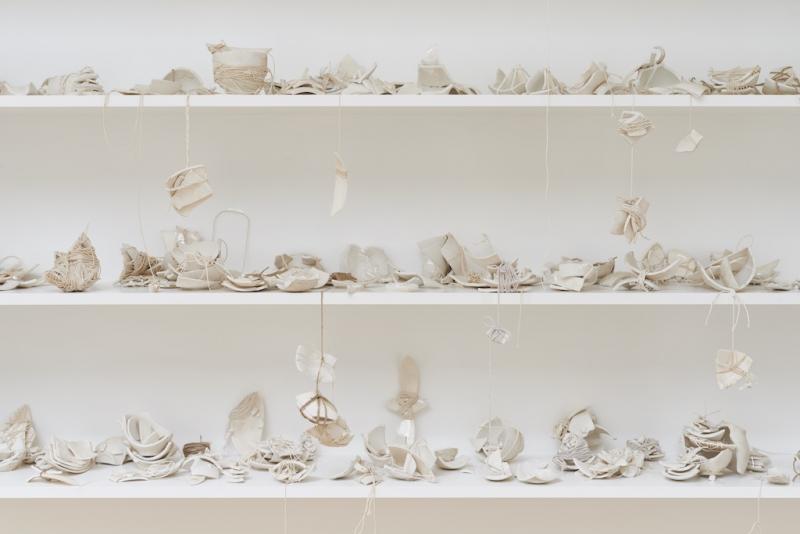 MEND PIECE for London, 2021 by Yoko Ono
Its more than 50 years since Yoko Ono first presented Mend Piece at the Indica Gallery, London in the exhibition through which she met John Lennon. The piece is currently being revisited at the Whitechapel Gallery and, in the intervening years, its meaning has subtly shifted.
Strewn over four tables are dozens of broken cups and saucers along with everything you need to attempt a botched repair – glue, sellotape, scissors and string.
According to the Japanese tradition of kintsugi, broken pottery is repaired using lacquer mixed with precious metals like gold and silver that are clearly visible. Instead of trying to hide the repair as we might in the West, the break is honoured as part of the object's history.
Up on the wall is Ono's invitation to "mend carefully" and lots of people have had a go at restoring the fragments. Their efforts are on display on a set of shelves and they're hilarious. No one has come even near to creating anything resembling a cup or saucer. Instead, the shards are stacked into neatly tied bundles, dangled from long threads or are tightly bound with cocoons of string. One romantic soul has glued two handles into a heart shape, but most content themselves with creating incoherent jumbles that seem to embrace defeat.
I can't help reading these responses as a sign of the times. As you glue, stick and tie, Ono encourages you to "Think of mending the world at the same time". The issue on her mind in 1966 was world peace. At the height of the Vietnam War in 1969, she and Lennon staged their first Bed-in for Peace at the Hilton Hotel in Amsterdam. During their second Bed-in in Montreal, they sang "Give Peace a Chance" and a few months later they put up billboards in eleven cities around the world announcing: "WAR IS OVER! If You Want It – Happy Christmas From John and Yoko".
Now, though, the desire for world peace has been eclipsed by the need to tackle climate change and, as a result, "Mending the world" seems like an exhortation to save the planet. The task feels overwhelming which, perhaps, is why visitors have abandoned the idea of repair for something else. Depending on whether you are an optimist or a pessimist, you can read their responses as being more creative – a rejection of the status quo in favour of radical solutions – or an admission of defeat in the face of a challenge that feels too complex to solve.
I can't help reading these responses as a sign of the times
rating
Share this article