10 Questions for Musician Yoko Ono |

reviews, news & interviews
10 Questions for Musician Yoko Ono
10 Questions for Musician Yoko Ono
Twentieth-century icon on the Beatles, Meltdown, and a new album at 80
Saturday, 21 September 2013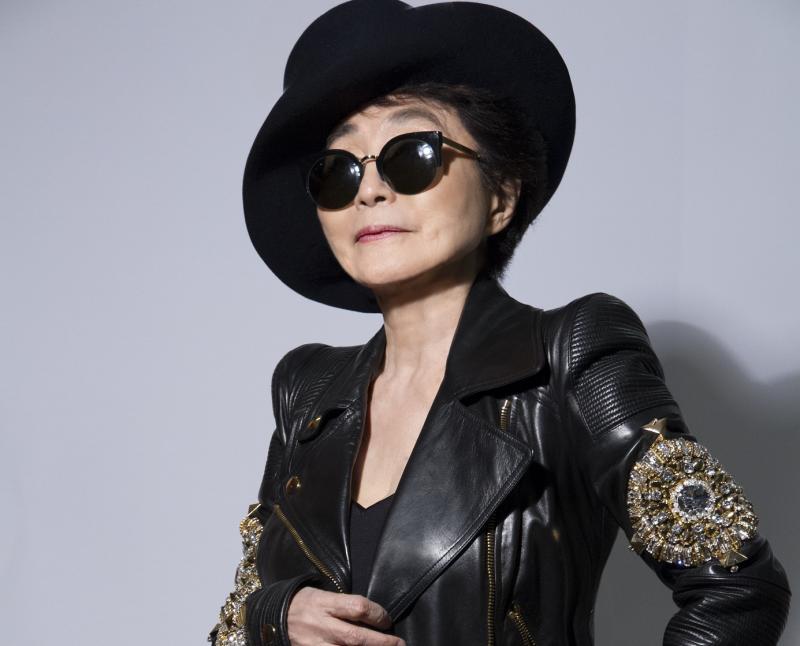 Ono: girl power
Normally we introduce these interviews with a few biographical details about the subject. With Yoko Ono, however, there hardly seems any point: she's as much a part of late 20th-century history as an musician. But if the whole world knows who she is, her work is a different matter. John Lennon memorably described her as "the world's most famous unknown artist".
And despite recent critical success and an album out this week
(Take Me to the Land of
Hell
), her reputation is still for being obscurely arty. Memorably,
The Simpsons
once affectionately sent her up as a woman who goes into Mo's Tavern and orders a single plum floating in a pool of perfume served in a bowler hat.
Her avant-garde credentials were, similarly, borne out during this year's Meltdown where she was invited to curate the month-long festival at the Southbank Centre. The heavily "girl-power" line-up included Canadian feminist singer Peaches, who performed one of Ono's performance art pieces, and agit-punker Patti Smith. The Y chromosome was represented by "new men" like Iggy Pop and Boy George.
Whenever I create something – artwork or music - I get a lot of energy from itYoko's own music also took a central role. But when she performed - still with the trademark wails, and provocative slogans - many were intrigued at how contemporary it all actually sounded (see video below). And she can be accessible too: these days Ono spends much of her time working with some of electronica's most prodigious talents. In recent years she has carved out a niche reputation amongst cutting-edge artists, even reaching number one in the US dance charts on a number of occasions.
Even before putting the Plastic Ono Band back together, Ono worked with alt-rockers Cat Power, and The Flaming Lips on the acclaimed Yes, I'm a Witch album. It's title was a sign of her self-deprecating sense of humour. Still, with her wildly eccentric streak and strong accent I wonder how she might come across as I put through a call to her famous apartment in the Dakota building by Central Park.
In the event she turns out to be an ebullient, kindly and charming grande dame, whose attitudes and manner are often endearingly child-like. Except she is now 80 years old - one hell of an age to be writing, performing and protesting the way she does. Before we move onto feminism, dance music and what Paul McCartney might make of her new material, I want to know how she manages to be so healthy and active.
RUSS COFFEY : You are amazingly energetic for somebody in their ninth decade; how do you do it?
YOKO ONO: It's amazing, isn't it! I just don't know why though. Maybe because I am free now. I just do what I think I want to do or should do. I think that makes a difference. I think one of the reasons why I have a lot of energy to give could be because whenever I create something – artwork or music - I get a lot of energy from it. After performing recently I had so much energy the next day it made me think, why don't I just do two nights? But now, two or three days later I'm feeling it - I'm feeling a bit slow.
How did you find curating the recent Meltdown festival, and what was your favourite moment?
Meltdown, Meltdown! It was great. I felt I had to do it my way – the easiest way for me to do – and I feel I added something. My favourite situation was Double Fantasy [a series of guest stars helped recreate the classic album in its entirety, playing along with the Plastic Ono Band]. I hadn't realised it was going to be so incredible. Each person who performed one of the songs seemed like they were totally into it. I felt an incredible love from each person.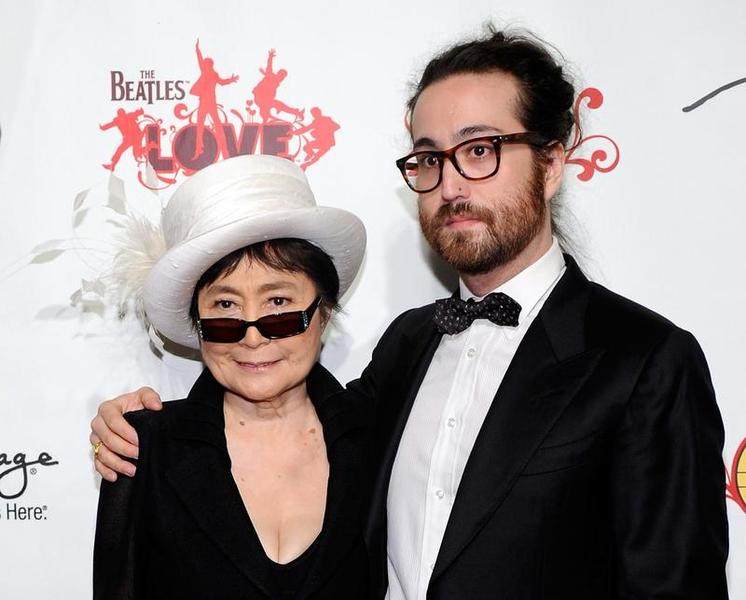 Your new album contains a number of collaborations – for instance Lenny Kravitz and your son Sean (pictured right) who produced it – can you tell me a bit about how it was written and recorded, and about all the rhythm?
They are fantastic musicians and I count my son as a friend as well. And it just worked very well. First of all I created a song. I wrote the lyrics and the main music and harmony and then I just told them this is what I want and they did it. It was an incredible artistic situation. They made it very easy for me.
Although I recently discovered this dance thing that is going on now, I have always been dancing. There is some 8mm footage from when I was four years old where I'm dancing in the streets and my room; in fact wherever they filmed. That was me and that was always with me. And now I've discovered this new dance medium, it's so exciting because it's quite unique. Very different from rock or pop or jazz or classical. I like new mediums, as you know, so I'm totally into it.
… who was the better dancer you or John?
…well let's just say we were not good dancers but we just loved it.
Overleaf: 'I never was the person who broke up the Beatles and that's a fact'
Listen to 'Tabetai' by Plastic Ono Band (with tUnE-yArDs)
Recently you have collaborated with more musicians who have one foot in the mainstream. Are you consciously trying to be more accessible, and who are the best people you have worked with?
Well, I was always trying to be accessible at the same time as I was trying to push things further and do things that had not been done. Those two things were always with me - on the one hand to create something that would be accepted and the other side wanting to create something that it knows will never be. My ambition went two ways. Also I can't single out any person I have been working with because each person was so interesting in expressing what I was trying to create in a song. We all got totally into it and really made what I wanted.
Will you be sending Paul McCartney a copy of your new album and what do you think you would make of it?
Well, I don't know what I'm going to do, you know. Do you know what you're going to do tomorrow [laughs]? I just like the idea of just going with the flow. And maybe that is one of the reasons why I'm still keeping my health. I go with it rather than fighting it. I don't know whether Paul McCartney would like my new album but I would hate to ask.
It can't have been easy living with a reputation of being the woman who broke up The Beatles. Do you have a thick skin or does it hurt you?
Well, the thing is I never was the person who broke up The Beatles and that's a fact and I can relax with that truth. I thought that they were very exciting, interesting musicians. Creative, right from the beginning. I felt that I learnt a lot from them rather than feeling bad about them. John always put me right in there with them and they were very diplomatic in certain ways. I think they understood what I was doing as musicians and, as you know, things like "Don't Worry Kyoko" was played by John and Ringo and Eric Clapton. They didn't do it because they just had to or anything, they just loved it. They all loved the experience. They were all really far out people really who also did something that was widely acceptable.
Most of the John Lennon fans and the Beatles fans hated me at the time. I was hated for maybe 30 or 40 years. Now it seems that the young understand my work better. My spirit was a very young spirit and it still is.
On "Cheshire Cat Cry" you sing "we are the expendable people of the USA". What do you feel we need to protest against and do you mistrust governments?
It is a cry of the Cheshire Cat but it's also a cry of me. I would say I am asking for stopping war and stopping violence. I think it's most important that we understand each other and are very caring about each other. We should start with that. It's not necessarily about standing up for the people against government. Against is not the kind of word that I had in my mind. I think we have to try to ask each other to understand what's going on and try to make it good.
Yoko Ono and POB perform "Cheshire Cat Cry" at Ono's 80th birthday
In the modern world of Facebook and Twitter do you think it's as important to protest in person or merely online?
We have to do both, don't we? We always have to stand up for the things we feel we believe in, And also by doing that we somehow make people aware of things. I use anything I can. Even in the old days - not just me but other artists too - we would use the subway station or just billboards around town hall or walls. A lot of walls! It was the message that was important and it didn't matter what we used as long as we didn't harm anybody.
There seem to be some references to John's death on the album including the song "7th Floor". Does it ever get any easier to think about that event?
"7th Floor" is the conceptual jump in a way. I just wanted to do something that furthered the form of my lyrics and music. The song is about a kind of reality that hasn't been expressed or pursued yet. We are living in a three- or four-dimensional world, and this is more like a fifth or sixth dimension. The death of John is something you can clearly understand is not finished yet. And I don't know whether it's ever going to be finished. We had a very strong and powerful relationship. That will always be there.
How do you feel the role of women in society is changing?
I feel it is a pity that we are not using the power of women more in society. Society needs it. Otherwise we have a society with just half the power - that's the male power and it doesn't work. We need to add women's power to it. Not just for the women but for the world and society.
In Meltdown I wasn't thinking of trying to make a feminist show. And it was not a feminist show in a sense; it just turned out that many of the incredible talented artists that I invited turned out to be women. There's a photo of us all standing together and I thought, "This is amazing that we have so many powerful women here." There were also some very intelligent and sensitive men. "New men" like Iggy Pop and Boy George. I really appreciated them too.
I'd like to say to women – and I guess men also - things get better and better as you grow older. Don't be afraid of accumulating a lot of age. Having a high age like I have, it all gets better because you have the experience and wisdom. It's better so please look forward to it instead of being scared of it.
Russ Coffey's new book Dennis Nilsen - Conversations with Britain's Most Evil Serial Killer (John Blake Publishing) is out now
The death of John is something you can clearly understand is not finished yet
Explore topics
Share this article