Yoko Ono: To The Light, Serpentine Gallery |

reviews, news & interviews
Yoko Ono: To The Light, Serpentine Gallery
Yoko Ono: To The Light, Serpentine Gallery
A perfectly balanced mix of the whimsical and rigorously conceptual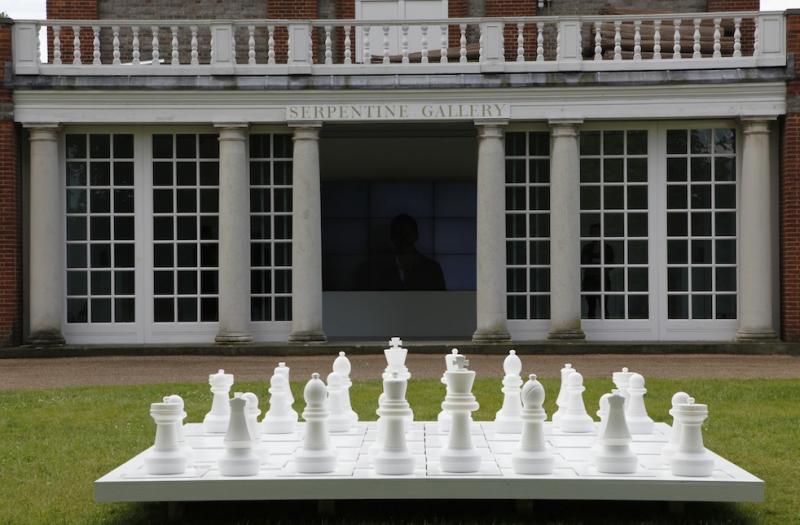 'Play it by Trust', 1966/2012
The Eurozone is in crisis and the American economy stagnating; Syria is self-destructing, the Arab Spring has stalled and climate change threatens the whole planet, yet Yoko Ono believes that "the world, now, is really turning towards the light".
In 1969 when she and John Lennon staged their famous "Bed-In" for peace in a Montreal hotel, optimism was in the air we breathed and their plea to "Give Peace a Chance" felt like a genuine call to world leaders to choose accommodation over confrontation. In our youthful euphoria, we even believed it was possible.


Forty three years and many wars later, it's easy to see Ono's invitation to "dream together and go to the light" as willful naivety – wishful thinking carried to whimsical extremes. But her dreamy romanticism obviously touches a chord in the many people who have tied messages of hope to her Wish Trees (pictured right) and uploaded pictures of their smiling faces for inclusion in her Smilesfilm.
The film harks back more than 40 years to one of her most endearing sculptures: a small plastic box containing a mirror whose title, A Box of Smiles, inevitably triggers the desired response. Affirmative work like this makes up half her Serpentine Gallery show, much of it dating back to the hippy dippy days before and after she met John Lennon. There's the famous stepladder leading to a sheet of paper on the ceiling where "Yes" is written so small that you need a magnifying glass to read it. It made Lennon feel he'd met a kindred spirit and, according to myth, prompted him to take a bite from the apple exhibited on a nearby plinth.
If Ono dealt only in wish-fulfillment her work would be unbearably cloying. Fortunately, the feel-good flights of fancy are balanced by darker elements. In the first room she proposes a choice. From the ceiling hang soldiers' helmets from World War II, their crowns filled with jigsaw pieces of sky. On the floor are three identical mounds of earth (pictured below) labelled "Country A", "Country B" and "Country C"; they appear interchangeable, since all are blessed with the same resources. Above them hangs a distressed poster declaring that "War is Over (if you want it)". The juxtaposition implies, that if we stopped coveting our neighbours' territory, conflict would become obsolete and the military would be able to hang up their helmets and dream.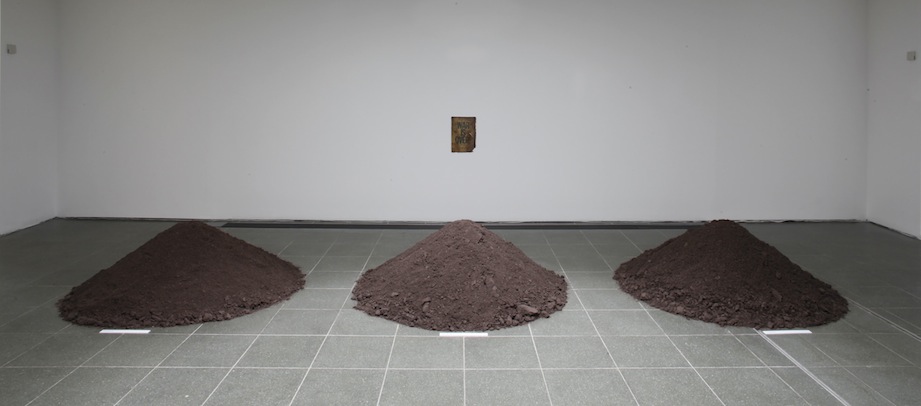 Go right from here and you find work that addresses various forms of oppression. Painting to be Stepped on (a remake of a 1961 piece), consists of a canvas off-cut dropped on the floor. It refers to the suppression of Christianity in Japan soon after it's introduction by Jesuits in the 15th century. Suspected converts were made to step on a painting of Christ; anyone who refused was crucified.


Partly autobiographical, Vertical Memory (1997) is a disturbing evocation of the abuse of power. Nineteen monochrome photographs of a man's face are captioned "Doctor, Father, Stranger, Teacher, Artist, Priest" and so on, after the authority figures one encounters in life. Blurred as though imperfectly remembered or seen through an anaesthetic haze, the face could be benign or malevolent, which makes it the more troubling and brings home our dependence on and vulnerability to those in power, mostly men. The captions recall various incidents of abuse from the first scream uttered by the newborn slapped on the bottom to a kiss planted on a teenager's lips by her doctor, to the moment the button is pressed and the coffin slides into the incinerator. "I like the idea", Ono told me, "of using my experience as a way of showing what women go through between the first gate and the last. Life is half oppressive and half joy." The final caption asks: "What percentage of my life did I take it lying down?"
First performed in New York in 1964 and repeated several times since, Cut Piece (see video below of 2003 performance) is a seminal work. Ono sat on the floor, while audience members cut off fragments of her clothing with a pair of Taylor's shears. Her passivity and vulnerability underlined the sexual opportunism of the mostly male respondents. Watching the video again, though, I was struck by how decorous their behaviour seems; rather than stripping her naked as a contemporary audience well might, they leave her underwear almost intact.


Over time, work that was once radical often loses its impact. Its hard to believe that Film no 4 (Bottoms) excited the censors enough to be banned as "not suitable for public exhibition" when shown in London in 1967. Three hundred and sixty-five pairs of buttocks (one for each day of the year) fill the screen with beguiling undulations as their owners walk a treadmill. Fly (pictured below right, 1970) still has the power to shock. Exploring the nooks and crannies of a woman's naked body, a fly brazenly wanders over her skin from nipple to ear and vulva to thigh. Even more disconcerting than her exposed genitals is the moment the camera pulls back to reveal several flies simultaneously invading her body space, as though she were dead.
In later films we see John and Yoko kissing against the sky and their superimposed features meld into a single unit; sentimental kitsch has replaced sexual politics. Sharing the same room is a perspex maze; from the outside it looks easy to negotiate but, step inside, and the experience is surprisingly disorientating. Just as you think you've worked it out, an invisible barrier blocks your way, momentarily trapping you inside the see-through structure. The piece is like a metaphor for life's frustrations and setbacks – the glass ceiling that thwarts ambition, the prejudice that inhibits progress, the unforeseen circumstance that derails the best laid plan.
Dating back to 1971, the original maze had a lavatory at the centre – a blackly humorous comment on our inability to transcend our animalism. The new version has, at its heart, a pool of black water which mirrors your face so that, on reaching your goal, you encounter only yourself – a far more obvious idea.
At her best, Yoko Ono has the ability to encapsulate a complex idea in a simple work whether it be a performance, film, sculpture, photograph or text; and when she gets it right, the result is pure poetry. Play it by Trust (1966/2012) is a chess set whose all-white pieces make it impossible to play as a game of combat. Whimsical, yes, but also rigorously conceptual – the perfect balance.
At her best, Ono has the ability to encapsulate a complex idea in a simple work
rating
Explore topics
Share this article