Theaster Gates - A Clay Sermon, Whitechapel Gallery review - mud, mud, glorious mud |

reviews, news & interviews
Theaster Gates - A Clay Sermon, Whitechapel Gallery review - mud, mud, glorious mud
Theaster Gates - A Clay Sermon, Whitechapel Gallery review - mud, mud, glorious mud
Ceramics as a religion and a way of life
Installation shot of 'A Clay Sermon' by Theaster Gates
Last year a stoneware jar by David Drake sold at auction for $1.3 million. It fetched this extraordinary price because of its history: Drake was a slave on a plantation in South Carolina who not only made fabulous pots, but dared sign and date them at a time when it was illegal for slaves to read and write. Needless to say, his descendants haven't received a penny in royalties from sales of his work.
Theaster Gates includes one of Drake's storage jars in his Whitechapel Gallery exhibition A Clay Sermon; on it is written "Jan 13 1862. I am Dave" – evidence of Drake's defiance as well as his creativity. It's part of a brief history of ceramics in objects borrowed mainly from the collection of the V&A, where Gates is currently a Research Fellow. They range from an exquisite vase and bowl by Lucie Rie from 1975 to an array of grotesque figurines known as "Negrobilia", including grinning pickaninnies and a tobacco jar from the 1840s in the shape of a black shoeshine boy.
Gates includes himself in the selection with Tokaname Vessel, a wonderfully phallic vase from 2006, and House Structure, a brick-sized block with a sloping roof. The son of a roofer, Gates pays homage to the building trade with an old brick press from Ohio and bricks stacked up like minimalist sculptures, and in the upstairs gallery shows two large vessels coated in the glossy black tar his father would have used on rooftops.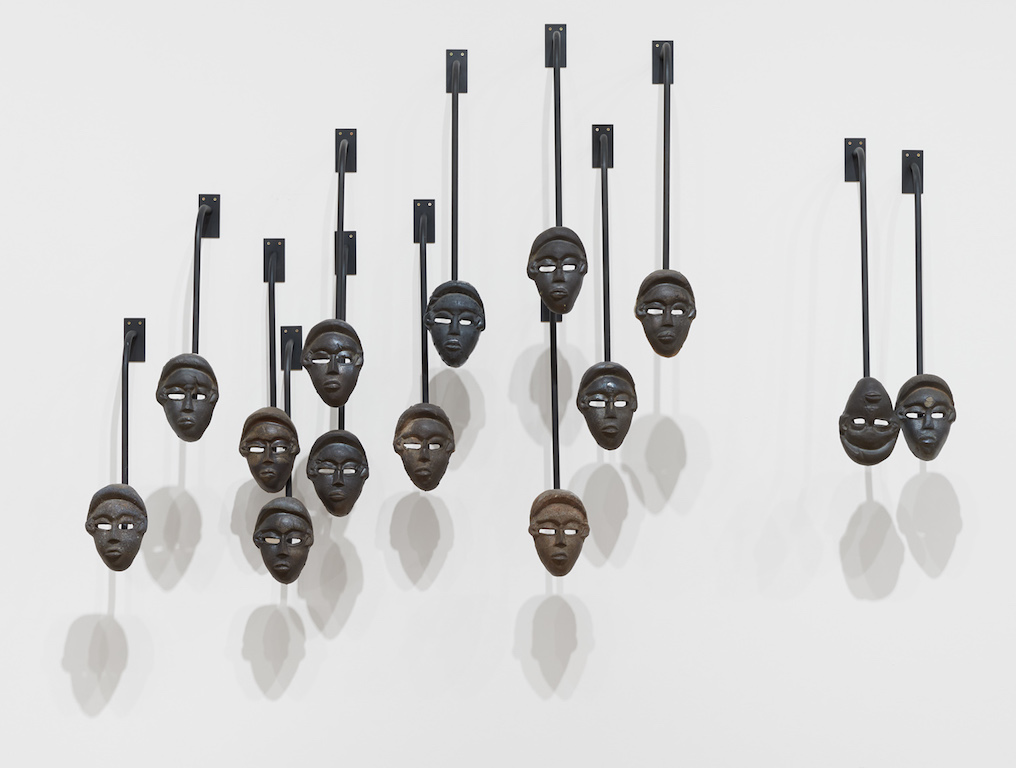 For the Chicago-based artist, clay is the primal material. "In the beginning was clay. Clay was without form," he declares in his 2021 film A Clay Sermon. Making pots is important as a religious and social experience, as well as a creative one; Gates' identity is bound up with making, researching and teaching about ceramics and its history. "We love the wheel," he sings as he throws a pot while his group the Black Monks improvise snatches of jazz and gospel.
The film was made at the Archie Bray Foundation for Ceramic Arts, a former brick factory in Montana where, earlier this year, Gates was artist-in-residence. The process – from digging the clay to working on the wheel and firing the pot – is filmed as though it were an alchemical ritual; pacing round the derelict premises in his long dark coat, the artist resembles a priest.
Overlooking the display in the downstairs gallery is a dramatic cluster of black masks (pictured above: Chorus, 2016). Like the chorus of a Greek tragedy, they seem to be passing judgement on the history that Gates has been uncovering. Perhaps they are the souls of enslaved potters silently awaiting justice.
The upstairs gallery is filled with ceramics the artist produced in Montana. Many sit like modernist sculptures on carefully chosen chunks of wood and stone, letting you know they are to be looked at rather than used. A vessel shaped like an oversized gourd with a suggestive opening at the top stands, for instance, on a cube of hand-milled wood (main picture). Inside a room-sized wooden frame stands a slab of limestone on which lies a stack of African-style masks and a clay sake cup. The cup honours the Chinese immigrants who, after abolition, provided Mississippi with cheap labour. Gates studied ceramics in both the States and Japan as well as religion in South Africa and his aim is to fuse Japanese, African and African-American traditions and techniques in a synthesis he calls Afro-Mingei. Drinking Cube, 2019 is thus conceived as a symbolic meeting place between Asian and African cultural histories.
Nearby is a rug patterned with black, brown and orange zig zags and stained with spillages from numerous parties (pictured above). It came from the penthouse of the Johnson Publishing Company, which created Ebony and Jet magazines for aspirational African Americans. Sharing the carpet is an African-style ladder back chair and a gorgeous vessel by Gates with a pot-belly that has a distinctly Japanese flavour. The various elements of Afro-Mingei are brought together as a feel-good installation celebrating African American identity, in general, and Theaster Gates' own history, in particular.
Overlooking the display is a dramatic cluster of black masks. Perhaps they are the souls of enslaved potters awaiting justice
rating
Explore topics
Share this article