The Scottish National Portrait Gallery, Edinburgh |

reviews, news & interviews
The Scottish National Portrait Gallery, Edinburgh
The Scottish National Portrait Gallery, Edinburgh
This 'portrait of a nation' is a slightly awkward affair, but the collection errs on the winning side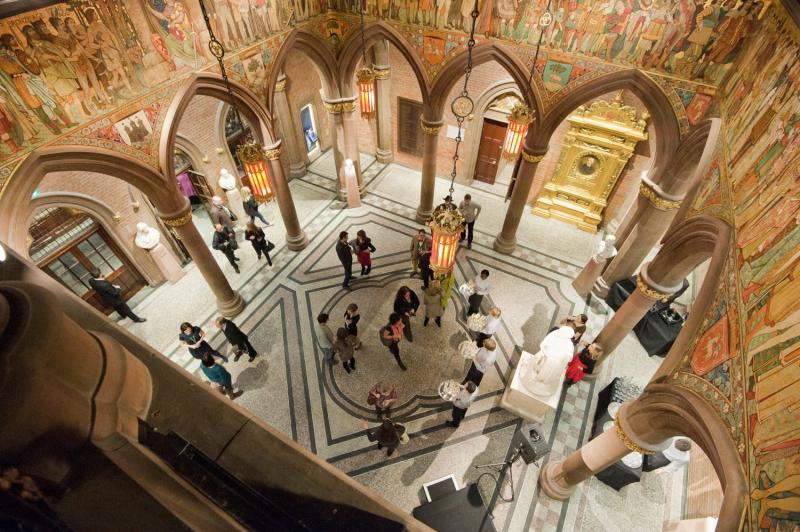 The magnificent main entrance to the refurbished Scottish National Portrait Gallery
The Scottish National Portrait Gallery has been transformed with a £7.6 million facelift. As a first-timer I confess I don't have a clue what it looked like before, but I am assured it was dark and gloomy and had the air of a building cast aside in favour of Edinburgh's better attractions.
Built in 1889 by Robert Rowand Anderson as the world's first dedicated portrait gallery – paid for by the proprietor of
The Scotsman
, John Ritchie Findlay, and inspired in part by the Doge's Palace in Venice – the SNPG had, in fact, shared over half the building with the Scottish Society of Antiquaries.
The neighbours having moved out, the SNPG has now spread its wings, flexed its muscles as a Scottish museum of note, and dusted down much of the collection that's been languishing in storage for much of its life. In addition to reclaiming half its galleries, former SNPG offices have been turned into smaller galleries (a new mezzanine floor now accommodates the admin), Sixties hessian cladding has been stripped from walls, and the once fashionably modern lowered ceilings ripped away. Skylights have been installed so that visitors can now bask in the natural light that floods the elegant top-floor galleries and shows the portraits off to best advantage. What's more, the ornate arches dividing the central gallery, now dedicated to the Scottish Enlightenment and the paintings of Allan Ramsey (Ramsey's portrait of David Hume pictured below), have been dramatically uncovered.
It's not about the artist but about the promotion of 'Scottish identity'
The ground floor appears even more impressive. The magnificent Gothic vestibule has been thoroughly cleaned and relit: free from decades of grime, one can now delight in the colourful frieze featuring a marching parade of famous Scots down the ages. Look up and you'll see a blue canopy scattered with golden stars. Naturally, a stature of Robert Burns also greets you; and I haven't even mentioned the huge glass lift that allows for a sweeping survey of each of the floors. That really is some showcase lift.
What isn't so impressive is that by the time you journey up to embark on your loosely chronological tour, leading you from the Reformation to the present day, you encounter the SNPG's risible homage to TV celebrity: Hot Scots is a small photographic display on the ground floor (Doctor Who actors and Susan Boyle feature, but I'm hard-pushed to give names to half the faces). But they're not particularly striking photographs – it's not about the artist but about the promotion of "Scottish identity".
This doesn't bode well, and throughout one senses this flag-waving tendency - the historically defensive position of one who's always felt under the thumb. One almost expects to see a marble bust of Alex Salmond. Still, Scotland has an incredibly strong portrait tradition and the collection is brimming with fine paintings. And if not particularly fine, then at least arresting.
From Scotland's first prominent painter, George Jamestone, there's a striking self-portrait of 1642. Here the artist holds his palette and brushes, and proudly points to a wall of pictures, presumably all painted by him. But in terms of scale and perspective, everything in the painting is wrong – there's no way of telling how near or far that wall is, for a start. Glaringly wrong, too, is his awkwardly extended figure of Lady Anne Erskine and her daughters in a painting of 1626. She looks as if she's suffering from a form of gigantism, so awkwardly does she fill the room .
Henry Raeburn, of course, displays no such technical difficulties, but sadly, there is no Reverend Robert Walker Skating on Duddingston Loch – surely Britain's best-known and best-loved portrait (you can see it at the Scottish National Gallery nearby). Instead, we must make do with Raeburn's glowingly handsome Sir Walter Scott, 1822.
And there's a whole room dedicated to the immaculately finished portraits of Allan Ramsay. David Hume, the great Enlightenment philosopher, is seen in a portrait of 1754, looking the picture of intelligent, gentle reserve. Nearby is Rousseau, painted by Ramsay for Hume when the Scot brought the Frenchman to Britain to escape persecution in 1766. The Scot found him a home and secured a pension for him from George III. But the irascible Frenchman quarrelled in public with his helper and relations ended badly. Elsewhere, the artist's portrait of his severely straight-backed first wife, Anne (1739), conveys stern moral rectitude.
At the turn of the 19th century we encounter the great David Wilkie and a brilliant self-portrait (pictured left), painted with beautifully free brushwork when the artist was just 20. His face half-submerged in shadow, Wilkie frowns searchingly at his reflection and at us. It's one of the highlights of the collection.
Along the way we encounter landscapes (a portrait of a nation of sorts, one supposes), Glasgow slums, Newhaven fisherwives and factory workers. A history of Scottish sports gets a big gallery to itself, and there's a parade of anonymous noblemen in tartan – the tartan being the subject. The Library, painstakingly reinstalled from the top floor to the first, is a marvel, filled with wondrous curiosities, including the death masks of Burke and Hare, Voltaire and beautiful, androgynous Keats.
The SNPG also has a terrific photography collection and its contemporary photography gallery is a must-see, or at least Mark Neville's Port Glasgow Town Hall Christmas Party, 2004 (pictured below) definitely is: captured with crystal-clear clarity his riotous office workers look as if magically stilled in action.
By the time we get to modernity we're confronted with the problematic face of Scots identity: a portrait of Fionn MacColla, 1932, by Edward Baird has a nasty air about it. This leading figure in the newly founded National Party of Scotland looks every inch the Blackshirt in his fascist uniform. It also has to be said that the paintings in this section are largely unremarkable and many of the sitters long-forgotten.
The very last section is a thematic one, providing an overview of Pioneers of Science: from James Clerk Maxwell to the scientists working at Edinburgh's Roslin Institute, the team that cloned Dolly the sheep (Dolly's death mask lies nearby). And then there's the terrifically creepy Three Oncologists, 2002, by Ken Currie, a deathly looking trio who look as if they've been caught red-handed (surgery gloves are aptly blood-splattered) in some nefarious act.
But where, for heaven's sake, is John Logie Baird? No homage to the man who created the means by which the nation's "Hot Scots" could earn their celebrity spurs? For shame. In the end, the SNPG's tour of their "portrait of a nation" is a slightly awkward affair. But if the narrative somewhat fails, the collection errs on the winning side.
Scotland has an incredibly strong portrait tradition and the collection is brimming with fine paintings
Explore topics
Share this article