Manchester International Festival exhibitions review - a new arts centre puts Manchester firmly on the cultural map |

reviews, news & interviews
Manchester International Festival exhibitions review - a new arts centre puts Manchester firmly on the cultural map
Manchester International Festival exhibitions review - a new arts centre puts Manchester firmly on the cultural map
A host of giant inflatables, tricky balancing acts and a licence to print old master engravings - what's not to like?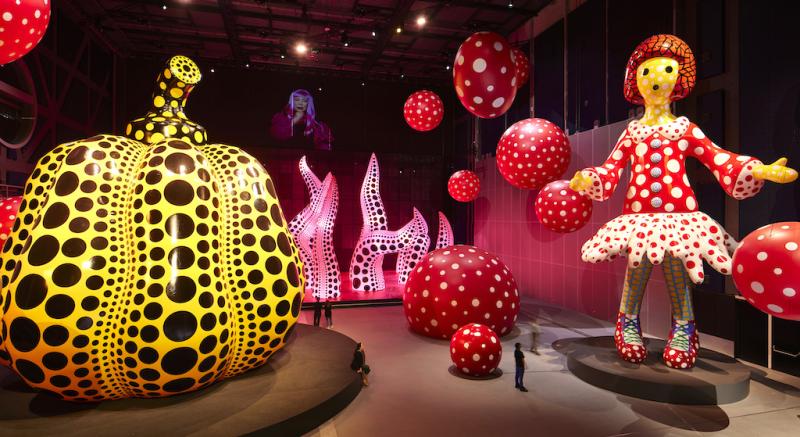 Installation view of 'You, Me and the Balloons' by Yayoi Kusama at Aviva Studios
At 94, Yayoi Kusama is said to be the world's most popular living artist. People queue for hours to spend a few minutes inside one of her Infinity Rooms, spaces with walls mirrored to create infinite reflections.
Inviting her to inaugurate Manchester's new Aviva Studios is an astute move, then. Her installation You, Me & The Balloons (main picture) is bound to attract crowds to the nearly finished venue built to house Factory International, organisers of the Manchester International Festival (MIF), and to host exhibitions, theatre and music gigs.
Reminiscent of Tate Modern's Turbine Hall, the main space is a huge, 21 meter high hall with black walls that will be hard for any artist to occupy convincingly. Kusama has filled it with inflatable sculptures made over the past 30 years, some of which are 10 meters tall, yet even they are dwarfed by the cavernous environment.
The Hope of the Polka Dots Buried in Infinity Will Eternally Cover the Universe, 2019 occupies a smaller anteroom, which gives the work focus and allows it to dominate. Hanging from the ceiling or snaking across the room before disappearing into the walls are dozens of fat yellow columns swarming with black polka dots. Soft, round and fleshy, the plastic tubes are as fascinating and as repellent as a nest of writhing serpents. A powerful smell of warming plastic fills the air which, along with the overpowering visuals, creates an experience so intense that it made me feel nauseous.
The main hall contains an enormous pumpkin, two giant girls and their dogs, a carpet of clouds resting on the floor (pictured above) and dozens of red spheres and gourd shaped inflatables hanging from the ceiling; but the impact of this heavenly host is diluted by the vast scale of the hangar-like interior and the low level lighting. The polka dots covering every sculpture still dazzle, though, while the whole ensemble is reflected in a large wall of mirrored fabric whose slight tremor causes the reflections to shimmer and produce an unnerving sense of instability.
Meanwhile on screen, Kusama sings the Song of a Manhattan Suicide Addict, 2007 in which she recounts in Japanese her battle with depression. The translation "Swallow antidepressants and it will be gone/ Tear down the gate of hallucinations…" is a stark reminder that the artist has experienced distressing hallucinations since she was a child. In the mid-1970s, after returning to Japan from a stint in New York, she committed herself, for her own safety, to a psychiatric hospital in Tokyo, where she still lives.
People tend to see Kusama's work as joyous, playful and festive, when actually it's an expression of and an escape from her affliction. The apparent cheerfulness is like the smile painted on the face of a clown and, perhaps inadvertently, the MIF installation allows one to glimpse the anguish beneath the apparent gaiety.
The installation climaxes on a more cheerful note, though. At the far end of the room is A Bouquet of Love I Saw in the Universe 2021 (pictured below). The pink columns are lit from within so an inviting glow emanates from each of these phallic personas. Standing on a pink platform resembling a dance floor, the prancing forms offer light hearted relief from the dizzying intensity of Kusama's world.
Meanwhile at the National Football Museum, fancy footwork and other skills are on display in a performance devised by artist Tino Sehgal and Manchester United footballer, Juan Mata. A squad of young people show off their balancing skills in a delightful series of moves. Sitting astride a stationary bicycle, a young woman miraculously keeps it upright while, beside her, another stands on one leg on tip toe and a reclining guy balances a football on his head. Cyclists do impossible wheelies, and a violinist plays her instrument lying down while duetting with a singer who also executes some cool moves. The various sequences are very laid back and absolutely charming.
At the Whitworth Economics the Blockbuster: It's not Business as Usual consists of projects that "propose new ways of doing business". Based in Lusanga, the Democratic Republic of Congo, CATPC (Cercle d'Art des Travailleurs des Plantation Congolaise) is an artist's collective. With the profits they make from selling their sculptures abroad they buy back Unilever's palm oil plantations, restore the decimated forests and grow food for the local community.
When it comes to evaluating an artwork, key considerations are its authenticity and rarity. With Quantitative Melencolia 2022 (pictured above left) the Swedish duo Simon Goldin and Jakob Senneby throw a very disruptive spanner into the workings of the art market. Albrecht Dürer's famous engraving Melencolia was printed in 1514 from a copper plate that has long since been lost. About 200 impressions are known to exist, one of which is owned by the Whitworth.
Goldin+Senneby decided it was time to print some more. They scanned the Whitworth's engraving and sent it to Sweden's top bank note expert; from this high res image he was able to produce a facsimile of Dürer's plate. On display are 18 impressions taken from the new plate and printed, like the originals, on sixteenth century paper sourced from a museum. Depending on the condition, a Dürer engraving costs anything from £85,000-£337,000; Quantitative Melencolia, on the other hand, would set you back £5,000 and it's possible that Goldin+Senneby's version will also become a collector's item and accrue in value.
This is not the end of the story, though. On July 8th, visitors to the gallery will be able to watch a second edition being printed and will be able to buy a copy hot off the press. The criteria governing the art market are being well and truly scrambled!
People tend to see Yayoi Kusama's work as joyous, playful and festive, when actually it's an expression of and an escape from her affliction
rating
Explore topics
Share this article