Art: theartsdesk at Manchester International Festival 2013 |

reviews, news & interviews
Art: theartsdesk at Manchester International Festival 2013
Art: theartsdesk at Manchester International Festival 2013
The visual arts presence at MIF is unremittingly dreary and depressing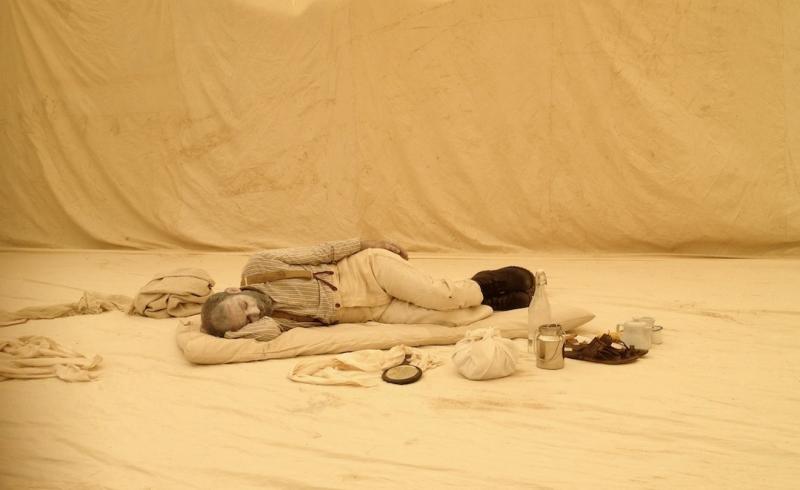 Nikhil Chopra, having a nap during his marathon performance, Cotton on Coal, at the Whitworth Gallery
I'm watching someone with a mic pacing the linking bridge on the second floor of the Arndale Shopping Centre. He's repeating the same phrase over and over again, which he'll do for the next 20 or so minutes. "We're souls refreshed," I think it is. Nearby, sitting cross-legged, Lotus fashion, is a girl who, like the man with the mic, is wearing white cotton gloves. In front of her are three stones, painted white, on a white handkerchief, and two hymnals.
These props play a small part in the action, such as it is.
Watching him, pacing, intoning imperfectly, catching his breath and stumbling over the words, I feel a kind of familiar despair sweep over me – the kind of despair I only ever experience when encountering some kinds of really bad art, usually commissioned as "an event" or by a public body. Familiar questions bubble up – and if I were to say them out loud, mark me, it'd be through gritted teeth – namely: "Why am I here?" and "Why am I doing this?" And I know that the questions don't just concern this specific thing in this specific place, but embrace encounters with bad contemporary art everywhere; one feels, in that despairing moment, the oppressive force of all of it.
There are works which, alas, simply go beyond parody
The work, this drearily amateurish instance of performance art – which appears to be so ambitious for itself that it comes with not one but two titles – How to catch the Holy Ghost or Get Arrested in a Shopping Mall – is just the kind of excruciatingly dim, exceptionally dull conceptual art/performance that makes me feel cross in the manner of Brian Sewell (first it bores you, then it irritates you, then it makes you cross). Good conceptual art should, one hopes, provoke, trouble and niggle, not piss you off. Why inflict it on the shoppers of Manchester? Luckily, the shoppers of Manchester barely notice, perhaps because amateurish art antics are now fairly commonplace on city streets and malls – biennale this and festival that has practically become an inescapable part of city life. Better to give us a bouncy castle. Or a bouncy Stonehenge.
Perhaps I'm being unduly harsh, but my art trawl through the Manchester International Festival, the biennial arts festival that began in 2007 and encompasses music, theatre and the visual arts, doesn't get an awful lot better. That Holy Ghost piece is by Theaster Gates, an American artist represented in London by White Cube gallery. I presume the performers are art school students, though I have no idea whether they had to audition for it, or if they were randomly picked – though the idea of the non-artist performer (à la Tino Seghal, who also makes an appearance at MIF) is becoming an awfully hammy old cliché. Maybe if the man with the mic had done a preacher man act in the manner of Kenny Everett (oh, look it up on YouTube if you must) that might have been something.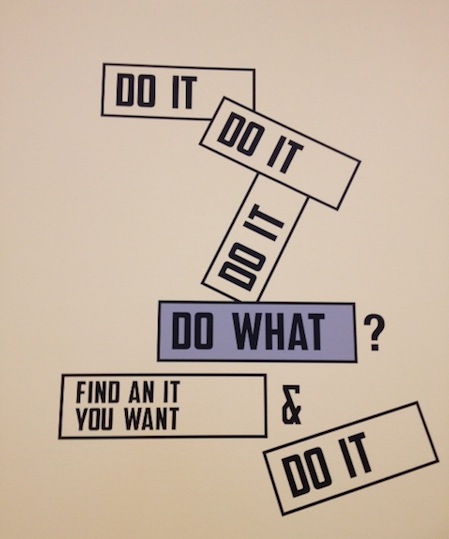 The festival is full of starry art names, all bought together by art star curator Hans Ulrich Obrist. He first conceived of his project do it in 1993, and its had many incarnations (yes, it does sound like an irritating marketing slogan, but I believe it was named after a piece by pioneer video artist Nam June Paik, not Nike). Out of the shopping mall and into the gallery, do it 2013, which has been commissioned by Manchester Art Gallery, is an endless round of artist's instructions, written in large text on the walls: we're instructed to squeeze a lemon on the pointy end of a bicycle saddle; make a wish on a "Wish Tree"; choose a special place and "surrender to a spiritual experience".
It's all fairly naff, life-enervating stuff and if it was considered radical in 1971 then it feels desperately dreary and ossified today. Lawrence Weiner has designed a nice wall piece with the word Do It repeated in tumbling boxes (pictured above right). A live vulture has been recruited to fly over the heads of visitors at an appointed time, in tribute to a dead artist by a living one. You can enter a plywood box, designed by Richard Wentworth, as a "viewing platform". There's a fridge lying on its side. Somewhere, in another room, Damien Hirst tells you the correct way to kill yourself, and not blow it by just blasting your face off, with a pistol.
And there's something called the Homage Room, where living artists pay their respects to recently dead ones by reimagining or reprising one of their instruction pieces. Sarah Lucas covers a broom in plaster in homage to Franz West, Tracey Emin, in response to Louise Bourgeois' uncharacteristic instruction to "smile at a stranger", offers a plaintive, typically Eminesque tale about smiling at a stranger and being rebuffed and feeling bad about it.
There are works, such as Suzanne Lacy's Cleaning Conditions (a homage to Allan Kaprow) which, alas, simply go beyond parody. Cleaners – who are not really cleaners but non-art people (see above) performing "cleaning actions", as it were – have been hired to sweep the gallery so that posh bourgeois types who go to galleries with not a thought in their heads about who does the dusting, can ponder the lot of the low-waged. One comes across a whole gang of art-cleaners in siren-red T-shirts, half-heartedly pushing their brooms across the same patch of pristine floor, which real cleaners were busy scrubbing a few hours earlier.
Lacy's piece is broken down into three parts, the last of which comes under the heading Private Conversations. As well-intentioned as it is – and it is, extremely – reading it (see above) produces the kind of deep inward groan that is specially reserved for earnest art tosh such as this. Imagine Santiago Sierra, the hard-hitting Mexican artist who's more used to tattooing prostitutes in exchange for the price of a fix, producing something this naively earnest in order to get us "having conversations" about exploitation. His work genuinely provokes and makes you feel uncomfortable. Ethically it comes in several shades of grey, and so you go on feeling rattled by it. This is why he's a good artist, and why Lacy's exhortations to get museum staff to sit round in a circle, communing and having "cross-sector meetings" to discuss "the global gendering of care and service" are just excruciating twaddle.
But Obrist is a curator who makes even good artists look terrible. I have no idea why he's such an art world star, since I've rarely seen an artist at the Serpentine, where he's exhibitions programmer, who wasn't shown in a better light elsewhere – usually at the Gagosian gallery, where so many of the big star artists they show are represented.
As for do it, the work just feels dead, squeezed into some concept that is, in turn, unimaginative and uninteresting. In fact, it reminds me of a bad compilation album by a bunch of bloated pop stars in aid of some fashionable cause, the cause being Obrist. Here the appearance of the vulture, swooping over this dead space, feels like an apt metaphor. And I really sympathise with one grumpy contributor to Yoko Ono's Wish Tree: "I wish to get through today and not be assailed by instructions."
Meanwhile, a short trip to the Whitworth Gallery presents Indian artist Nikhil Chopra in the middle of a 65-hour continuous performance, Coal on Cotton (the gallery will remain open until sunset tonight, with Chopra taking extended naps in front of visitors in a big cotton tent which feels like a sauna). The artist is taking on various personas –The Mill Worker, The Farmer, The Boss – in his "exploration of the historical cotton trade between Manchester and Mumbai". As far as I could see, The Mill Worker gets a lot of sleep (main picture). With his chalked-up face it could be a "homage" to Joseph Beuys. Or Tilda Swinton, most recently seen sleeping at MOMA.
It reminds me of is bad compilation album by a bunch of bloated pop stars in aid of some fashionable cause
Explore topics
Share this article