Maggi Hambling, National Gallery |

reviews, news & interviews
Maggi Hambling, National Gallery
Maggi Hambling, National Gallery
A recent body of work tells of the painter's craft and the stormy Suffolk coast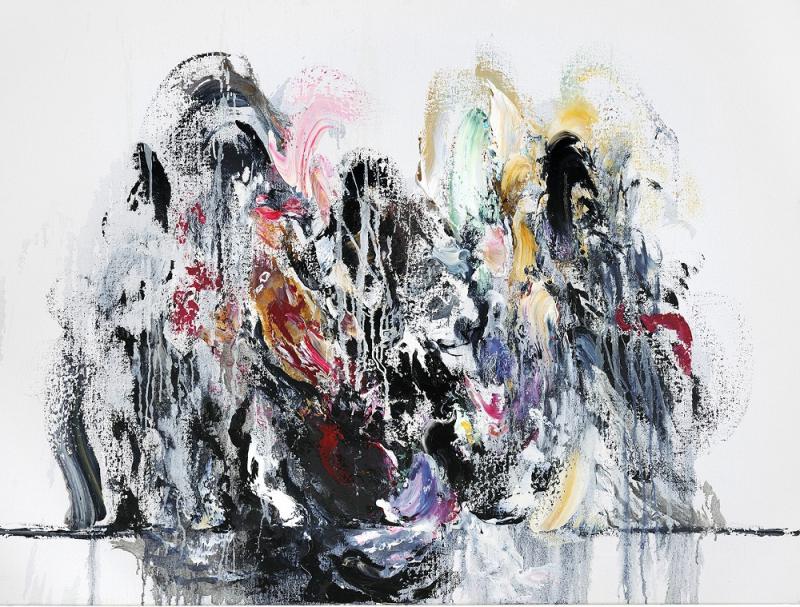 Wall of Water, Amy Winehouse, 2011
I must admit to feeling, briefly, just a little disappointed on first sight of Maggi Hambling's Walls of Water, nine new paintings on show at the National Gallery. Perhaps it was the evocative title, which promises high drama and instant gratification, something obviously and extravagantly impressive. In short, I was expecting something bigger, an absurd statement because eight out of the nine canvases measure more than six by seven feet. And yet, they are small.
Unframed, and with minimal information on the walls, protected from visitors by the finest of wires, these paintings, hanging in this grand, imposing setting, appear unadorned, stripped back, and yes, small.
In fact, Walls of Water is very much in keeping with Hambling's tendency to create art that is in some way vulnerable. Most famously her monument to Benjamin Britten, a scallop shell on Aldeburgh beach in Suffolk, is routinely defaced with graffiti, while A Conversation with Oscar Wilde, 1998, is in every sense a piece of public art, not only within easy reach of every passing drunk staggering towards a night bus, but functioning as much as a handy bench as a monument to a great man.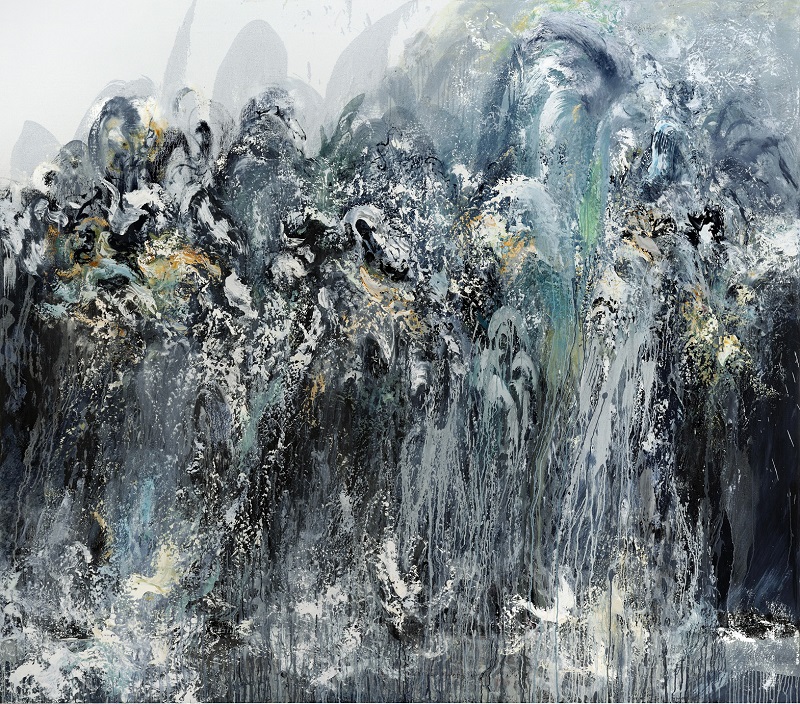 As with these two controversial sculptures, Walls of Water introduces a sense of fragility to a subject that, superficially at least, seems inherently monumental. The sea lends itself readily as a grand, existential metaphor and yet the cycle of life and death implied by these paintings feels more personal than universal – inevitable, perhaps for an artist approaching 70.
Inspired by the sea at Southwold, Suffolk, Hambling's home county, the series unfolds in a clockwise sweep of the room. Each canvas is self-contained and discrete, but together they form a narrative, with a rhythm and sense of progression that echoes the life of a wave as it builds, crashes against the sea wall and then ebbs away as a new wave gathers force. Running along the bottom of each canvas is a line, puzzling at first but then you realise that it is the sea wall; its inclusion in the paintings serves only to emphasise its inadequacy, a futile attempt to hold back nature.
Reflecting the patterns of the waves, the wall has no substance of its own other than its straight edge, which is ever harder to discern as the waves increase in power. In Wall of Water V (pictured above), the climax to the series, the sea wall has disappeared altogether as a mighty wave crashes over it in an explosion of spattered and foaming paint.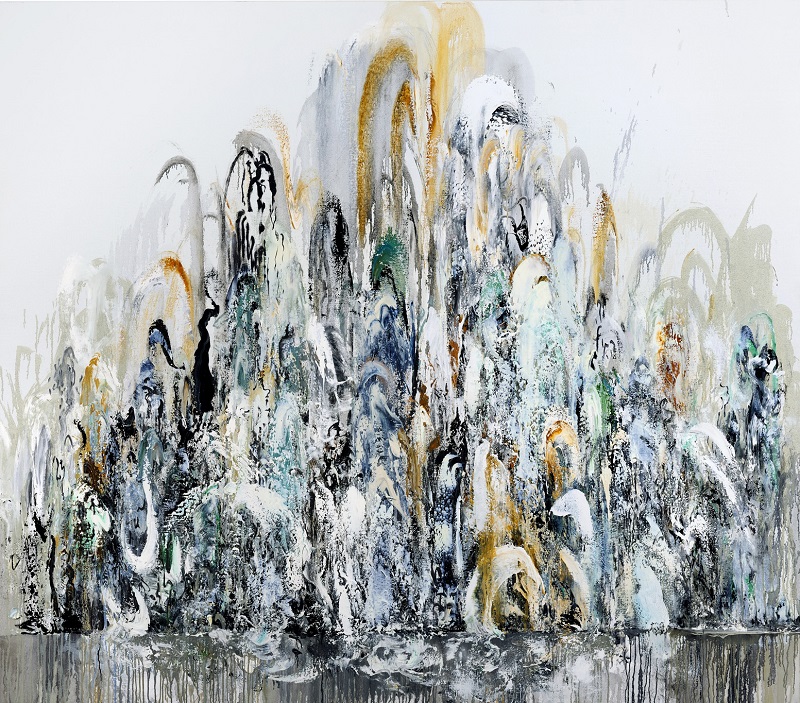 Like all of these canvases, Wall of Water V, bears close examination as much as it benefits from being viewed at a distance. It is an extraordinary piece of painting, and the drama of it is as much about the act of painting as the fury of the sea. Paint is applied in great shiny globs of impasto, scraped across the canvas so that it drags and lifts, or thinned so that it dribbles down the canvas, disrupting any paint in its path, like little rivers that Hambling has allowed, briefly, to run out of her control. And make no mistake, however spontaneously the paint appears to have been unleashed on the canvas, you can bet that every mark has been considered. Some 35 years since she became the National Gallery's first Artist in Residence, Walls of water is the work of a painter in complete command of her medium. (Pictured above right: Wall of Water II, 2011)
In the canvases that follow Wall of Water V, Hambling holds us in the moments after a wave's climactic impact, when sparkling, vivid colours emerge in a period of magical calm, fading almost immediately as they give way to the next wave. Flashes of fuschia, turquoise and ruby red subside into browns, blacks fading to grey. It is in this brief aftermath that Hambling has made her tribute to Amy Winehouse, a little canvas that, in its brilliant colours and great blotches of black, reveals ghostly glimpses of the singer (main picture). In a smear of black paint, there is a suggestion of that unmistakeable Winehouse beehive, and for a moment, two dark eyes stare back, before receding into white space.
In her expressive paint handling, Hambling shares some similarities with the little known Norwegian marine painter, Peder Balke whose work is on show in the Sunley Room. Like Hambling, Balke's use of paint is at once free and carefully calculated, creating a sense of naturalistic abandon that belies the artist's total control of his medium.
The drama of it is as much about the act of painting as the fury of the sea
Share this article