Elmgreen & Dragset, Whitechapel Gallery review – when is a door not a door ? |

reviews, news & interviews
Elmgreen & Dragset, Whitechapel Gallery review – when is a door not a door ?
Elmgreen & Dragset, Whitechapel Gallery review – when is a door not a door ?
Reality games played by this artist duo in real time and space
Saturday, 06 October 2018
Installation shot of the show This Is How We Bite Our Tongue at the Whitechapel Gallery
A whiff of chlorine hits you as you open the door of the Whitechapel Gallery. Its the smell of public baths, and inside is a derelict swimming pool with nothing in it but dead leaves and piles of brick dust. Damp walls, peeling paint and cracked tiles make this a sorry sight. The door to the changing rooms has been sealed shut and some joker has sawn through the wall bars.
Where has the pool come from, though? A wall notice explains. This was the Whitechapel Pool, opened in 1901 as an amenity for east enders. It was renovated in 1953, but in 1988, it was closed after losing its funding under Thatcher. Squatters moved in and punk raves were held in the historic venue; then it remained empty until, in 2016, the building was bought by developers who plan to transform it into a luxury hotel and spa, open only to residents and subscription-paying locals.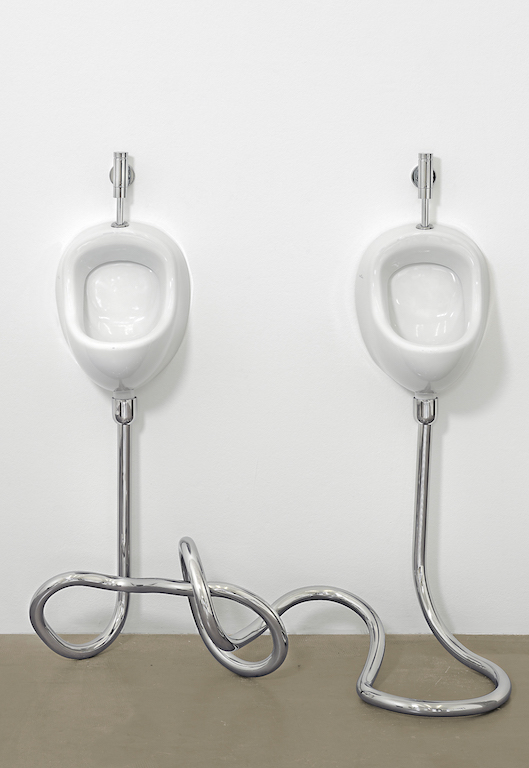 That's how gentrification works; public amenities are lost to private interests. Security guards have been hired to keep out the vandals, but that hasn't stopped people using the space as a dumping ground. Beside the steps into the deep end is an abandoned car seat and someone has knocked over a bronze Adonis and sent him flying. A raver has left behind a cool box and some kill joy has weighed down the kid's trampoline with a giant meteorite (pictured below left: Too Heavy, 2017), so it can't be used.
The whole thing is a fabulous fiction, of course. Instead of removing an existing pool, grimy tile by grimy tile, and installing it in the gallery, Elmgreen & Dragset have built the whole installation from scratch as a timely memorial to the days when local authorities were able to provide places for kids to go to at the weekend.
This is not the first time the Scandinavian duo have created a swimming pool. Death of a Collector, 2009 featured Mr B floating face down in his private pool in the Danish and Nordic Pavilion at the Venice Biennale. And in 2016 they installed a pool in the shape of Van Gogh's Ear in front of the Rockefeller Centre in New York.
Leaving the Whitechapel Pool, you find two urinals united by convoluted plumbing. An ironic comment on same-sex conjugal bliss, Gay Marriage (pictured above right) is also a tribute to the first readymade, a urinal famously signed by Marcel Duchamp and titled Fountain.
Half way up the stairs is a donation box of the kind touting for money in every museum in London. This one has attracted nothing but junk; it contains a sneaker, an oyster card, a used train ticket and a few coins – and that's despite the presence of a handy cash machine at the top of the stairs. An infant lies abandoned in a travel cot beneath the machine. The desperate parents must have hoped that a rich benefactor would offer the child a brighter future.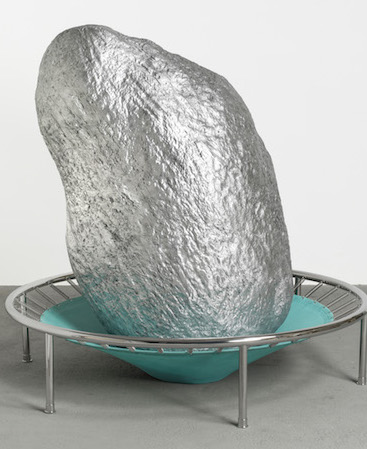 But nothing so far has been quite what it seems. A cackle of sardonic humour haunts the show as actual objects rub shoulders with expertly made facsimiles. The car seat and cool box are cast in bronze, the infant is made of wax, the cash machine doesn't deliver currency and the sneaker didn't go through the slot of the collection box.
Upstairs, the galleries house more traditional exhibits, but they are no less surreal. An almost sepulchral atmosphere envelops a series of black and white sculptures dramatised by harsh spot lights. Two white cushions rest side by side on a shiny black box resembling a sarcophagus. Made of lacquered bronze, they are reminiscent of the marble pillows that provide eternal peace for the dead on Victorian headstones. We seem to be in a chapel of rest mourning departed loved ones. Hanging on the opposite wall is a large crucifix; but the man on the cross is no Jesus Christ. He has his back to us so that his naked buttocks are exposed to view and he rests his cheek against the shiny black shaft with an air of expectation; but spanking seems to be the order of the day rather than martyrdom.
The Pregnant White Maid has also been indulging in hanky panky. Looking crestfallen, she stands with lowered eyes, as though expecting to be fired for her misdemeanours. Wearing real clothes, the life-sized figure is as unnerving as the small boy who sits nearby huddled under a shiny black mantelpiece.
This establishment could be haunted. No wonder those two guys decided to hot foot it out of here. They were in such a hurry to get away that they left their jeans behind, and on this occasion, the trousers really are clothes rather than bronze casts.
When is a changing room door not a door, or a swimming pool a sculpture? Michael Elmgreen & Ingar Dragset humorously probe questions such as these.
A cackle of sardonic humour haunts the show as actual objects rub shoulders with expertly made facsimiles
rating
Share this article