Dear Earth: Art and Hope in a Time of Crisis, Hayward Gallery review - hope is what we need, but inspiration is a rarity |

reviews, news & interviews
Dear Earth: Art and Hope in a Time of Crisis, Hayward Gallery review - hope is what we need, but inspiration is a rarity
Dear Earth: Art and Hope in a Time of Crisis, Hayward Gallery review - hope is what we need, but inspiration is a rarity
Making good art about climate change proves difficult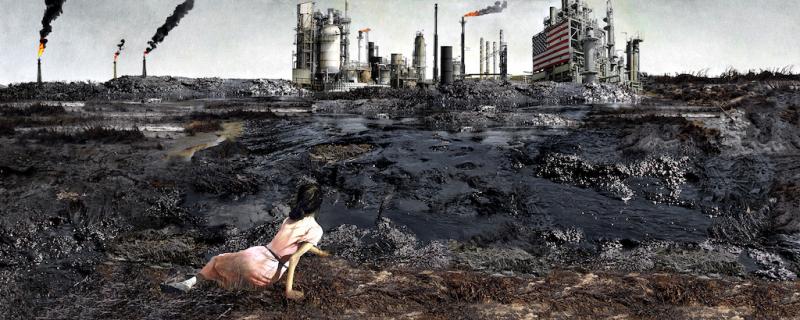 "Christina's World" by Kennard/Phillipps, part of Planet Summer at the Southbank Centre
Dear Earth, Art and Hope in a Time of Crisis is a mixed show of artists who address the parlous plight of our planet. The issue obsesses me, so anyone who braves the pitfalls of exploring this difficult subject has my sympathy.
One challenge: how to create work about climate change that doesn't make your audience suicidally depressed? Another: how to translate anger, despair and activism into good art that can inspire as well as enlighten? The exhibition amply demonstrates how hard this is.
One of the most impactful pieces is shown outside. Peter Kennard who, for decades, has made politically astute montages, joins forces with Cat Phillipps to create an excoriating pastiche of Andrew Wyatt's painting Christina's World, 1948. Instead of gazing across a field towards her distant home, in their version (main picture) the disabled girl lies on a giant oil slick emanating from the refinery which has replaced her clapboard house.
So far, so horrific. How, though, to use this brilliant image to influence people's behaviour? Blaming oil companies for polluting the globe is one thing, persuading us to change our ways is quite another. The billboard-sized picture fills a wall opposite the car park, where it invites drivers to face up to the side effects of their travel choices and might even encourage them to switch to other forms of transport.
On the concourse, immediately above, is John Gerrard's Surrender. On a giant screen, a flag made of white vapour wafts in the breeze over Nevada's Mojave desert. Created virtually, the flag is meant to herald a future less dependent on fossil fuels, since the turbines producing the steam it mimics are supposedly associated with renewable energy. You could have fooled me; traditionally steam was generated by burning coal and, even if that's no longer the case, the memory of it haunts the work. The white flag is intended as a sign of "submission to larger planetary realities" whatever that means. The image is beautiful, but its impact is compromised by the ambiguity of the message.
Inside the Hayward Gallery, 14 others artists use numerous to ways to address the challenges facing us. Based in Los Angeles, Andrea Bowers is an ecofeminist. Tied up with her activism, her installation demonstrates how simple images can be more effective than complex pieces. Most memorable is Set It Up Activist 2009 (pictured below), a drawing of protestors floating in the waters over Sand Key Reef, America's last remaining coral reef, holding a sign warning of warming seas. The Dead Silence of Extinction 2023 brought tears to my eyes. Drawings of two dead songbirds from the natural history collection at Auckland Museum are labelled "Large Kauai Thrush" and "Moloka'i Creeper". These sad little corpses also bear dates stating when a member of their species was last seen alive.
Heather Ackroyd and Dan Harvey have long been committed to making art that fosters positive responses to climate change. Grown from grass seed, their portraits of London activists celebrate their vital work while reminding us of the crucial importance of photosynthesis to life on earth. Light shining through a photographic negative controls the amount of light falling on a bed of grass seed. Where there's more light the blades of grass produce more chlorophyll and become green. Less light makes them less green while no light turns them yellow, thereby enabling a photographic image magically to emerge.
As you gaze into a pool of black liquid projected onto the floor by Imani Brown (pictured above right), the soundtrack weaves a poetic tale of greed and destruction. "Capitalists are voracious land eaters killing the planet," it tells us. "We used to honour constellations of stars, now we honour constellations of pipelines." Meanwhile, a nearby map shows the 90,000 oil wells drilled into the soil of Louisiana, the miles of canals criss crossing the wetlands and the refineries built on unstable ground that are causing a football pitch of land to be lost to the sea every 45 minutes. Mind boggling statistics like these can easily induce feelings of helplessness, so it's worth knowing that local people affected by this devastation have taken the oil companies to court and won.
Cornelia Parker can be relied on to address difficult topics in wonderfully uplifting work. In her film The Future (sixes and sevens) 2023 (pictured above left: detail) a disarming group of primary school children air their thoughts on the future. They are amazingly clued up; one advises eating insects or bacteria as a source of protein; one wants to be a scientist so as "to make some icebergs", while another wants to be a florist "because plants and nature give us oxygen." Their desire to have 10, 12 or even 15 children is rather alarming, although reasons like "we need people to start designing better cities" make good sense.
"Hope is what we need," says one girl and, with her words ringing in my ears, I head out to the rooftop garden above the Queen Elizabeth Hall. Over the past decade, Paul Pulford (pictured above) has created a delightful haven where over 200 native plants create a space that feels like a little scrap of wilderness. A sanctuary for both people and nesting birds, it gives one hope by demonstrating just what dedication and an enlightened approach can achieve.
In Cornelia Parker's film a disarming group of primary school children air their thoughts on the future and they are amazingly clued up
rating
Share this article