Cornelius Johnson, National Portrait Gallery |

reviews, news & interviews
Cornelius Johnson, National Portrait Gallery
Cornelius Johnson, National Portrait Gallery
A forgotten artist eclipsed by Van Dyck as portrait painter to Charles I
Cornelius Johnson, The Capel Family, c. 1640
It's far too easy to think about the history of art as a series of class acts, with one superlative achievement following another. Exhibitions tend to encourage this view, and the notion of a superstar artist is key to persuading us that the latest blockbuster is unmissable.
We know that the artists with the biggest reputations were not always celebrated in their own lifetimes, but just as the characterisation of the great artist as a lone genius is misleading and fanciful, this one-room exhibition shows that casting art history's lesser-known figures as sorry failures is equally misguided.
There can be few more minor figures than Cornelius Johnson (1593-1661), whose reputation has been eclipsed entirely by that consummate celebrity, Sir Anthony Van Dyck (1599-1641). Born in London to Flemish-German parents, Johnson may have been trained in the Netherlands, but there were so many Netherlandish immigrants in London in the early 17th century that he might well have learned such practices as adding a signature to his work, and painting on wood, as an apprentice to a Dutch painter in London.
Today, Johnson's name is probably best known amongst the descendents of the gentry, merchants and lawyers who commissioned portraits from him, which sometimes still hang, now obscure and anonymous, on the walls of England's faded country houses.
Johnson's popularity amongst the English elite eventually brought him to the attention of Charles I, but the timing could not have been worse; in the same year, Van Dyck was appointed as the king's principal painter, and like all other painters at the English court, Johnson was immediately overshadowed by Van Dyck's extraordinary talent.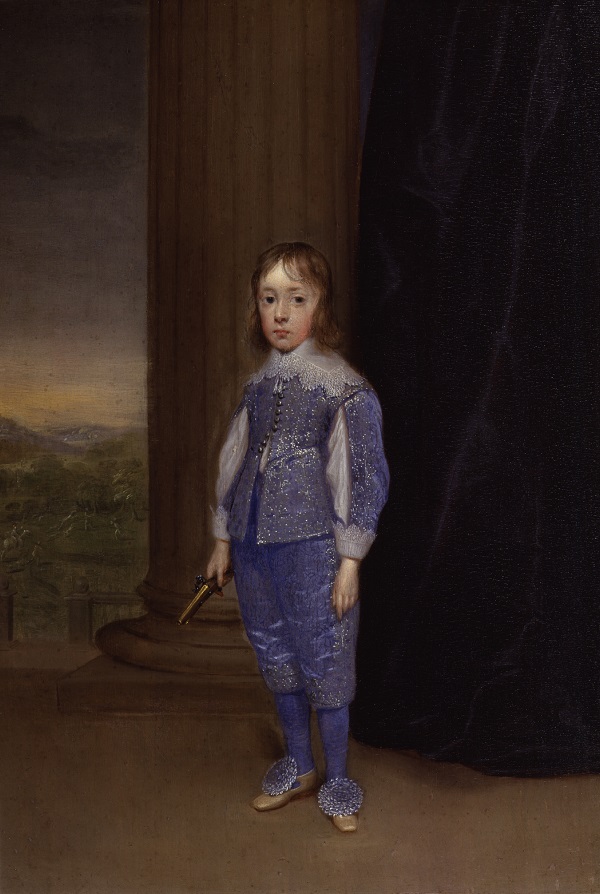 While Van Dyck certainly got the plum jobs, some examples of Johnson's royal commissions survive, and his small-scale portraits of the three eldest royal children demonstrate the nature of his talent. Typical of portraiture in the period before Van Dyck, and especially in depictions of royalty, these stiff little adults convey very little of the children underneath; the portraits are not about individual personalities, but represent instead the perpetuation of the royal line. They are, nevertheless, exquisite, their small size emphasising Johnson's virtuoso treatment of the children's fine clothes, with each piece of lace, each intricately turned rosette sparkling jewel-like in paint. (Pictured right: King James II, 1639)
As it is represented here, there is some variation in the quality of Johnson's work, but it is fair to say that he was capable of rendering both flesh and fabric in beautiful, tactile detail, his brushstrokes invisible and the paint forming a perfectly smooth surface. But there is no question as to why Van Dyck was top dog. Drawing on his years spent in Italy as a highly successful painter of portraits, Van Dyck's subjects ooze elegance, his rapid brushstrokes injecting them with life and that uncanny sense that at any moment they might move. Johnson's figures have an earthy solidity that has an appeal of its own, but is nevertheless decidedly unglamorous.
Johnson's portrait of The Capel Family, c.1640 (main picture), is probably his best-known work and while its composition is based on Van Dyck's portrait of Charles I and his family, The Greate Peece, 1632, in the Royal Collection, the similarities go no further, Johnson's gentle, but frank naturalism contrasting with Van Dyck's highly idealised treatment.
Tempting as it is to imagine Johnson looking needily over Van Dyck's shoulder, it seems that the exchange of ideas was fairly evenly weighted, with Van Dyck borrowing compositional ideas from his lesser-known colleague.
Even so, after years of being overlooked by the king, Johnson could have been forgiven if he had developed a slight spring in his step when Van Dyck died in 1641. But when Civil War broke out in 1642, it extinguished any remaining hope he might have had for his prospects in the English court.
Johnson must have been a resilient, pragmatic sort of character, however, because shortly afterwards he emigrated with his family to the Netherlands, prospering as a portrait painter to the Dutch bourgeoisie. Some of his most accomplished portraits come from this period, and Johnson's understated, modest style must have struck a chord with the fashionable Dutch elite, who liked to ostentatiously tone down their finery by wearing sober, if expensive clothes (Pictured above left: Portrait of an Unknown Lady, 1646).
In the fullness of time, a bigger exhibition might allow direct comparisons between Johnson's work and those of contemporaries like Van Dyck. But for now, this tiny exhibition provides a tantalising dip into art history's footnotes, and a welcome diversion from the headline acts.
Johnson could have been forgiven if he had developed a slight spring in his step when Van Dyck died in 1641
Explore topics
Share this article